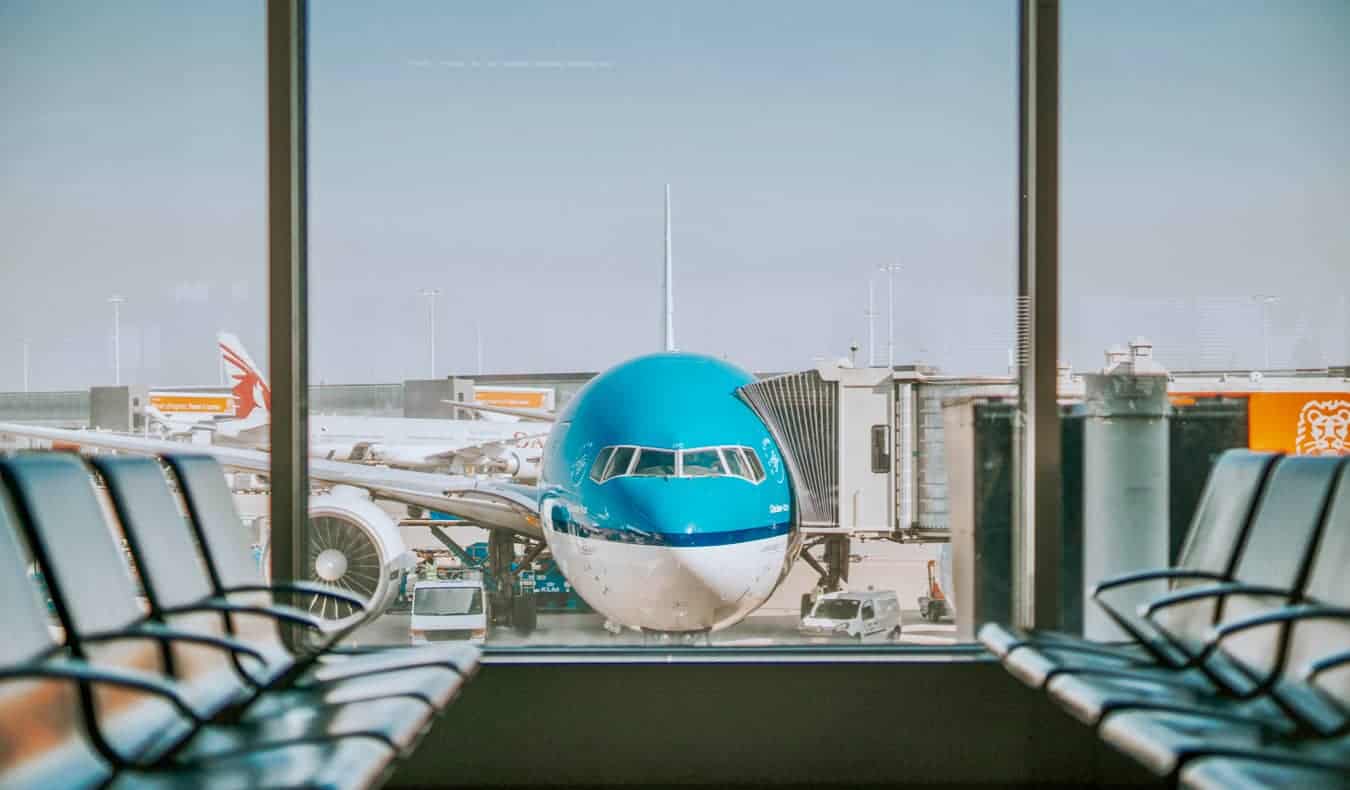 Posted: 3/27/21 | March 27th, 2021
Things don't always go as planned on the road. Lost luggage, delayed flights, travel scams — there are tons of things that can derail your trip.
While serendipity, mishaps, and surprises are part of the allure of travel, the one mishap no one likes is a delayed flight.
There's no fun in missed connections and long delays, especially after little sleep and long travel days.
As someone who flies regularly, I've experienced pretty much every hiccup there is. Delays, cancelations, lost or delayed luggage, overbooked flights — the list goes on.
While I always buy travel insurance before I go abroad, there is actually a company out there designed specifically to help travelers secure compensation when flight delays and cancelations strike.
It's called Airhelp.
Since its founding in 2013, AirHelp has helped over 16 million people get compensation for delays and canceled flights arriving in or departing from the European Union.
I used them in 2019 when I was on my way to Paris. My connecting flight was delayed over eight hours and, thanks to EU rules, I was entitled to get compensation from the airline.
The problem was that I didn't really want to chase TAP Air Portugal for months on end. People said that they drag the process out in hopes you'll give up (which many do). As someone who was only in Europe for a short time, I realized the last thing I wanted was to spend my little time in living in Paris on the phone with TAP. I mean who wants that kind of stress in the land of wine and cheese?
So I decided to use AirHelp.
In the end, it took about five months before I was refunded my money. But it was refunded and all I had to do was fill out a small form. AirHelp took a considerable percentage, but I got everything the EU said I was legally entitled to receive.
So, if you're traveling to/from Europe on a European carrier and there's a mishap and you're wondering what to do, here's an overview of how AirHelp can help you get compensated for delayed and canceled flights:

What Does AirHelp Cover?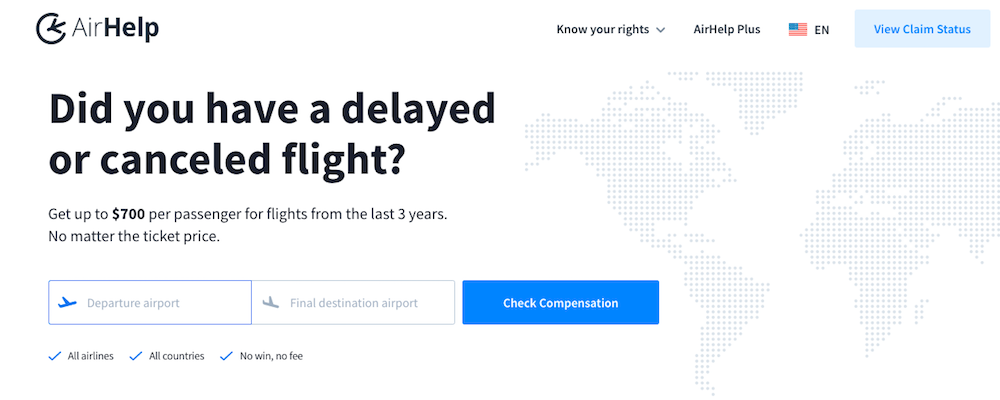 The EU has strong consumer protection laws, which means that if you have a flight arriving in or departing from the European Union and it is delayed or canceled, or if you experience certain other circumstances, you may be entitled to compensation, which ranges from $300 to $700 USD, depending on the severity of the delay.
Note: If your flight does not originate or arrive in the EU, or if the carrier is not headquartered in the EU, you'll be unable to apply for compensation.
Here's a quick overview of what is covered by AirHelp:
Delays of over three hours where the airline is at fault (i.e., no weather delays)
Flights canceled with 14 days of departure and no suitable alternative is offered
Overbooked flights
Missed connections due to delay, cancelation, or overbooking
Lost or damaged luggage
For an in-depth look at AirHelp's coverage policies, check out its detailed guidelines.

How Do I Submit a Claim?
To make a claim, simply visit AirHelp.com and follow the prompts, with your flight details and boarding pass at hand. It takes two minutes and is super easy. The site will tell you right away if you have a claim.
You can apply for compensation for delayed flights up to three years after the date, which means if you've had a flight to or from the EU with a three-hour delay (or more) sometime in the past three years, then you can still make a claim for compensation.

Does AirHelp Cost Money?
Making a claim is free. You only pay AirHelp if it wins your compensation claim. It will take 35% of the compensation, however (50% if they have to go to court).
While that is a huge percentage, remember, you only have to do two minutes of work. Not a bad trade if it wins you a couple of hundred bucks!

Does AirHelp Work for Flights in the US?
In the US government's own words, "There are no federal laws requiring airlines to provide passengers with money or other compensation when their flights are delayed."
In order to apply for compensation via AirHelp, your flight must take off from the EU or land in the EU — and be flown by an airline with headquarters in the EU.
Unfortunately, if you're flying a US airline, you won't be entitled to compensation unless that airline has its own policy stating otherwise.

How Do the Compensation Rules Work in the EU?
EU Regulation EC 261 is the main protective piece of legislation that protects passenger rights in Europe. It's the driving force behind your ability to make a claim.
Under EC 261, you are entitled to file a delayed flight claim for $700 (600 EUR) if:
You arrived at your destination more than three hours late.
The flight took off in the EU (from any airline) or landed in the EU (provided that the airline is headquartered in the EU).?
You checked in for your flight on time.
Your flight operated no more than three years ago.?
The airline is responsible for the delay (operational circumstances, technical difficulties, etc.).?
It doesn't matter whether the airline has already provided you with food or travel vouchers — they will still owe you compensation. As long as you meet the above requirements (even if you're not an EU resident or citizen) you'll be covered and eligible to make a claim.

Why Not Just Do It Myself?
You can definitely chase down an airline for compensation if you have time. Some airlines make it relatively easy while others will make you jump through hoops. If you have the time and patience, you can do it yourself and keep 100% of your compensation.
I didn't want to do it myself. Time is money!
And I certainly don't need more stress in my life.
AirHelp's fee is pretty big but 35% to not have to deal with this was worth it to me.
You'll save a ton of time and increase your chances of getting compensation by using AirHelp. It has a proven track record and knows how to get your money as quickly and conveniently as possible.
***
The next time your flight is canceled or delayed, don't just settle for a voucher. Take two minutes and run a claim through AirHelp. A few hundred bucks in your pocket is better than nothing, especially when you could be spending that money on your next trip!
Note: This isn't a paid advertisement. AirHelp did not provide me any compensation to write this. This is just a review of the service as many readers keep asking me about my experience using them.
Book Your Trip: Logistical Tips and Tricks
Book Your Flight
Find a cheap flight by using Skyscanner or Momondo. They are my two favorite search engines because they search websites and airlines around the globe so you always know no stone is left unturned.
Book Your Accommodation
You can book your hostel with Hostelworld. If you want to stay somewhere other than a hostel, use Booking.com as they consistently return the cheapest rates for guesthouses and cheap hotels.
Don't Forget Travel Insurance
Travel insurance will protect you against illness, injury, theft, and cancellations. It's comprehensive protection in case anything goes wrong. I never go on a trip without it as I've had to use it many times in the past. I've been using World Nomads for ten years. My favorite companies that offer the best service and value are:
World Nomads (for everyone below 70)
Insure My Trip (for those over 70)
Medjet (for additional repatriation coverage)
Ready to Book Your Trip?
Check out my resource page for the best companies to use when you travel. I list all the ones I use when I travel. They are the best in class and you can't go wrong using them on your trip.