Updated: 02/22/19 | February 22nd, 2019
This is a guest post by Scott Gilbertson, a freelance writer and travel blogger. He shares his thoughts on how we can all add a bit more travel into our lives when we're in between trips.
If you think travel is something that only happens when you take overseas flights, long bus rides, or cross-country train trips, you're missing out on a world of opportunity much closer to home.
Of course, you're forgiven for associating travel exclusively with foreign lands, exotic food, and curious dress habits. That is, after all, the image handed down to us from the days of Marco Polo, David Livingston, and other great explorers and perpetuated by the Travel Channel and countless glossy magazines.
But the truth is, what most of us find compelling about travel is the novelty of it. Traveling propels us out of our daily habits and into a different mindset where everything, even laundry hanging out to dry, seems revelatory.
As noted travel writer Pico Iyer points out, the physical aspect of travel is not nearly as important as the mental. It's nice to find yourself halfway around the world, immersed in the commotion of a Moroccan market or the sounds of mass bells echoing through a cobblestone plaza, but it isn't the only way to travel.
There is unquestionably a very amazing sense of freedom that comes from beholding a foreign scene. I distinctly remember spending an entire afternoon just staring out at the city of Udaipur, India from the Monsoon Palace thinking how amazing it was to be there, to be anything at all.
So is it possible to enter that remarkable travel-like mindset without ever leaving your hometown? That's a question I asked myself a lot last year since, for a variety of reasons, I was unable to take more than a couple of short, two-week trips.
I'm happy to report that the answer is yes, there is a way to enter that travel mindset without really leaving your proverbial backyard, but it does take a bit more effort than just stepping off a plane somewhere new and letting the novelty wash over you.
If travel to foreign lands is a sort of sledgehammer for knocking down mental walls, exploring your hometown is a bit more like digging out of prison with a spoon — it takes more work, but with some perseverance you can still get past the walls of habit.
The trick to entering the travel mindset at home is to get your mind out of the "I'm just at home" mentality. Too often we simply assume today will be much like yesterday, but there's really no reason to think that. I've found that one of the best ways to make your hometown seem like a foreign place is to turn to the traveler's favorite tool: the camera.
Last year I tried to take a picture every day. I failed, but forcing myself to look closer at the world around me did change the way I saw things.
Everyone is different, but here are a few of the other things I tried:
Planning excursions – Just about every town, no matter how small, has at least one museum, historical landmark, or other point of interest that you're probably not familiar with. Find a few and visit them one by one in a series of weekend trips.
Talking to one new person every day – I'm a freelance writer and frequently work at coffee shops, but with my headphones on while deeply concentrating on something. I've started forcing myself to take breaks and introduce myself to strangers on those breaks. At first it's weird, but along with seeing foreign things, meeting people on the road is one of travel's highlights. I won't lie to you, I've had some awkward moments with strangers at home, but I've also made some new friends. It's challenging but worth it.
Taking walks – You might think you've seen everything there is to see in your hometown, but changing your perspective, such as shifting from a driving commute to a long walk, often opens up whole new worlds.
Checking out guidebooks to your hometown – You'll learn one of two things from this: in the best scenario you might find some stuff you didn't know about. On the other hand, this might primarily demonstrate just how wildly inaccurate and, er, misguided, guidebooks are. All those mistakes and bad tips for people heading to your hometown? Yup, you're following the same sort of bad recommendations when you travel.
Start a blog – While not necessary, I've found that writing a blog about your travels is good motivator to go out and find new things, which in turn makes you more of a traveler. Write up a short post on your trip to the local brewery or park. Sure, probably no one will ever read it, but that's not the point, this is primarily for you, not the audience.
I hit upon the notion of exploring my hometown as a way to hold on to that incredible feeling of freedom I had on my last extended trip. It's definitely not as easy, but it has been rewarding, and while that free feeling may be more fleeting at home, you can still find it.
Scott Gilbertson is a freelance writer whose work has appeared all over the web. He is also co-Managing Editor of Rolf Potts' Vagablogging.net and writes about his own travels at luxagraf.net.

How to Travel the World on $50 a Day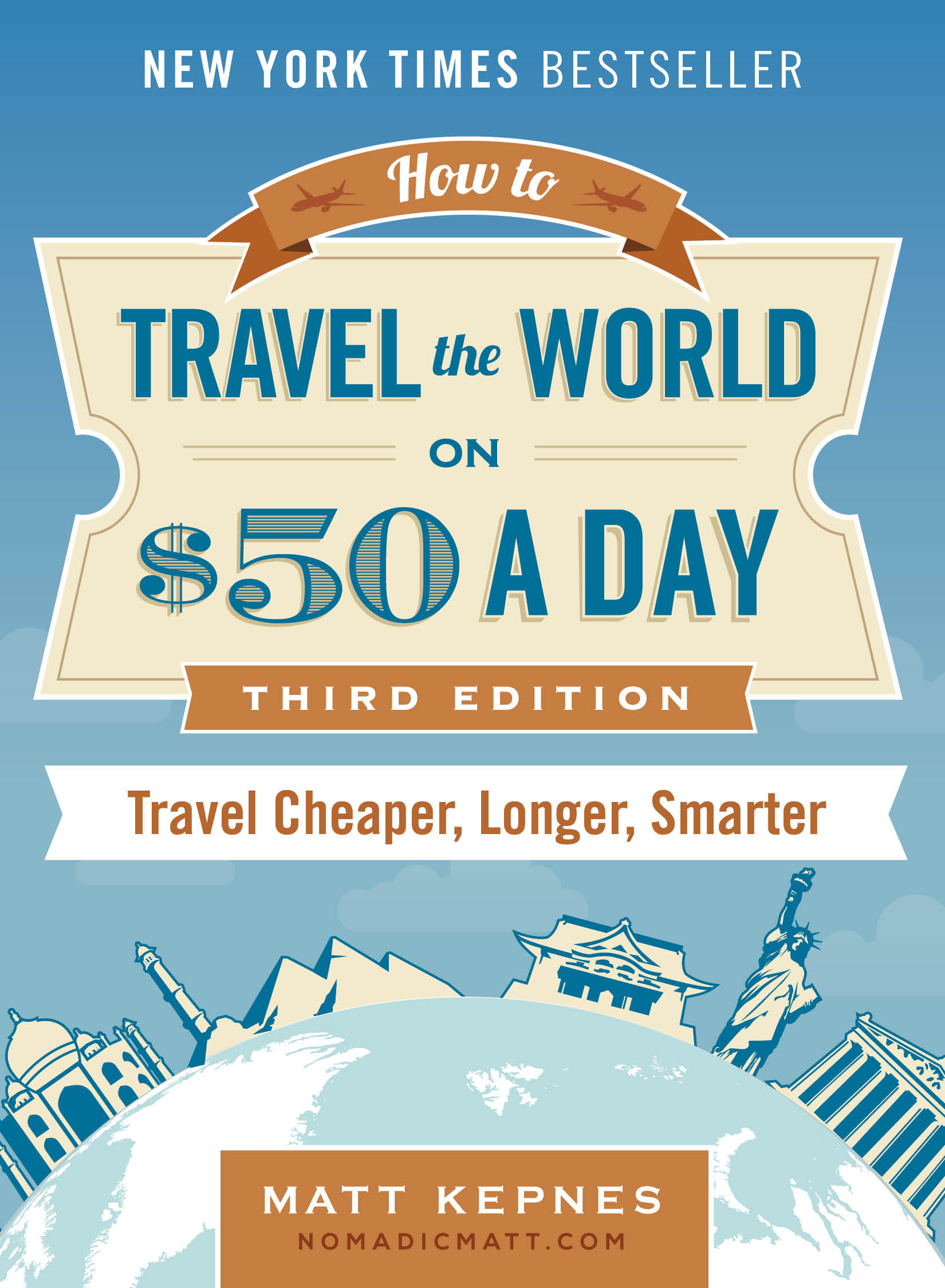 My New York Times best-selling paperback guide to world travel will teach you how to master the art of travel so that you'll get off the beaten path, save money, and have a deeper travel experience. It's your A to Z planning guide that the BBC called the "bible for budget travelers."
Click here to learn more and start reading it today!


Book Your Trip: Logistical Tips and Tricks
Book Your Flight
Find a cheap flight by using Skyscanner or Momondo. They are my two favorite search engines because they search websites and airlines around the globe so you always know no stone is left unturned.
Book Your Accommodation
You can book your hostel with Hostelworld. If you want to stay somewhere other than a hostel, use Booking.com as they consistently return the cheapest rates for guesthouses and cheap hotels.
Don't Forget Travel Insurance
Travel insurance will protect you against illness, injury, theft, and cancellations. It's comprehensive protection in case anything goes wrong. I never go on a trip without it as I've had to use it many times in the past. I've been using World Nomads for ten years. My favorite companies that offer the best service and value are:
World Nomads (for everyone below 70)
Insure My Trip (for those over 70)
Medjet (for additional repatriation coverage)
Ready to Book Your Trip?
Check out my resource page for the best companies to use when you travel. I list all the ones I use when I travel. They are the best in class and you can't go wrong using them on your trip.