Posted: 10/31/2019 | October 31st, 2019
How often have you told friends or family about a dream trip of yours, only to have them scoff and remind you to be "more realistic"?
How often do you wish you had a group of people who understood you? Or a place you could go to get your 10,000 questions answered before your next trip?
How often have you painstakingly researched a complete itinerary only meet some stranger at a hostel whose story had the power to make you change your plans entirely?
We all need a supportive community — and as much as I love the Internet (and I do love the Internet), the best connections are made offline and in real life.
When I first started planning my trip around the world in 2005, I didn't know anyone who had done something similar. Heck, I only knew one person who ever even studied abroad. Travel wasn't a big thing to the people in my world.
And, unlike today, I couldn't just go online and ask a bunch of bloggers questions or find countless articles and websites to help me. In the early 2000s, there wasn't much beyond a very limited number of hard-to-navigate forums, a few websites, and a stack of guidebooks on my desk.
I had a lot of questions but few answers.
What I needed was a community of people who could give me the first-hand advice and practical tips that would make my trip better, and help me get over my fears.
And, when I came back, there were very few people who could sympathize with the mix of emotions I was feeling. Again, I was alone. I wished for a community of people who could understand my post-travel blues.
After being a nomad for over ten years, I've been lucky enough to create my own community of travel enthusiasts through this website.
And today, I want to expand this community and take what we have online and bring it into the real world.
So I'm pleased to announce the launch of The Nomadic Network!
It's this website's in-person meetup initiative.
The Nomadic Network (TNN for short) will be a global community of travel lovers who support and inspire one another to travel better, cheaper, and longer. Whether it's a short jaunt to a nearby city or an indefinite round-the-world trip, the community will be there to help anyone who wants to (and loves to) travel.
Years ago, we did a trial run of these events. I met so many awesome travelers at these meetups, and the one thing I kept hearing was how you wished these kinds of events happened more regularly.
Well, now we're bringing them back!
Erica, whom you might have known as my right-hand woman over the last six years, will helm this new initiative. She'll be working on it full-time!
How will The Nomadic Network work?
We're building in-person chapters all around the world. Local chapters will meet consistently to share stories, trade advice, do activities together, and host events. We're creating a space for people to meet travelers in their city (even if they or you are just passing through) and form friendships and bonds. Mixers, picnics, brunches, presentations, expert panels — anything that gets you inspired to travel more!
This set of events will be community mixers where we'll meet and get to know each other. If you're based in these cities or will be there when we launch, join us:
DC – Tuesday, February 11
Seattle – Monday, February 17
Austin – Tuesday, February 18
Fort Lauderdale – Wednesday, February 19
Portland – Wednesday, February 19
San Francisco – Thursday, February 20
Los Angeles – Sunday, February 23
Detroit – Monday, February 24
Dublin, Ireland – Monday, February 24
San Diego – Monday, February 24
Boston – Monday, February 24
London – Tuesday, February 25
Chicago – Tuesday, February 25
NYC – Thursday, March 5
Portland – Thursday, March 19
(NOTE: These are just some of the first events! We're going to be doing more events as time goes on. We'll be in the Midwest, other parts of Canada, the world, etc. This is just the first few! If you don't see a destination, don't worry! Our goal is to be everywhere!  You can find our complete list of upcoming events here.)
Events are $10 (to help cover costs)! Plus, you can bring a friend for free (so if you split the costs it's $5 per person!)
How Can You be a Part of TNN?
There are a few simple ways!
1. Attend one of our events!
If you can come to one of our events, please do. You can find the full list here.
2. Apply to lead your local chapter
We need help leading these TNN chapters. Erica (our Events Director) and I will help with the booking of venues, contacting guest speakers, renting microphones and equipment, managing attendee registration, and helping with and paying for anything we can.
But we need eyes, ears, and leaders on the ground. If you want to learn more about becoming one of our chapter leaders (including in the cities we are launching in the list above), click this link and submit your application. We'll be in touch!
3. Volunteer at an event
If being a leader isn't your thing but you'd like to volunteer your time during the events, awesome! We'll need plenty of support to get these chapters up and running. Just fill this out and we'll get back to you.
4. Join our new community website
If you want to help create a user-friend website for this new community, all you need to do is visit The Nomadic Network's website and create a quick traveler profile. It only takes two minutes to create your log in and profile. Then you can join a chapter, find events near you, poke around the existing content, and sign up for in-person meetups. Then send us all of your feedback so we can get it working super smoothly.
(This is only the first draft of the website so there are lots of kinks to straighten out before we fully launch it and make it the center of The Nomadic Network world.)
***
Creating a chapter-based organization is a HUGE undertaking, but we're very excited to get started. It's been on our list of things to create for a long time now and we're finally doing it! This is going to take our community to the next level! It will take some time to get all the events up and running but I think we're off to a strong start.
So get ready to meet everyone IRL! 🙂

How to Travel the World on $50 a Day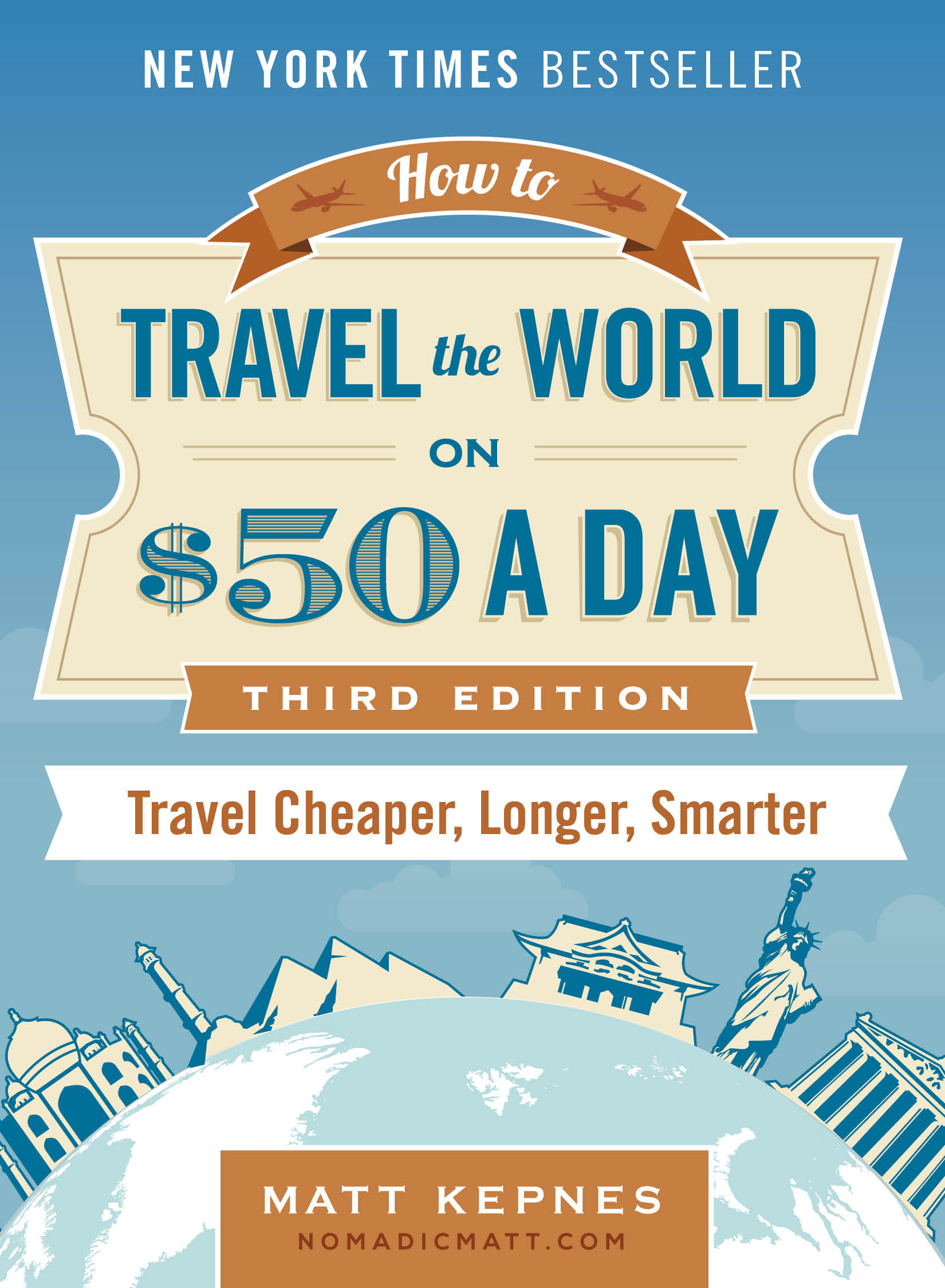 My New York Times best-selling paperback guide to world travel will teach you how to master the art of travel so that you'll get off the beaten path, save money, and have a deeper travel experience. It's your A to Z planning guide that the BBC called the "bible for budget travelers."
Click here to learn more and start reading it today!


Book Your Trip: Logistical Tips and Tricks
Book Your Flight
Find a cheap flight by using Skyscanner or Momondo. They are my two favorite search engines because they search websites and airlines around the globe so you always know no stone is left unturned.
Book Your Accommodation
You can book your hostel with Hostelworld. If you want to stay somewhere other than a hostel, use Booking.com as they consistently return the cheapest rates for guesthouses and cheap hotels.
Don't Forget Travel Insurance
Travel insurance will protect you against illness, injury, theft, and cancellations. It's comprehensive protection in case anything goes wrong. I never go on a trip without it as I've had to use it many times in the past. I've been using World Nomads for ten years. My favorite companies that offer the best service and value are:
World Nomads (for everyone below 70)
Insure My Trip (for those over 70)
Medjet (for additional repatriation coverage)
Ready to Book Your Trip?
Check out my resource page for the best companies to use when you travel. I list all the ones I use when I travel. They are the best in class and you can't go wrong using them on your trip.