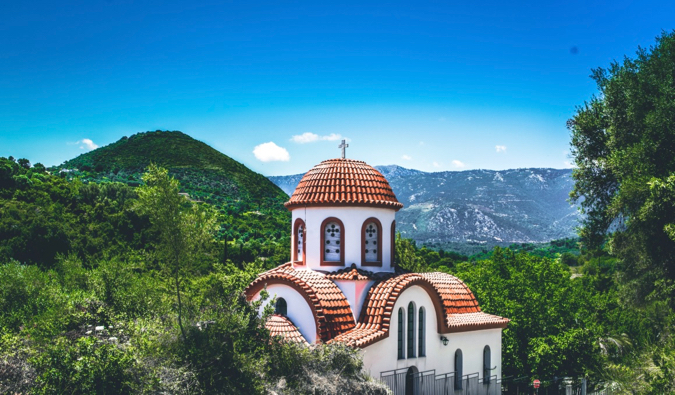 Last Updated: 02/03/2020 | February 3rd, 2020
Home to beautiful islands, incredible history, delicious food, and a rambunctious party scene, Greece is an amazing destination that really does offer something for everyone.
Most people don't think of Greece as a cheap destination. Mention Greece and people picture fancy villas and island-hopping cruises.
While it's true that there are a lot of fancy (and expensive) resorts in Greece, it is actually possible to explore this diverse country on a budget.
I've been to Greece a couple times over the year and I think it's a highly underrated budget destination — especially for Europe!
Of course, not everyone agrees. Here's what one commenter said:
"Greece is definitely not cheap, especially not Athens. Clubs charge around 20 EUR entrance fees. The akropolis is like 25 EUR entrance to walk around. Sure, tavernas are pretty cheap, but once you go up from backpacker hostels and low-end tavernas, Greece is hella expensive. I'm waiting until they get kicked out of the euro and go back to drachmas. There is a reason people go to Turkey instead of Greece. Telling people that it's on par with Thailand and Bali is just plain misinformation…"
And he's right.
Traveling that way would make Greece expensive.
But traveling that way could make any place expensive.
For example, another place on that list was Bali. Bali is a very cheap destination, but if you stayed in the $1,000 USD resorts, it could very well be "hella expensive."
The same is true in Thailand. The same is true anywhere in the world!
To help you get the most out of your budget, here's my comprehensive guide to traveling Greece on a budget!
 
Table of Contents
How Much Do You Need?
Suggested Budget: Shoestring
Suggested Budget: Backpacker
Suggested Budget: Flashpacker
Suggested Budget: Middle-of-the-Road Traveler
Suggested Budget: Luxury
Budget Tips for Greece
Frequently Asked Questions
Greece on a Budget: How Much Do You Really Need?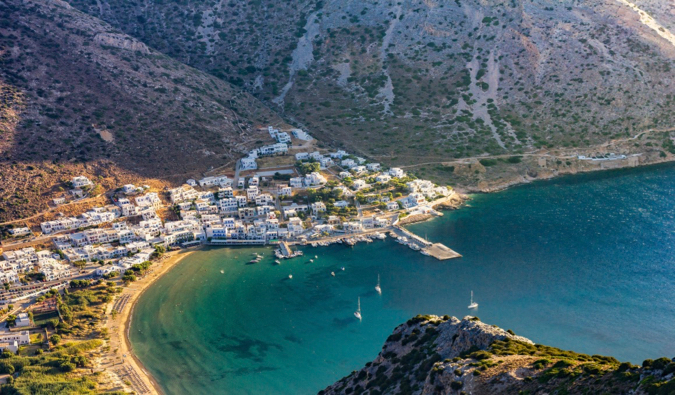 The one thing the commenter above missed in his argument is that it's about how you travel.
Every place can be either be cheap or expensive since everyone spends money differently. There's always someone doing it for less, and there's always someone spending more.
Everyone has their own idea of "budget travel."
If you're backpacking Greece, my suggested budget is 40-60 EUR / 45-65 USD per day. This is assuming you're staying in a hostel, eating cheap food, cooking some of your meals, not taking a lot of tours and using local transportation. If you're visiting the Greek islands or traveling during peak season, you'll spend on the higher amount of that. (But, for the most part, you'll be able to travel on the lower end of that number.)
For a mid-range budget, I suggest 60-90 EUR (70-100 USD) per day. This will cover more attractions and tours, staying at a budget hotel, eating a lot of fancier meals, and drinking as much wine as you want!
If you want luxury hotels, lots of fancy meals, fancy activities and tours, and just want to spend like it's going out of style, I would budget around 170 EUR (200 USD) per day. At that price point, you can do anything you want in Greece!
To help you with your budgeting, I've created a few different budgets to give you an idea as to how much Greece costs depending on your travel style:

(Note: These are daily averages. Some days you'll spend more, some days you'll spend less.)
Budget #1 – The Shoestring Backpacker
Hostels – 0-10 EUR (free if you Couchsurf)
Food – 10 EUR (cheap gyros and street food)
Drinks – 5 EUR
Total – 15-25 EUR
Budget #2 – The Backpacker
Hostels – 10 EUR
Food – 15 EUR
Drinks – 10 EUR
Activities – 10 EUR (museums and such)
Total – 45 EUR
Budget #3 – The Flashpacker
Hostels – 25 (Airbnb or private hostel room)
Food – 20 EUR
Drinks – 20 EUR
Activities – 10 EUR
Miscellaneous – 10 EUR
Total – 85 EUR
Budget #4 – The Middle-of-the-Road Traveler
Hotel – 30-40 EUR
Food – 30-40 EUR EUR
Drinks – 15-25 EUR
Activities – 30 EUR
Total – 105-135 EUR
Budget #5 – The "I Only Have Two Weeks, So I Don't Care" Luxury Traveler
Hotels – 50-75 EUR (this amount of money will get you a nice hotel!)
Food – 50 EUR (nice meals with wine all the time!)
Drinks – 30 EUR
Activities – 40 EUR (museums plus day tours)
Total – 170-195 EUR
Notes on the Numbers:
1. I'm not including souvenirs in these numbers. That's highly discretionary and variable. Obviously, the more you buy, the more your daily average will be.
2. While alcohol is included, if you like to drink or go clubbing a lot, you're going to spend a lot. Summertime on the Greek islands is a bit hedonistic, so if that's your thing, bring extra money.
3. The prices here reflect the shoulder season. Greece's high season is July and August, and if you're going then, I'd add a few extra euros a day to your budget.
10 Budget Tips for Greece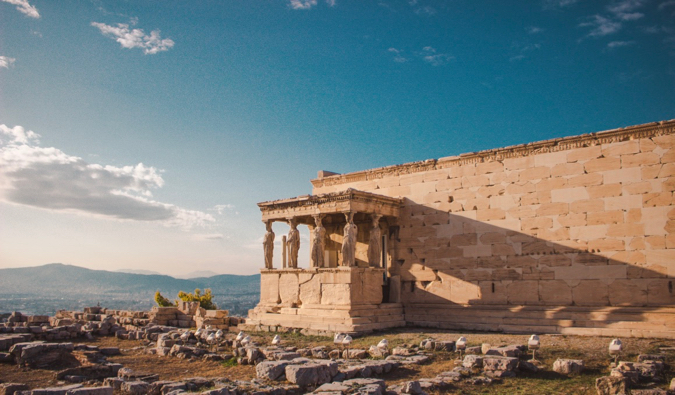 To help you save money during your next trip, here are some important budget tips:
Eat super cheap – Gyros (and other street snacks) usually only cost a few Euros. They are quick and easy and can keep you full for less than 10 EUR per day!
Rent a moped – If you're going to be somewhere (like on one of the islands) for a while, rent a moped. It's cheaper than a car and more convenient than the bus. It's a fun way to see the various towns and cities and the best way to get off the beaten path.
Get off the beaten path – Greece is cheapest when you get out of the touristy Greek islands or popular destinations. Head off the beaten path and you'll see prices drop by 30% or more!
Visit in the off-season – August is the most expensive month to visit Greece, so if you can arrange for a visit before June you will really cut down your accommodation and flight costs.
Book overnight ferries – Greece's ferries can get quite expensive if you are visiting a lot of islands. Taking the overnight ferries can save you up to half off the normal price (plus it will save you a night of accommodation). Also, if you can book your ferries two months in advance, you can save up to 25% off the cost of your ticket as well.
Have an ISIC Card – To save on the cost of admission to museums and other tourist attractions, be sure to present a valid student card. The ISIC is typically accepted in places where a foreign student ID is not.
Couchsurf – Couchsurfing is an awesome way to meet locals while also getting a free place to stay. There are plenty of hosts throughout the country (I actually stayed with one in Athens) and it's my favorite way to get to know the "real" Greece. Even if you can't stay with a local, use the app to connect with travelers in the area and find people to meet up with.
Avoid Mykonos – I know, Mykonos gets a lot of hype. It's a beautiful island and deserves the praise — but it is also Greece's most expensive island. There isn't much budget accommodation here either and the food is super expensive. If you're on a budget, I'd skip visiting here.
Use rideshares – If you have a flexible schedule, ridesharing services like BlaBlaCar are great for traveling around the country. The drivers are always verified and it's quite safe. Occasionally drivers won't show up though, so you will definitely need to have a flexible schedule.
Buy lots of wine – You can buy a great bottle of wine from the stores for as little as 4 EUR. It's a lot cheaper than drinking at the bar, so drink before you go out to save money.
FAQ on Traveling Greece on a Budget
What currency is used in Greece?
As of 2002, Greece has been using the euro.
Does Greece take US dollars?
No. Even if you're tipping someone you'll want to use euros. Getting US dollars in inconvenient for locals because they will have to make an extra trip to the bank.
How much does a meal cost in Greece?
Cheap street food will cost you under 5 EUR, while a cheap meal at a cafe will be closer to 10 EUR. A casual meal at a nice restaurant will cost around 20 EUR (30 EUR if you include wine).
Is it customary to tip in Greece?
While some restaurants will include a tip in the bill, most don't (so be sure to check in advance). Generally speaking, it's common to round the bill up and maybe tip 5-10% if the service was great. This also applies to taxi drivers. For tour guides, you'll want to tip 2-5 EUR per person if it's a group tour or 20 EUR per person if it's a private tour.
Which is the best Greek island to visit?
Every island has something to offer! Here's a post that will show you the best Greek islands to help you decide.
How old do you have to be to drink in Greece?
The drinking age in Greece is 18.
Is Greece safe for travel?
Yep! While you'll want to be mindful of petty theft and pickpocketing in larger cities like Athens, you generally don't need to be worried about your safety. Just use the same common sense you use at home and you'll be fine!
What is the best time to visit Greece?
While the weather is best in the summer, the country is also busiest then (and prices are higher). Try visiting in the late spring or early autumn to beat the crowds and save money.
***
As you can see, a trip to Greece, like any country, has a wide range of budget options.
You can do it on a budget, or you can go nuts and spend a few hundred euros per day — it's all about how you travel!
Yes, you can spend a fortune traveling Greece. Many people come here for a fancy, expensive getaway — and that's perfectly ok!
But it's also possible to visit Greece without breaking the bank. By using the tips above, you'll be able to have an amazing visit to Greece while keeping your budget intact. It may take some more planning and creativity, but it's 100% possible.
But don't take my word for it — book a flight to Greece and see for yourself. I promise you won't regret it!
Book Your Trip to Greece: Logistical Tips and Tricks
Book Your Flight
Use Skyscanner or Momondo to find a cheap flight. They are my two favorite search engines because they search websites and airlines around the globe so you always know no stone is left unturned. Start with Skyscanner first though because they have the biggest reach!
Book Your Accommodation
You can book your hostel with Hostelworld as they have the biggest inventory and best deals. If you want to stay somewhere other than a hostel, use Booking.com as they consistently return the cheapest rates for guesthouses and cheap hotels. My favorite places to stay are:
Paraga Beach Hostel (Mykonos)
Caveland (Santorini)
Francesco's (Ios)
Don't Forget Travel Insurance
Travel insurance will protect you against illness, injury, theft, and cancellations. It's comprehensive protection in case anything goes wrong. I never go on a trip without it as I've had to use it many times in the past. My favorite companies that offer the best service and value are:
World Nomads (for everyone below 70)
Insure My Trip (for those over 70)
Medjet (for additional repatriation coverage)
Looking for the Best Companies to Save Money With?
Check out my resource page for the best companies to use when you travel. I list all the ones I use to save money when I'm on the road. They will save you money when you travel too.
Want More Information on Greece?
Be sure to visit our robust destination guide on Greece for even more planning tips!