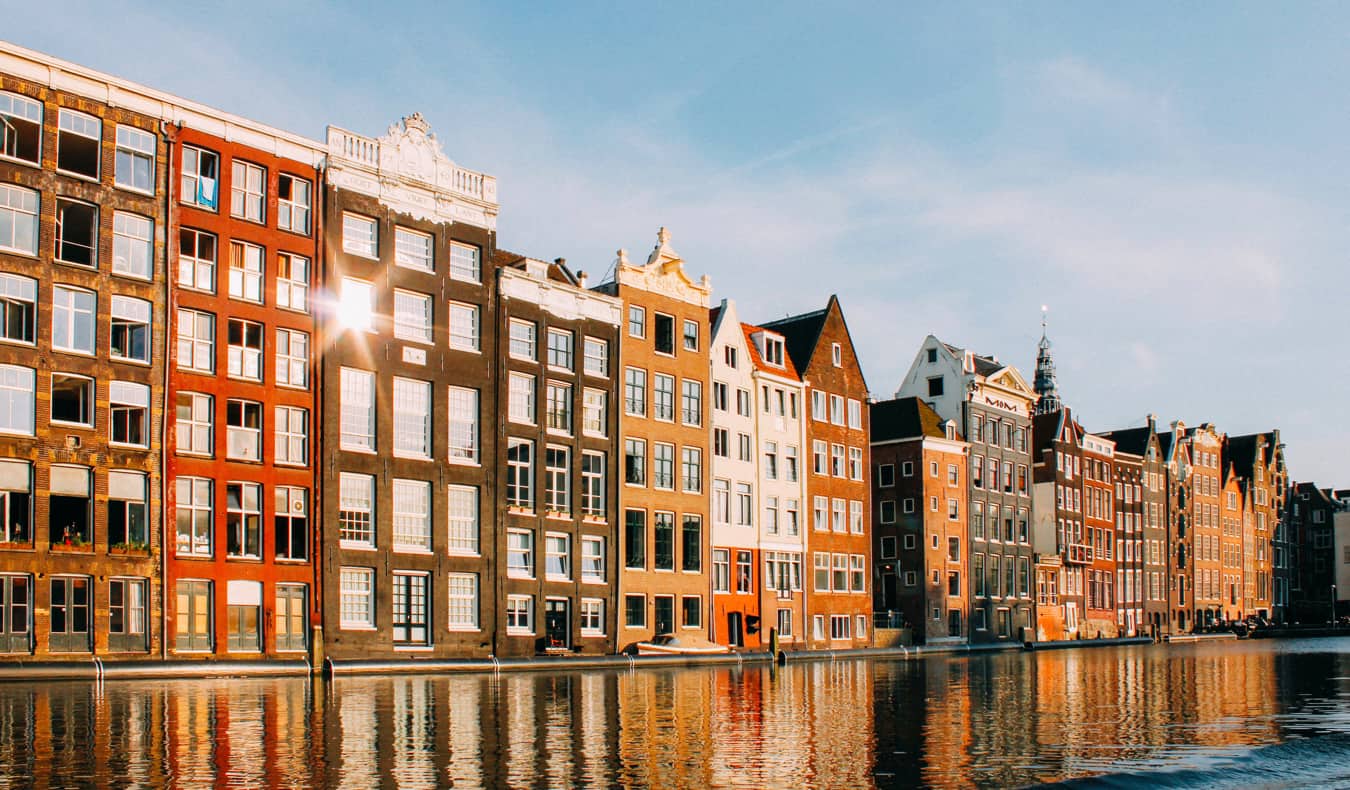 Last Updated: 11/16/19 | November 16th, 2019
Amsterdam is one of my favorite cities in the world. I love its brick buildings, open skyline, rich history, and relaxed, easy going attitude towards life. Over the years, I've visited Amsterdam more times than I can count (I'm bad at math) and have spent countless hours walking the city, making friends with locals, and getting under its skin.
I love the beauty of the canals and historic homes, the friendly nature of the Dutch, the museums, the parks, and the quality of life. I love the international feel of the city, the cafe culture, the art, the exploding entrepreneur scene, and the rise of good beer bars! In short, I love it all.
I've been visiting Amsterdam for twelve years and have seen it change. Heck, I used to live here for a bit!
There are so many things to do in Amsterdam that it deserves more than just the few (and often smoke-filled) days most travelers give it. This is one of the cultural capitals of the world!
It is ever changing (there's a huge new burger, microbrew, and food scene that exists in the city now) that you can always find something different each visit (even if the canals are never changing).
So what do you see in Amsterdam? How do you spend your time in this world class city?
If a few days to visit Amsterdam is all you have, the below itinerary will give you a good overview and feel for what makes visiting Amsterdam so special. It's the same itinerary I'd give a good friend. Use the list of attractions and sights and food suggestions to explore the city and let this itinerary be your guide! It will take you off the beaten path and show you the real Amsterdam. Not the overly tourist one most people don't see!
Table of Contents
Day 1: Canal Tour, Van Gogh Museum, Rijksmuseum, & more!
Day 2: Anne Frank House, Jordaan, Amsterdam History Museum, & more!
Day 3: Jewish Historical Museum, FOAM, Oosterpark, & more!
Day 4: Museum Amstelkring, Rembrandt House Museum, Museum Van Loon, & more!
Other Things to See and Do: Waterlooplein Flea Market, Haarlem, Hash, Marihuana Museum, & more!
Amsterdam Itinerary: Day 1
Free walking tour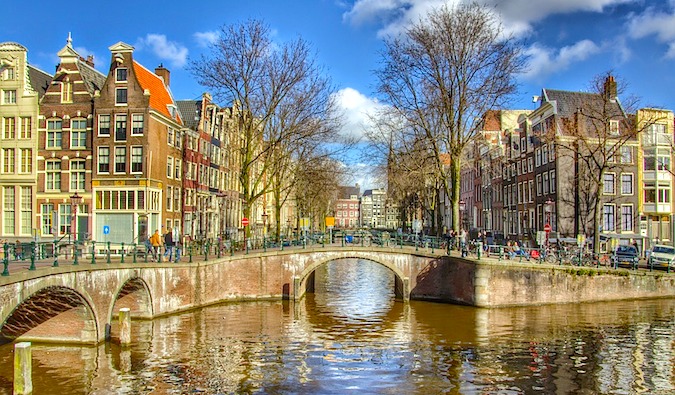 A great way to orient yourself to the city is with a walking tour. You'll learn some history, find out where the major sites are, and explore all those winding canals. I think free walking tours are a wonderful first activity in any city. Amsterdam has two really good walking tours:
Free Walking Tours Amsterdam
New Europe
They are both pretty good. New Europe links up with all the hostels so if you end up going on the tour via your hostel, you'll most likely be on that one! Both will give you a general historical overview of the city and its landmarks. The tour also meets in the main square and lasts about 2-3 hours. (Be sure to tip your guide though!)
Canal tour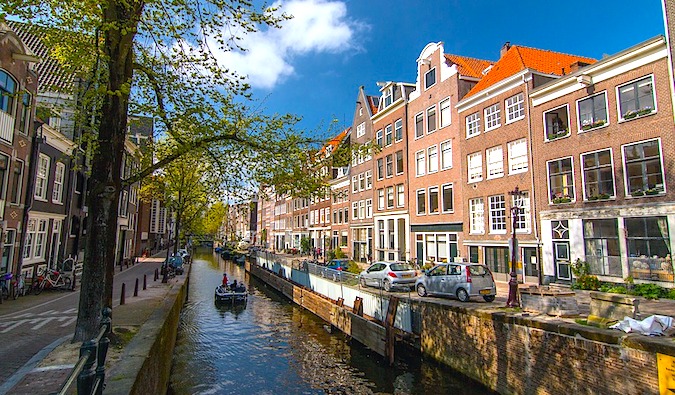 Amsterdam is a city tied to the water – it grew around its canals and the taming of the Amstel River. The canals of Amsterdam are incredibly beautiful, and there's nothing like seeing the city from a boat. Skip the big canal boat tours you see around the city — they're overpriced. You can often hire a private boat tour for about 20 Euros an hour (look for guides around the Red Light District). Moreover, you can also take the open-air open boat tour. The boats are small, the tours more intimate, and your captain will give you a good personalized tour. The tours last about an hour and it leaves from Damrak Pier 6, Central Station East, Leidseplein, and Rijksmuseum. Prices start from 19.50 euros.
Van Gogh Museum
This may be one of the most popular tourist attractions in the city, but don't let the crowds deter you. The museum features many of Van Gogh's best works of art alongside an excellent biography of his life and is laid out in chronological order, starting with his earliest works. Though not a huge museum, I can spend hours just staring at the paintings as Van Gogh is one of my favorite painters. The museums also has paintings by other famous artists of the period, like Monet, Manet, and Matisse. Try to come late in the late afternoon when the crowds subside.
Museumplein 6, Oud-Zuid, +31 20 570 5200, vangoghmuseum.nl. Opening hours: Sun–Thu (9am–7pm), Fri—Sat (9am–9pm). Price: €18, students 18 and under are free.
Rijksmuseum


The Rijksmuseum is located right next to the Van Gogh Museum, and after years of renovation, it's now beautifully remodeled. The museum still features an extensive Rembrandt collection, and you'll be able to see the famous painting "The Night Watch." Besides Rembrandt, there's also an incredible and robust collection of other classic Dutch painters, like Frans Hals and Johannes Vermeer. Over one million works of art, craftworks, and historical objects are kept in the collection, and around 8,000 objects are on display in the museum so be sure to budget a few hours!
Museumstraat 1, Oud-Zuid, +31 20 674 7000, rijksmuseum.nl. Opening hours: Daily (9am–5pm). Price: €17.50, students 18 and under are free.
Amsterdam Itinerary: Day 2
Anne Frank House


In all honesty, I don't like this place. I found it to be anticlimactic. You basically do a slow walk through the house as the crowds pack the place. You don't get to let everything soak in as you're being pushed from behind by the endless crowds. It's maddening! But, if you don't mind waiting in line and you're curious about Anne (I think the Jewish History Museum does a more thorough job of relating the events in Anne Frank's life to the Holocaust), it might be worth the visit for you. You can book tickets online up to two months in advance, which lets you skip the line. If you don't do this, get there very early in the morning to avoid the long queue that develops over the course of the day!
Prinsengracht 263–267, Centrum, +31 20 556 7100, annefrank.org. Opening hours: Daily (9am–10pm) April–November, with shorter winter hours. Price: €10, discounts for children.
The Jordaan area


This heavily residential area (an old working-class neighborhood turned hip) is probably the most missed part of Amsterdam. Although it's right near the city center, hardly any tourists enter this maze of restaurants, cafes, and shops. It's peaceful and a great place to wander while avoiding the mass of tourists crowding the main streets just a few blocks away. While in the area, be sure to eat at the following places in the area:
Moeders (traditional Dutch food) – Rozengracht 251, +31 20 626 7957
Winkel 43 (apple pie) – Noordermarkt 43, +33 20 623 0223
The Tulip Museum
Located in a room inside a tulip shop, this little basement museum does a wonderful job of telling the history of tulips in Holland and the infamous tulip craze. It's one of the best off-the-beaten-path attractions in Amsterdam. You'll never find a crowd, and it's only 5 euros (3 euros for students)!
Prinsengracht 116, Jordaan, Centrum, +31 20 421 0095, amsterdamtulipmuseum.com. Opening hours: Daily (10am–6pm). Price: €5, discounts for students and families.
Amsterdam History Museum


This museum features a very thorough history of Amsterdam. It's big, and you'll need 3–4 hours to really go through it in detail. There are a lot of relics, maps, paintings, and audiovisual displays throughout the museum. My favorite is the computer graphic at the entrance showing the growth and construction of the city over time. I can't recommend this museum enough. It's one of the best history museums I've ever visited.
Kalverstraat 92, Spui, Centrum, +31 20 523 1822, amsterdammuseum.nl. Opening hours: Daily (10am–5pm). Price: €13.50, discounts for students and children.
Red Light District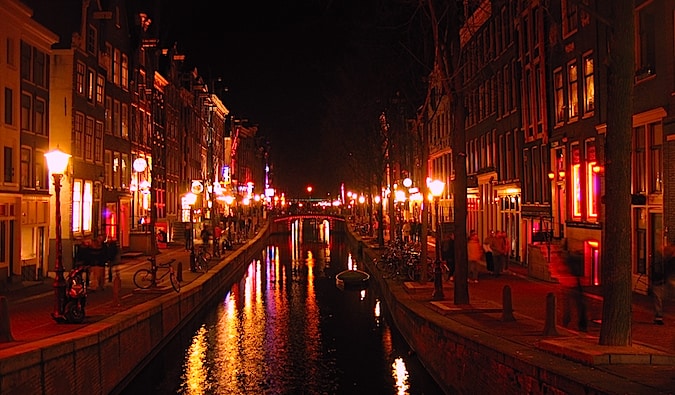 Though much tamer than in previous years, the Red Light District manages to balance sex and seediness with being a major tourist attraction. During the day, it's a quiet place. If it wasn't for the red lights and sex signs everywhere, it would look like any other part of the city. But, at night, the area becomes awash with drunk, gawking tourists moving slowly down the street as they stare at the girls in the window while going from bar to bar and coffeeshop to coffeeshop. It's a place to see and experience for a very brief time.
Amsterdam Itinerary: Day 3
Take a bike tour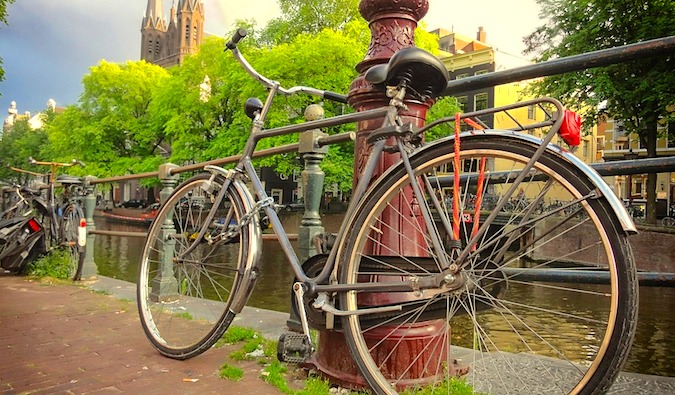 Bikes are to Amsterdam like wine is to Bordeaux. The city loves bikes, and there are supposedly more bikes than people in Amsterdam. In fact, forget about keeping a lookout for cars — it's the bikes that will run you over. Seeing Amsterdam and its surroundings from a bike is something I definitely encourage you to do. Mike's Bike Tours is the best company to use, whether for a tour or to rent a bike on your own. Tours start at €22 for two hours, or €28 for three hours.
FOAM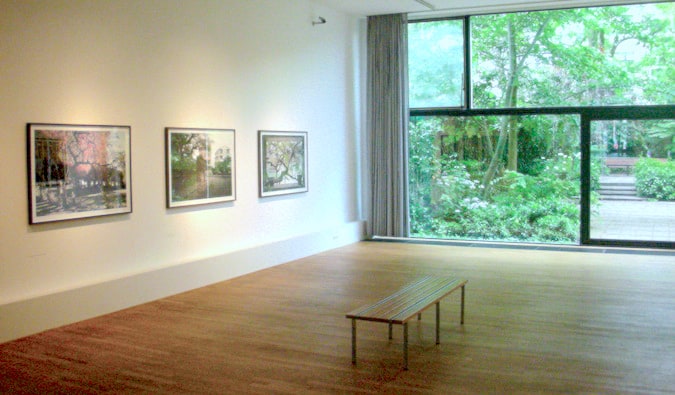 This photography museum houses wonderful pictures and sees few crowds despite being in the main part of the city. It's a must for any photography lover. The exhibitions are constantly changing so you never know what you might see! They have a beautiful outdoor garden too. It's a small museum and doesn't take long to see.
Keizersgracht 609, Centrum, +31 20 551 6500, foam.org. Opening hours: Sat–Wed (10am–6pm), Thu–Fri (10am–9pm). Price: €11, discounts for students.
Jewish Historical Museum
Often overlooked in favor of The Anne Frank House, the Jewish Historical Museum tells the history of the Jews' prominent and influential position in Amsterdam. The exhibit on World War II does a great job of highlighting Dutch complacency, resistance, and guilt over the Holocaust.
Nieuwe Amstelstraat 1, Centrum, +31 20 531 0310, jhm.nl. Opening hours: Daily (11am–5pm). Price: €15, discounts for students.
Oosterpark


Everyone goes to Vondelpark to sit around, bike, or get high, but east of the main city center is a beautiful park with fewer people and green space that is just as relaxing. It's about a 30-minute walk from the city center, but the walk takes you through residential areas of the city not often seen and way off the tourist map. I enjoy coming here because it's far quieter and more peaceful than Vondelpark. If you wanted a quiet park experience, this is it!
Amsterdam Itinerary: Day 4
Museum Amstelkring


Ons' Lieve Heer op Solder ("Our Lord in the Attic") is one of the most interesting churches in the city. Hidden inside a 17th-century canal house, the clandestine Catholic church was built during Protestant rule. It was never really a secret but it was out of sight and out of mind for the authorities. The drawing room here is quite beautiful and the furnishings make it one of the most best 17th-century rooms left.
Oudezijds Voorburgwal 38, De Wallen, +31 20 624 6604, opsolder.nl. Opening hours: Mon–Sat (10am–6pm) and Sun (1–6pm). Price: €11, children 5–18 are €5.40, and there are discounts for students.
The Rembrandt House Museum


Rembrandt lived and worked in this house between 1639 and 1658. Daily demonstrations show modern visitors how he worked and you can also explore the house and see a recreation of how it was decorated during Rembrandt's time. I wasn't too impressed, but Rembrandt enthusiasts shouldn't overlook it.
Jodenbreestraat 4, Rembrandtplein, Centrum, +31 20 520 0400, rembrandthuis.nl. Opening hours: Daily (10am–6pm). Price: €13, discounts for children.
Museum Van Loon
The Museum Van Loon is a double-sized canal house (built in 1672) located on the Keizersgracht canal in Amsterdam. The house was owned by the wealthy Van Loon merchant family who set up a beautiful art collection. Now it's a museum with period furniture, art, and family portraits. There's a beautiful garden here too. This is definitely a place not to miss.
Keizersgracht 672, Centrum, +31 20 624 5255, museumvanloon.nl. Opening hours: Daily (10am–5pm). Price: €9, children 6–18 are €5, and there are discounts for students.
Vondelpark


Amsterdam's largest and most popular park is a great place to walk, bike, people-watch, or relax, especially after a visit to a local coffee shop. There's a playground as well as places to play sports, and numerous areas for kicking back. During the summer, Vondelpark is filled with people, especially locals who hang out at the café 't Blauwe Theehuis for drinks in the center.
The Heineken Experience
This museum used to be a lot better when it was cheaper and they offered more beer. It's not a working brewery, and in comparison to the Guinness Museum in Dublin, it's lame. But the price of admission buys you three beers and you'll learn a bit of the history of Heineken (which I enjoyed since I drink a lot of their beer). It's not a must-see, but it's not a must-avoid either.
Stadhouderskade 78, De Pijp, Oud-Zuid, +31 20 721 5300, heinekenexperience.com. Opening hours: Mon–Thu (10:30am–7:30pm, last entry at 5:30pm), Fri–Sun (10:30am–9pm, last entry at 7pm). Price: €18 (admission includes two beers), pre-order online for €16.
Other Sites and Attractions in Amsterdam Worth Visiting
Don't like the above? No problem! Below are some of my other favorite activities to do in Amsterdam. Mix and match to create your own personal itinerary!
Waterlooplein Flea Market – This open-air market is like a giant flea market — everything and everyone can be found here. People sell secondhand clothes, hats, antiques, gadgets, and much more. You can also find new and unused items. If there's something you want, you'll probably find it here. Open Monday to Saturday.
Day trip to Haarlem – Just a quick train (or bike) ride from Amsterdam, Haarlem is a quiet Dutch town that has a beautiful central church, great outdoor market, and all the beauty of historic Amsterdam with fewer crowds.
Visit Noord – Leave the city center, take the ferry across the IJ, and visit the up and coming area of Noord Amsterdam. In the last few years, a lot of people have moved here (it's cheap), cool markets and restaurants have opened, and a lot of old industrial land has been reclaimed for public use. It's the new hip place to be! Be sure to visit the famous EYE, Amsterdam's film institute.
The Amsterdam library – The city's library is a beautiful modern building built in 2007. It's gigantic, overlooks the IJ, and has a wonderful top floor cafe for impressive views of the city. It's one of my favorite places to relax in the city. It's quiet, peaceful, and there's nothing like reading a good book with a great view! Oosterdokskade 143, Centrum, +31 20 523 0900, oba.nl. Opening hours: Daily (10am–10pm).
Stedelijk Museum Amsterdam – Like modern art? Well, I don't but if you do, this is the place in the city to see it! Museumplein 10, Oud-Zuid, +31 20 573 2911, stedelijk.nl. Opening hours: Sat–Thu (10am–6pm), Fri (10am–10pm). Price: €17.50, discounts for students.
Foodhallen – Located in the western part of Amsterdam, this place is what the name implies – a food hall! This indoor food market has various vendors serving a variety of delicious food. It's like food trucks in one location. Personal favorites include Viet View, Le Big Fish, and Friska. Bellamyplein 51 or Hannie Dankbaarpassage 47 [both entrances work], foodhallen.nl.
Houseboat Museum – This museum will show what it's like to live in a houseboat! It doesn't take long to see and only costs a few euros. Prinsengracht 296K, Jordaan, Centrum, +31 20 427 0750, houseboatmuseum.nl. Hours vary per season.
Take a drug tour – This two-hour walking tour highlights the history of the city's relationship with drugs. It's designed to dispel the myths and perceptions of drugs in Amsterdam and Dutch society. It's a very "pro-drug" tour so go with an opinion mind. Tours are every Friday at 6pm; reserve by emailing booking@drugstour.com. Must be 18+ years old.
Take an alternative art tour – This is a really unique tour that I took this year. I was blown away by it. You get to see the city's street art in alleyways, squats, and independent galleries while you learn about Amsterdam's alternative side and underground and immigrant culture. It's really fabulous. All the people I took on it loved it. Tours are private and require at least four people. Visit Alltournative Amsterdam for more!
Erotic Museum — This museum is located in the middle of Amsterdam's Red Light District (where else would it be?) and looks at eroticism in all its forms through the ages and includes sculptures, paintings, drawings, photographs, and other artwork. It's similar to Sex Museum Amsterdam but focuses more on the "art" side of nudity and sex. Oudezijds Achterburgwal 54, De Wallen, +31 20 623 1834. Opening hours: Sun–Thu (11am–1am) and Fri–Sat (11am–2am). Price: €7.
Hash, Marihuana & Hemp Museum — This museum presents information about the historical and modern use of cannabis for medicinal, religious, and cultural purposes. The exhibits focus heavily on how hemp can be used for agricultural, consumer, and industrial purposes. Oudezijds Achterburgwal 148, Centrum, +31 20 624 8926, hashmuseum.com. Opening hours: Daily (10am–10pm). Price: €9, free for children under 13 years (accompanied by adults).
ONE LAST AMSTERDAM TRAVEL TIP: Be sure to visit the city tourism office near central station. They have lots of information on free things to do, current events and activities, and discount passes and tickets you can use to save money. They are an underused resource by travelers!
****
Four days in any city is never enough time to really see it, but given Amsterdam's compact nature, it's definitely enough time to hit all the "major" attractions during a quick visit. You don't have to walk far (you can walk the length of the city center in about 45 minutes). This four day Amsterdam itinerary will help you make the most of your stay and get you on and off the beaten path to see the best of Amsterdam. Spend longer in the city if you can. Don't spend all your time smoking in cafes either. Get out of the Red Light District. Find unique things to do.
And enjoy the city I used to call home!
Want the real, most honest, straight to the point guide on Amsterdam?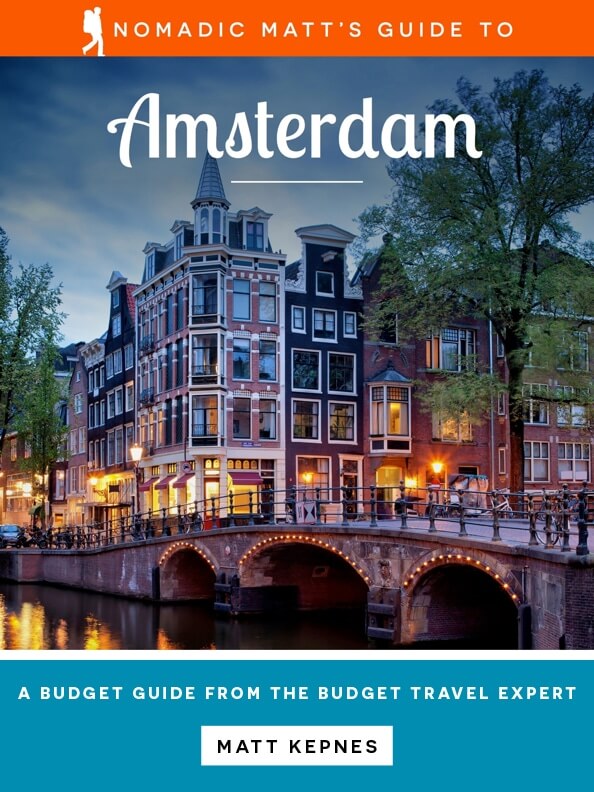 Want to plan the perfect trip to Amsterdam? Check out my comprehensive guide to Amsterdam written for budget travelers like yourself! It cuts out the fluff found in other guides and gets straight to the practical information you need to travel and save money in one of the most beautiful and romantic cities in the world. You'll find suggested itineraries tips budgets, ways to save money, on and off the beaten path things to see and do, and my favorite non-touristy restaurants, markets, and bars, and much more!! Click here to learn more and get started.
Book Your Trip to Amsterdam: Logistical Tips and Tricks
Book Your Flight
Use Skyscanner or Momondo to find a cheap flight. They are my two favorite search engines because they search websites and airlines around the globe so you always know no stone is left unturned. Start with Skyscanner first though because they have the biggest reach!
Book Your Accommodation
You can book your hostel with Hostelworld as they have the biggest inventory and best deals. If you want to stay somewhere other than a hostel, use Booking.com as they consistently return the cheapest rates for guesthouses and cheap hotels. My favorite places to stay are:
St. Christopher's at the Winston
Flying Pig Downtown
ClinkNOORD
If you're looking for more place to stay, here is a complete list of my favorite hostels in Amsterdam!
Don't Forget Travel Insurance
Travel insurance will protect you against illness, injury, theft, and cancellations. It's comprehensive protection in case anything goes wrong. I never go on a trip without it as I've had to use it many times in the past. My favorite companies that offer the best service and value are:
World Nomads (for everyone below 70)
Insure My Trip (for those over 70)
Medjet (for additional repatriation coverage)
Looking for the Best Companies to Save Money With?
Check out my resource page for the best companies to use when you travel. I list all the ones I use to save money when I'm on the road. They will save you money when you travel too.
Want More Information on Amsterdam?
Be sure to visit our robust destination guide on Amsterdam for even more planning tips!
Photo Credit: 5 – Jukka, 6 – Guilhem Vellut, 7 – Marilena, 9 – Alejandro, 14 – Guilhem Vellut, 15 – Sharat Ganapati, 16 – Ana Paula Hirama, 18 – Erik Huiberts