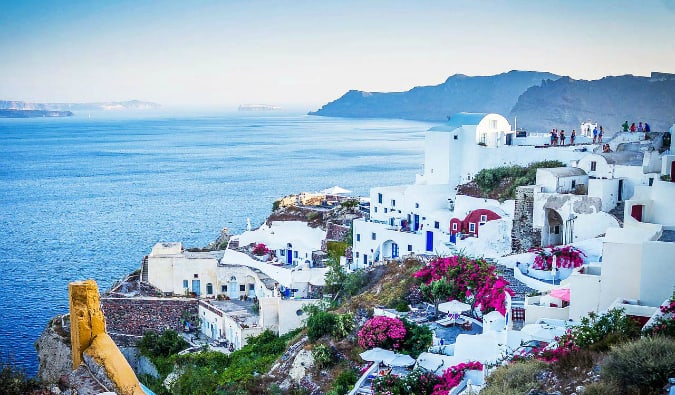 Updated: 02/04/2020 | February 4th, 2020
Most travel around Greece tends to focus on the Greek Islands — and for good reason. They're beautiful, historic, relaxing, filled with great nightlife, and, overall, just exciting.
With over 6,000 islands, Greece has a lot of options for travelers.
It's always been a dream of mine to spend a summer slowly moving from island to island, getting to know the character of each while also working on a great tan. Like most travelers, I started the Cyclades, the main island chain closest to Athens and the one with the most famous of islands. I had planned two months of travel but found myself barely moving as I ended up spending most of my time on Ios.
The following summer, I went back and visit this island change again. And, in subsequent years, whenever I'm backpacking Greece, I try to visit the Cyclades. I've visited the four major islands in the chain: Ios, Paros, Mykonos, and Santorini.
In this guide, I'll give you tips and advice for picking the best island in the Cyclades for your travels!
Table of Contents
The Cheapest Island: Ios
The Most Relaxing Island: Paros
The Party Island: Mykonos
The Most Popular Island: Santorini
The Best Beach Island: Naxos
How to Explore the Cyclades
Ios

I've spent a lot of time on Ios. I fell in love with the people here and simply couldn't bring myself to leave.
While the island isn't the most beautiful of the group, it is the cheapest. Since the majority of people coming here are young travelers on a limited budget, you easily find cheap food and budget accommodation.
If you're looking to party, drink specials can be found for a couple of euros (most hostels have their own bars, as well). There's only one main town on Ios, and it's easy to walk around, taking only about 10 minutes end to end.
However, even if hanging out with backpackers doesn't appeal to you, Ios has some of the best beaches out of all the islands I visited. All of them are spacious, white-sand beaches and on the opposite side of the island, they're deserted.
If you're a fan of history, you can also visit the legendary burial place of Homer, author of the epic poems The Illiad and The Odyssey.
How to Visit Ios
Ferries leave from Piraeus (the port near Athens) several times each week. The journey will take between 5-7 hours with ticket starting around 40-60 EUR per person. There is no airport on Ios, so if you plan to fly you'll need to fly to Santorini first. Flights from Athens to Santorini will cost around 30-130 EUR for a round-trip ticket.
Paros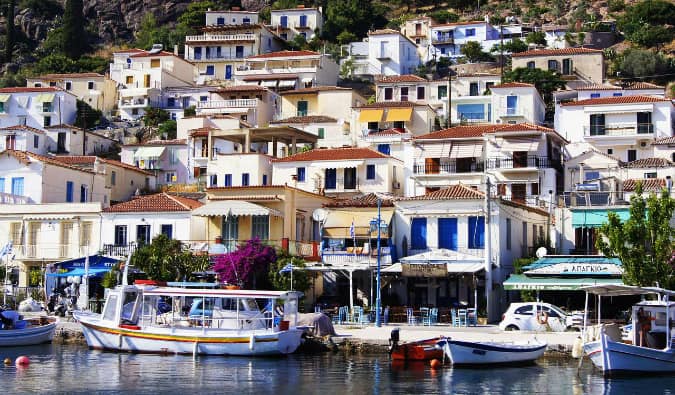 Outside of Ios, Paros was my favorite island. While there are a few ruins, a cave, and a boat trip you can take, overall, this island is for those who simply want to relax. There's no nightlife, no crowds, no cruise ships docking at the port. It's quiet. Tranquil is the word I'd use.
More importantly, I thought this was one of the prettiest islands in the group. The mountains and valleys had more color to them, the towns looked nicer, and the views were spectacular. The island was simply striking and serene.
My favorite part? The port of Naoussa. Besides having delicious and inexpensive seafood, it was a simply stunning place to walk around. There's a small beach, and you can go out to an old fort and explore. Sitting on the breakers watching the fishing boats going in and out is a great way to spend some time and soak up the local way of life.
How to Visit Paros
Ferries leave daily from both Piraeus and Rafina, the two ports near Athens. The journey will take between 4-6 hours and cost at least 40 EUR per person.
Flights to Paros will take around 40 minutes and cost between 50-150 EUR.
Mykonos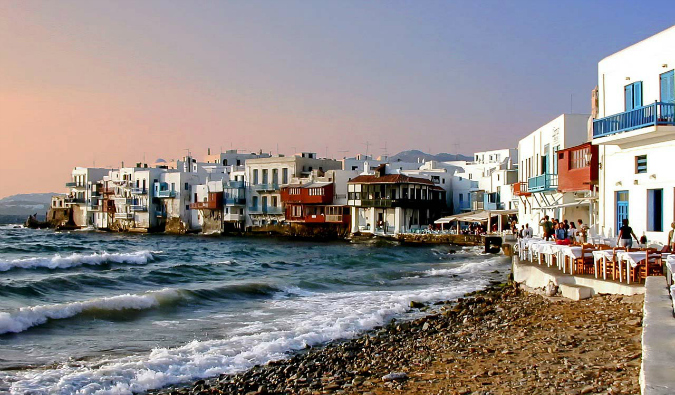 One of the main tourist destinations in Greece, this island attracts cruises, families, and honeymooning couples. It was the most expensive island I visited.
The night I went for seafood the going rate was 75 EUR per kilo for fish! On Ios, you can get a whole fish for 30 EUR!
The clubs charge a high cover (20 EUR), and the drinks are about 8-10 EUR. Even a light dinner of pasta and wine cost me over 20 EUR.
As you can see, this is more of a "vacation" island rather than a "budget backpacker" getaway. While it may be expensive, it's still an amazing place to visit. There's a reason it's so popular, after all!
While I thought the island was pretty, the real highlight was the town. Out of the four islands I visited, Mykonos had the most beautiful town, with its quiet, winding streets and small alleys lined with whitewashed houses overlooking a beautiful harbor. Mykonos is famous for its "Little Venice" which, though beautiful, is nothing more than a row of houses on the water. It was a beautiful place, but I'm not sure I'd go back.
How to Visit Mykonos
Daily ferries are available from both Rafina and Piraeus, with the journey lasting between 3-5 hours. Expect to pay around 40-60 EUR for a ticket.
Flights are also available, lasting around 40 minutes and costing between 25-75 EUR.
Santorini

Like Mykonos, Santorini is very famous, sees a lot of older tourists, and is a frequent stop for cruise ships. The cliffside towns of Oia and Fira are the two main towns on the inner side of the island. Both towns overlook the famous caldera and both these towns offer great sunset views and angles to get photos of blue-topped churches and blue-rimmed houses.
From either town, you take the day trips to the old volcano and relax in the hot mud baths. Near the beach area of Perissa, you'll find the bars and hostels that the younger travelers frequent. The beach area gets a lot of visitors and sun but has black sand, not white sand.
Santorini has the best restaurants out of the four islands, and I'd gladly come back to explore the ancient ruins and cliffs more.
How to Visit Santorini
Ferries leave from Piraeus daily (and from Rafina daily in the summer). Tickets cost between 40-75 EUR per person.
Flights from Athens to Santorini will cost around 30-130 EUR for a round-trip ticket.
Naxos

Naxos is just as gorgeous and picturesque as the more popular islands of Santorini and Mykonos, but without the crowds. Naxos is home to charming villages and pristine beaches so it will definitely satisfy your desire to enjoy that serene Mediterranean life.
Naxos will be able to keep you entertained as you enjoy your little slice of Greek heaven away from the tourist mob, offering relaxing beaches, hiking, water sports, and history. It has everything you need for a perfect getaway! In fact, it's one of my favorite islands in he world!
How to Visit Naxos
Ferries from Athens will take between 4-6 hours and cost around 40-55 EUR per person.
Flights from Athens will take around 40 minutes. Expect to pay between 75-250 EUR for a round-trip flight.
***
Unfortunately, I didn't get to see some of the other islands. But that just means one day I'll have to return to explore them! As a history lover, Greece offers a never-ending treasure trove of amazing ruins and incredible mythology. And if you're looking to let loose and party, you'll be hard pressed to find a better location than the islands of Greece.
Yes, the Cyclades may all look the same on the surface, with their white buildings and similar landscapes. But each island has its own quirks and personality. Each island has something unique to offer.
Book Your Trip to Greece: Logistical Tips and Tricks
Book Your Flight
Use Skyscanner or Momondo to find a cheap flight. They are my two favorite search engines because they search websites and airlines around the globe so you always know no stone is left unturned. Start with Skyscanner first though because they have the biggest reach!
Book Your Accommodation
You can book your hostel with Hostelworld as they have the biggest inventory and best deals. If you want to stay somewhere other than a hostel, use Booking.com as they consistently return the cheapest rates for guesthouses and cheap hotels. My favorite places to stay are:
Paraga Beach Hostel (Mykonos)
Caveland (Santorini)
Francesco's (Ios)
Don't Forget Travel Insurance
Travel insurance will protect you against illness, injury, theft, and cancellations. It's comprehensive protection in case anything goes wrong. I never go on a trip without it as I've had to use it many times in the past. My favorite companies that offer the best service and value are:
World Nomads (for everyone below 70)
Insure My Trip (for those over 70)
Medjet (for additional repatriation coverage)
Looking for the Best Companies to Save Money With?
Check out my resource page for the best companies to use when you travel. I list all the ones I use to save money when I'm on the road. They will save you money when you travel too.
Want More Information on Greece?
Be sure to visit our robust destination guide on Greece for even more planning tips!