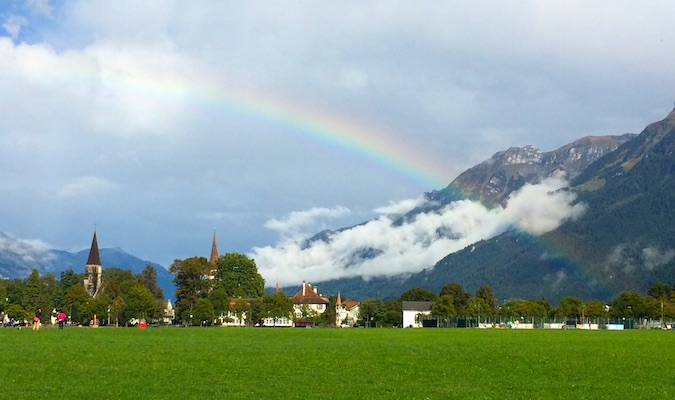 Last Updated: 07/22/19 | July 22nd, 2019
Switzerland conjures up many images. On one side, there are majestic mountains, delicious fondue and chocolate, big banks sheltering people's money, precision watches, and an orderly society. On the other, heart attack–inducing prices: $8 USD coffee or beer?! $50 steaks?! A $15 menu at McDonald's?! $35-40 hostel beds?! WTH!
Switzerland is rated the most expensive country in the world to visit, with Geneva and Zurich being two of the ten most expensive cities to live in.
And because visiting Switzerland so expensive, it's easy to see why so many people skip over the country and wait until they are older and (hopefully) wealthier. When I mentioned I was visiting Switzerland on a budget, many people shook their heads and wished me good luck with a "poor soul to think he can do that" expression.
I'll admit I was worried. While I've found that not all "expensive" destinations need to be tough on the wallet (though some are unavoidably expensive), Switzerland travel seemed daunting, having a strong currency and high taxes, and being a mecca for rich banks, international organizations, wealthy residents, and tax shelterers.
Switzerland will never be a "dirt cheap" country to visit, where travelers can visit on just a few dollars a day, but I found to my surprise that it's possible to travel the country on a relatively light budget.
How do you save money in Switzerland?
Well, it's tricky but not impossible. Here's how you can do that:
How much I spent in Switzerland
Here's how much my trip to Switzerland (Zurich, Bern, Geneva, and Interlaken) cost (in Swiss francs (CHF), which are worth $1.03 USD):
Food: 105.75
Accommodation: 171.36
Transportation: 222.30
Metro: 17.40
Alcohol: 66.90
Attractions: 30
Total: 613.71 (or 76.71 CHF per day)
Overall, I did a good job of keeping my costs around $79 USD per day. Granted, it was a lot of work. I relied heavily on the sharing economy (see below) and cooking my own food. Being able to hike and visit free attractions also helped, though in wintertime when you have to pay to ski, this might not be the case. Having spent a few days in Zurich in the past, I didn't feel the need to eat out a lot (and I don't drink coffee) so I was happy to eat my own food versus ordering expensive restaurant food. Alcohol cost a fair bit (11% of my budget) but there was no way I was going to Interlaken without partying in the famous Balmers (also the only hostel I stayed in the entire time).
My biggest mistake was not paying attention to the fact I was flying in and out of Zurich. Since I went from Zurich to Geneva to Zurich, that meant I doubled back, costing me an extra 100 CHF in train tickets! This was such as stupid mistake, and I still kick myself for it. I mean, how could I miss such a simple thing?! If I had gone one way, I would have saved a substantial amount of money and significantly lowered my average spending. Always pay attention to your direction to save money on transportation. It's a hard and fast rule of mine and I completely messed up.
Suggested Daily Budget in Switzerland
How much should you spend in Switzerland? Well, that depends. How do you travel? Depending on your budget and where you want to spend your money you could spend as little as $50 a day on a tight backpacking budget where you couchsurf, cook all your food, and limit your alcohol to the skies the limit where you're spending hundreds a day just on accommodation. Below is a chart of some suggested budgets based on different travel styles!
Accommodation
Food
Transportation
Activities
Avg. Daily Cost
Budget
$27
$10
$2.50
$17
$75
Mid-Range
$60
$30
$17
$60
$175
Luxury
$150
$40
$43
$70
$300
How to Save Money in Switzerland: My 7 Tips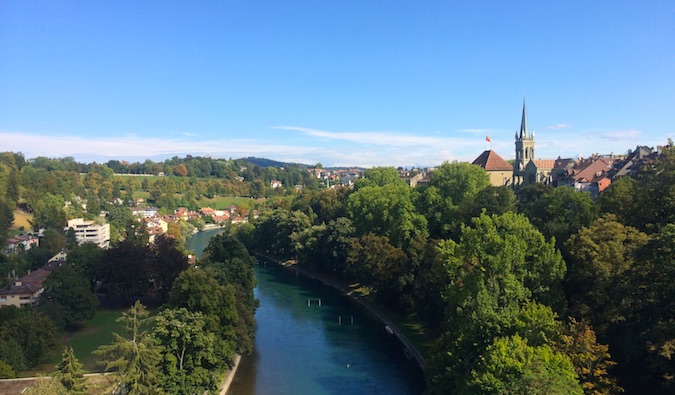 I kept a lot of my costs down because I don't participate in many adventure activities and visited the country when I could hike (a free activity). While I could have trimmed some expenses (gone in one direction, drank nothing, avoided that Starbucks in Geneva), I don't believe that you should not do certain things simply for the sake of being cheap (Live a little, right?). Even if I had done ridesharing or Couchsurfing during my visit, I would have put extra savings into other activities. (Be frugal, not cheap is my travel philosophy. So I think my budget was just right for the country.)
Here are seven high-impact ways to save big money in Switzerland:
Switzerland Travel Tip #1: Use Couchsurfing — With dorm rooms starting at $30-40 per night, you need to lower your accommodation costs. Couchsurfing is the way to do it. It's a service that lets travelers stay with locals for free (more on it here). It was a lifesaver that allowed me to keep my costs down the most. Since a lot of travelers use this service, make your requests for hosts early. I put in 25 hosting requests in Geneva before I found someone to stay with!
Switzerland Travel Tip #2: Use BlaBlaCar — Transportation is very expensive, even more so than accommodation. Most intercity trains are around 50 CHF. That adds up too quickly! Instead, use the ride-sharing website BlaBlaCar to avoid the trains and meet locals. This website lets you rideshare with people, and though I only used it once, it saved me $50 and I met a cool French father and son team on their way to Germany (I got to practice my poor French):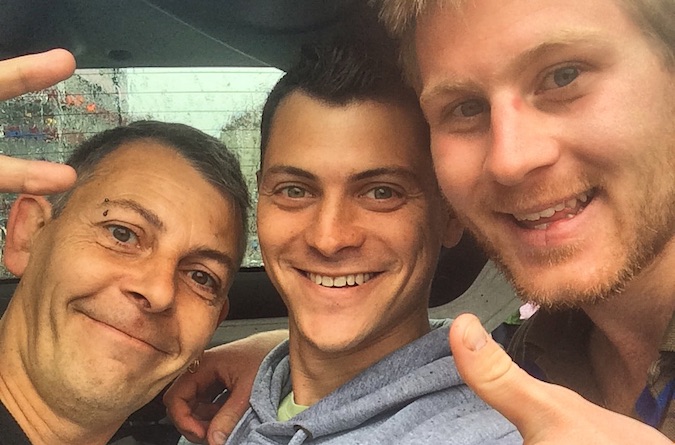 A word of caution: be advised that many rides cancel. I had three rides cancel on me at the last minute (and one guy who just failed to even show up), so the service requires some flexibility. But when it works, it's awesome. And it's definitely something I want to use a lot more in Europe.
Switzerland Travel Tip #3: Use hotel points — Hotel reward points are a lifesaver in expensive destinations, where even hostels are expensive and the chance of getting a Couchsurfing host is small. Rack up a few hotel points by travel hacking before your trip and burn them while you stay in the country. Most hotel sign-up bonuses are around 60,000 points, which is worth about five nights at the chain hotels like Hilton, Marriott, or Starwood (just make sure you stay at their cheaper properties. Sorry, no W for you!).
Alternatively, Airbnb is also a good deal if you're traveling with someone, as most private rooms are around $50 per night. Split two ways, that's only $25 a person, much cheaper than a hostel dorm!
Switzerland Travel Tip #4: Don't drink — Drinking is not cheap here. Most beers are around 8 CHF. (Plus, who wants to hike while hungover?) Most wines are between 10-25 CHF a bottle. If you must drink, stick to hostel bars where you can enjoy 2-for-1 happy hours and cheap drinks for around 5 CHF.
Switzerland Travel Tip #5: Cook — With sit-down restaurants costing around 40 CHF per meal per person, eating out in Switzerland can be very costly, so buy your groceries. A week's worth of food (bread, pasta, rice, eggs, vegetables, cheese, deli meats for sandwiches, and some assorted fruit) will cost you 75-100 CHF. The major supermarkets are Migros, COOP, and Spar. COOP is the most expensive.
Switzerland Travel Tip #6: Go veggie — Meat is expensive in Switzerland. Every Swiss resident or expat I talked to told me about how they limit their meat consumption because it costs so much. Stick to veggies and avoid buying meat for your meals (especially beef). While I was trolling supermarkets and butchers for grocery prices (travel writing is glamorous, huh?!), I found a pound of meat was 12-14 CHF. At that price, stick to deli meats for protein!
Switzerland Travel Tip #7: Use lunch specials — If you are going to eat out, do so during lunch, when most lunch specials cost around 10-19 CHF. Moreover, stick to the ethnic restaurants like Chinese, Middle Eastern, Indian, or Thai for the best deals and biggest portions (and closer to that 10 CHF price). Lunch specials are a great way to get a lot of bang for your buck and to enjoy the dinner menu but at a cheaper set menu price — this is the only way I eat when visiting countries as expensive as Switzerland. Cook breakfast, eat out lunch, cook dinner — you can't go wrong!
Switzerland is an expensive country to visit — there's no doubt about it. I think the floor for what a backpacker/budget traveler should travel Switzerland on is around $75 USD. At that price point, you'd have enough money to do the basics, stay in some hostels, go out, and enjoy some adventure and outdoor activities. Anything cheaper would limit your ability to really enjoy what Switzerland has to offer.
But no matter your travel style or what you plan to do, following the tips above will allow you to visit Switzerland on a budget by cutting wasteful spending and focusing your hard-earned travel money on what you want — whether that's museums, beer, adventure activities, or a pound of meat.
Get Your In-Depth Budget Guide to Europe!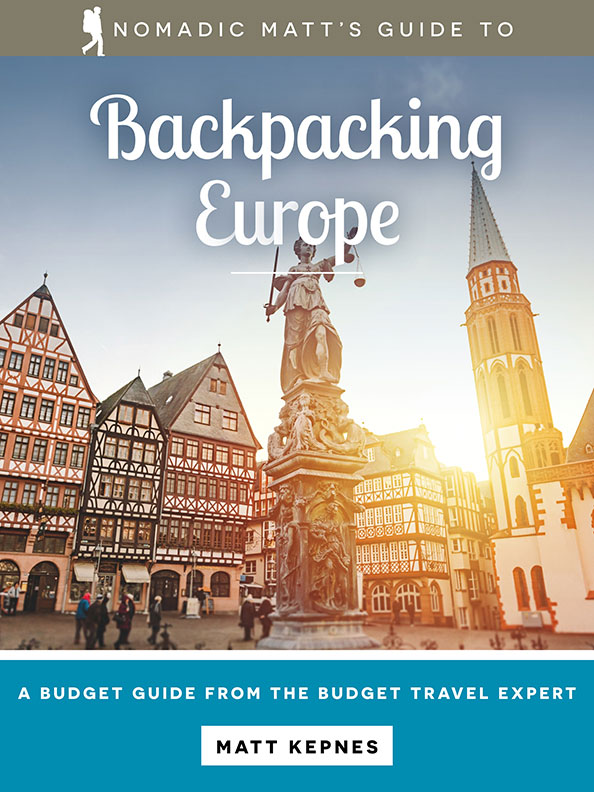 My detailed, 200+ page guidebook is made for budget travelers like you! It cuts out the fluff found in other guidebooks and gets straight to the practical information you need to travel and save money while backpacking around Europe. You'll find suggested itineraries, budgets, ways to save money, on and off the beaten path things to see and do, non-touristy restaurants, markets, and bars, and much more! Click here to learn more and get started!

Book Your Trip to Switzerland: Logistical Tips and Tricks
Book Your Flight
Use Skyscanner or Momondo to find a cheap flight. They are my two favorite search engines because they search websites and airlines around the globe so you always know no stone is left unturned. Start with Skyscanner first though because they have the biggest reach!
Book Your Accommodation
You can book your hostel with Hostelworld as they have the biggest inventory and best deals. If you want to stay somewhere other than a hostel, use Booking.com as they consistently return the cheapest rates for guesthouses and cheap hotels. My favorite places to stay are:
Balmers (Interlaken)
Funny Farm (Interlaken)
Don't Forget Travel Insurance
Travel insurance will protect you against illness, injury, theft, and cancellations. It's comprehensive protection in case anything goes wrong. I never go on a trip without it as I've had to use it many times in the past. My favorite companies that offer the best service and value are:
World Nomads (for everyone below 70)
Insure My Trip (for those over 70)
Medjet (for additional repatriation coverage)
Looking for the Best Companies to Save Money With?
Check out my resource page for the best companies to use when you travel. I list all the ones I use to save money when I'm on the road. They will save you money when you travel too.
Want More Information on Switzerland?
Be sure to visit our robust destination guide on Switzerland for even more planning tips!
Editor's Note: Visit Switzerland paid for my one-way flight from Zurich to NYC as well as reimbursed me for expenses. They provided no logistical support or had any input on how or where I went. I traveled the same way I would anywhere else.