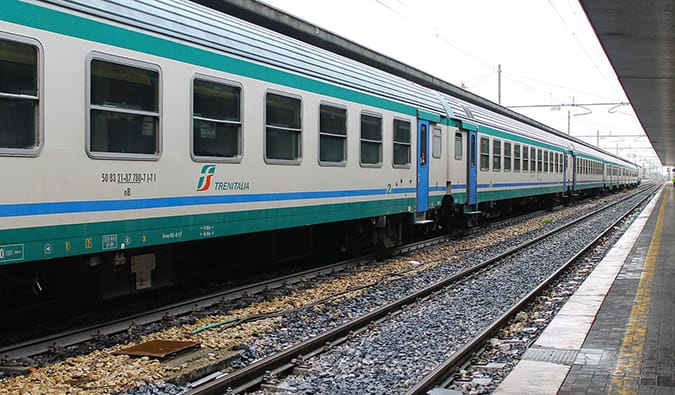 Last Updated: 11/22/19 | November 22nd, 2019
Traveling Europe by train is one of the most popular ways to see the continent. Over the past few decades, the rise of the Eurail Pass has cemented train travel as an iconic way to navigate the continent.
These days there are also tons of affordable bus options for budget backpackers and travelers looking to save money as they travel Europe. But as many budget travelers have discovered, a 12-hour overnight bus ride loses its charm quite quickly. Sure, overnight buses are cheap but you also lose out on a decent sleep which is going to impact your travels for the next day.
The solution? Night trains.
Night trains are a great way to make the most out of your time in Europe while still saving money. They may not be cheaper than the bus but they are are still quite affordable and much more comfortable. And as the climate crisis worsens, they are a great environmentally-friendly option as well.
The best part about night trains is that it saves you a night of accommodation. While you'll still need to buy a ticket, you won't be using up a "day" of travel to get to a new destination as you'll be covering your distance at night, ensuring you get to make the most out of your (possibly limited) travel time.
In this post, I'll share everything you need to know about night trains in Europe so you can stay comfortable, save money, and make the most out of your trip!
Types of Sleepers
In addition to just booking a standard first or second class ticket and sitting in a regular seat all night (which will be the cheapest option but also the least comfortable), you'll have the option of booking a bed for the duration of your trip. There are generally two types of sleeping compartments on night trains in Europe:
Shared compartments (called "couchettes")
Private cabins
Shared compartments will usually have 3-6 bunk beds (stacked 3 high) and are the equivalent of a train dorm room. You get a bed in a shared room and that's it. Depending on the country/train, you'll have 3, 4, or 6 beds in a compartment. The more beds there are, the cheaper the ticket will be.
Keep in mind that shared compartments are not separated by gender.
Private cabins are like private rooms; you won't have to share them with anyone. These usually have one or two beds so if you're traveling with a partner you can both share a cabin. Private cabins will be more spacious and, during the day, your bed will often convert into a couch so you have somewhere to sit and watch the scenery go by.
Storage
You will have space to store your things under the bed or on your bed. Depending on the size of your bag, space may be limited if you are in a shared compartment. If you just have a backpack and day bag you won't have any issues however if you have a massive suitcase you might run out of space. If that's the case, a private cabin may be best.
Night Train Routes in Europe
As of 2019, there are still plenty of night routes available for anyone looking to cover more ground while they sleep away the kilometers. Here are the most popular night trains in Europe:
EuroNight (Czech-Poland)
EuroNight Ister (Romania-Hungary)
EuroNight Kálmán Imre (Austria-Germany-Switzerland-Hungary)
EuroNight Lisinski (Austria-Croatia-Germany-Slovenia)
EuroNight Metropol (Austria-Czech Republic-Germany-Slovakia-Hungary)
Berlin Night Express (Germany-Sweden)
Hellas Express (Serbia-Greece)
Trenhotel Domestic (Spain)
Trenhotel International (Spain-Portugal-France; Luxury)
Thello (Italy-France)
Snälltåget (Sweden)
SJ (Norway-Sweden)
Santa Claus Express (Finland)
ÖBB Nightjet (Austria-Italy-Germany-Switzerland)
Intercités de Nuit (France)
As you can see, they cover almost all of the continent so you have a lot of options when it comes to finding night trains that suit your itinerary. They are all also accessible with a Eurail Pass.
Of course, there is also the epic and world-famous Trans-Siberian Railway that stretches across Russia, Mongolia, and into China as well as the ultra-luxury Orient Express (which costs upwards of $5,000 for a return ticket from London to Venice).
To give you a sense of just how many options you have and how many countries you can visit via night trains, here is a helpful map of all the night train routes in Europe for 2020: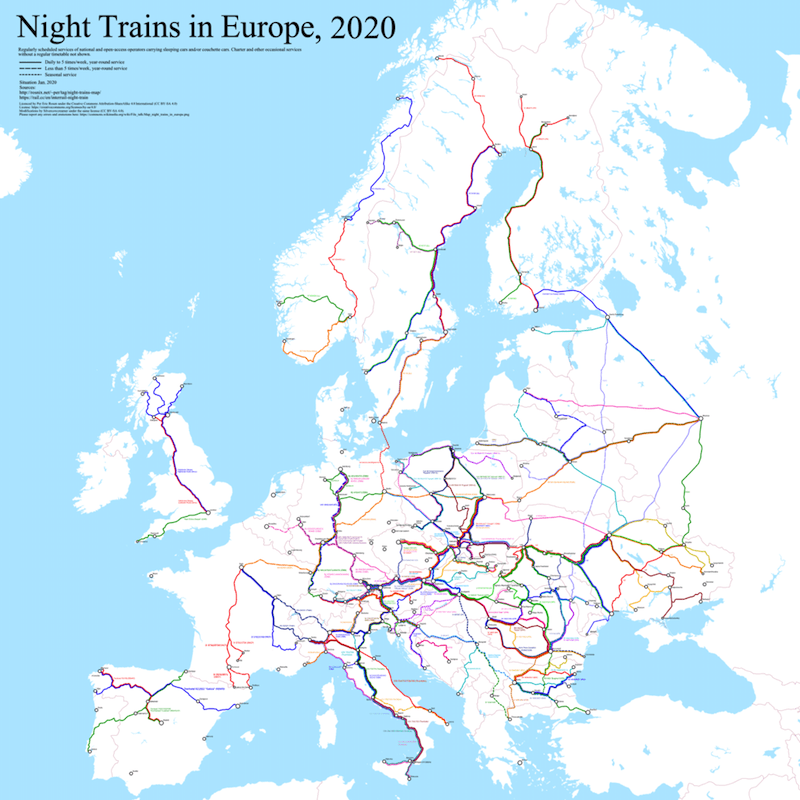 Additional Night Train Information
Ticket Prices
Ticket prices for night trains will vary depending on the distance, time of year, and whether or not you have a Eurail Pass.
With a Eurail Pass, sleeper accommodation starts at around 13 EUR per person and go up to over 100 EUR for certain routes.
Without a Eurail Pass, prices will vary but expect to pay at least 50 EUR for a one-way ticket.
Do You Need a Reservation?
Even if you have a Eurail Pass, you'll still need to make reservations in advance when taking a night train. In fact, reservations are mandatory. Expect the staff to hold your Eurail Pass and your passport overnight. This allows them to smoothly navigate border controls without having to wake you in the night.
You'll want to reserve your seat a couple of days in advance, especially during the busy summer months.
For travelers without a Eurail Pass, you'll also need to book your seat/bed in advance.
How to Make Reservations
To make your reservations with a Eurail Pass you can use their Rail Planner App or contact the specific rail companies directly via telephone or book via their online booking portal. Last-minute reservations will need to be made in person. With the Eurail pass, the average reservation fee for night trains is 20 EUR.
If you don't have a Eurail Pass, reservations must be made directly with the company you want to travel with. You can book online, over the phone, or in person.
Safety
Night trains in Europe are just as safe as their daily counterparts. If you're in a shared cabin and want to ensure your valuables are safe, keep them within reach and out of sight while you sleep. Your backpack will likely be on your bed but for extra security, you can secure it to the bed with a carabiner, a cable luggage lock, or a belt.
If you're sleeping in the main compartment (as in you don't have a bed and are sitting up) you can wrap one of the straps of your backpack around your leg so it can't be removed while you sleep.
That being said, theft is quite rare so you don't need to worry too much. Just take a few precautions and you'll be ok.
My Experience of the Night Trains
To give you a quick sense of what to expect, here's a short video about my experiences riding the night trains in Europe:
***
If you're looking for a unique, affordable way to travel around Europe then be sure to add some night trains into your itinerary. They're more comfortable than the bus, more sustainable than short flights, and they'll save you a day of travel so you can make the most out of your itinerary.
While the quality of the trains will vary from country to country, night trains are a classic experience every backpacker in Europe should have. Don't miss them!
Get Your In-Depth Budget Guide to Europe!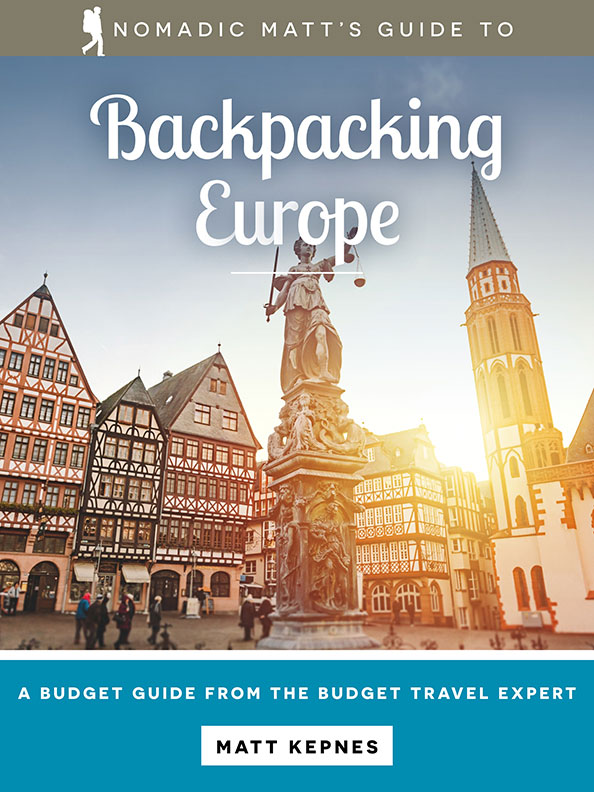 My detailed, 200+ page guidebook is made for budget travelers like you! It cuts out the fluff found in other guidebooks and gets straight to the practical information you need to travel and save money while backpacking around Europe. You'll find suggested itineraries, budgets, ways to save money, on and off the beaten path things to see and do, non-touristy restaurants, markets, and bars, and much more! Click here to learn more and get started!

Book Your Trip to Europe: Logistical Tips and Tricks
Book Your Flight
Use Skyscanner or Momondo to find a cheap flight. They are my two favorite search engines because they search websites and airlines around the globe so you always know no stone is left unturned. Start with Skyscanner first though because they have the biggest reach!
Book Your Accommodation
You can book your hostel with Hostelworld as they have the biggest inventory and best deals. If you want to stay somewhere other than a hostel, use Booking.com as they consistently return the cheapest rates for guesthouses and cheap hotels. Here are my favorite hostels in Europe.
Don't Forget Travel Insurance
Travel insurance will protect you against illness, injury, theft, and cancellations. It's comprehensive protection in case anything goes wrong. I never go on a trip without it as I've had to use it many times in the past. My favorite companies that offer the best service and value are:
World Nomads (for everyone below 70)
Insure My Trip (for those over 70)
Medjet (for additional repatriation coverage)
Looking for the Best Companies to Save Money With?
Check out my resource page for the best companies to use when you travel. I list all the ones I use to save money when I'm on the road. They will save you money when you travel too.
Want More Information on Europe?
Be sure to visit our robust destination guide to Europe for even more planning tips!
Photo Credit: 2 – Per Eric Rosén