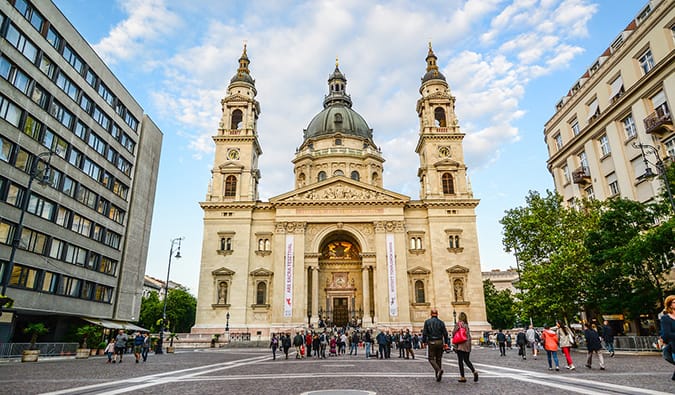 Last Updated: 03/03/20 | March 3rd, 2020
Budapest has become one of the premier backpacker destinations in Europe. Over the last five years, Budapest has gone from popular to uber-popular spot with hundreds of accommodations popping up and ever increasing crowds. Over 3 million people visited the city last year!
For backpackers, the combination of a party scene, ruin bars (which are awesome), lots of sights, and cheap prices makes it irresistible to visit.
For a small city, all the crowds (don't go in the summer, it's too much) means that there are also lots and lots of hostels spread throughout the city. (128 to be exact!)
I've been visiting Budapest for a decade and have stayed in dozens upon dozens of places. There are a lot of things to consider when selecting a hostel. The top four when picking the best hostel in Budapest are:
Location – Budapest is huge and it can take some time to get around. Pick a place that is central to the sites and nightlife you want to see. All the hostels listed here are in central locations.
Price – In Budapest, you really get what you pay for, so if you go with a really cheap one, you're probably going to get a hostel that is small, cramped, and doesn't offer great service.
Amenities – Every hostel in the city offers free Wi-Fi, and some have a free breakfast, but if you want more than that, be sure to do your research to find the hostel that best meets your needs!
Staff – All the hostels listed here have amazing staff! They are super friendly and knowledgeable. Even if you don't end up staying at one of the places listed below, be sure to look up reviews to ensure you end up somewhere where the staff is helpful and friendly! They can make or break a hostel!
To help you plan your trip, here is my list of the hostels in Budapest that I like the most. If you don't want to read the longer list below, the following hostels are the best in each category:
Best Hostel for Budget Travelers: Vitae Hostel
Best Hostel for Families: Wombats
Best Hostel for Solo Female Travelers: Maverick City Lodge
Best Hostel for Digital Nomads: Pal's Hostel or Fifth Hostel
Best Hostel for Partying: Retox Party Hostel
Best Overall Hostel: Hostel One Budapest
Want the specifics of each hostel? Here's my comprehensive list of the best hostels in Budapest:
Price Legend (per night)
$ = Under $10 USD
$$ = $10-20 USD
$$$ = Over $20 USD
1. Vitae Hostel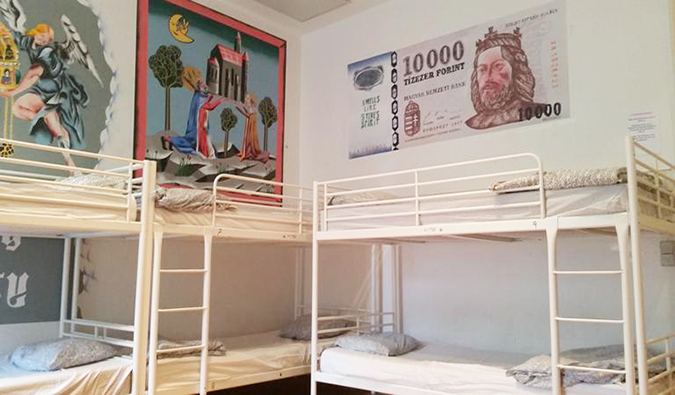 This small hostel is designed to get everyone out and socializing. The rooms are basic with metal framed beds and decent enough beds and pillows. But where this place shines is with the activities. The staff is very welcoming and tries to get everyone involved in all the nightly activities. There are nightly drinking games, three common rooms, a TV, and a pool table. You will definitely make friends here! Don't miss the Thursday night boat party – it's a tremendous time.
Vitae Hostel at a glance:
$
Organizes tons of activities
Gret place to meet people
Super social atmosphere
Beds from 1,800 HUF ($6 USD).
—-> Click here to book your stay at Vitae Hostel!

2. Retox Party Hostel

Retox is the best party hostel in Budapest. This place is for serious partiers. Don't come here if you want a lot of sleep and quiet. The staff is are gonna make sure you go out and get nuts. They will make it their mission to make sure you're socializing! The hostel has an awesome inner courtyard with lots of tables and bar. The rooms are super basic and the beds worn and thin – but no one comes here to sleep!
Retox Party Hostel at a glance:
$
Hardcore party atmosphere
Great place to have fun and meet people
Organizes lots of activities and events
Beds from 1,900 HUF ($7 USD).
—-> Click here to book your stay at Retox Party Hostel!

3. Grandio Party Hostel

This is another hostel that lives up to its name. Grandio organizes a lot of events from the expected (pub crawls) to the unexpected (costume parties). If you want to chill outside, the courtyard has an awesome fire pit. The hostel is located in an old building and street artists have painted the walls of the entire place so every room is covered in art. It's associated with the ruin bar of the same name. Note: the rooms themselves are tiny and cramped. They squeeze a lot of beds in there. But, again, if you're not looking to rage, don't come here!
Grandio Party Hostel at a glance:
$
Organizes lots of events (pub crawls, costume parties)
Outdoor courtyard and fire pit for relaxing and mingling
Party atmosphere makes it easy to meet people
Beds from 2,400 HUF ($8 USD).
—-> Click here to book your stay at Grandio Party Hostel!

4. Carpe Noctum Original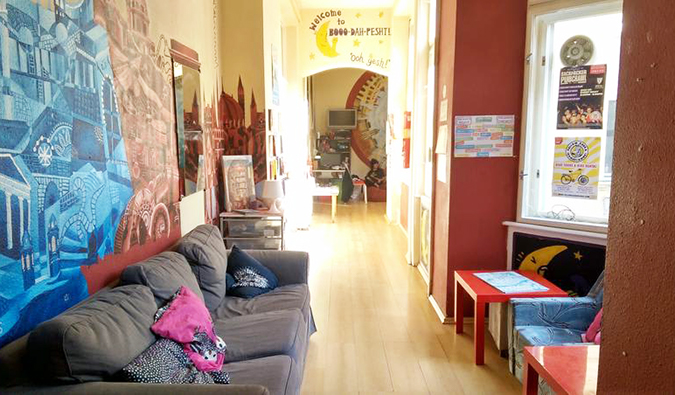 This is the original party hostel in Budapest. It's a really small hostel, and it almost feels like you're staying at a friend's place. There are organized trips out on the town every night. Unlike the other party hostels in Budapest, the rooms here are a lot nicer and more spacious. They are kept cleaner, the beds are comfier, and there's just more space! The couch in the common room is super cozy too.
Carpe Noctum Original at a glance:
$
Organizes lots of events, tours, and activities
Party atmosphere makes it easy to meet people
Cleaner rooms and better beds than other party hostels in town
Beds from 2,600 HUF ($9 USD).
—-> Click here to book your stay at Carpe Noctum Original!

5. Big Fish

This is a small, newer hostel is a one of the best overall hostels in Budapest. The hostel has cozy, comfortable beds, soft pillows, lots of space, clean showers, and a cool common room! It is a wonderful place for solo travelers. The kitchen is huge and has lots of spices and cooking supplies. It's not as party focused as other hostels in Budapest. There's a three-night minimum during the busy season.
Big Fish at a glance:
$$
Laid-back and quiet so you'll get a decent sleep
Huge, well-equipped kitchen for cooking your own meals
Spacious common room makes it easy to hang out and meet people
Beds from 3,220 HUF ($11 USD).
—-> Click here to book your stay at Big Fish!
6. Wombats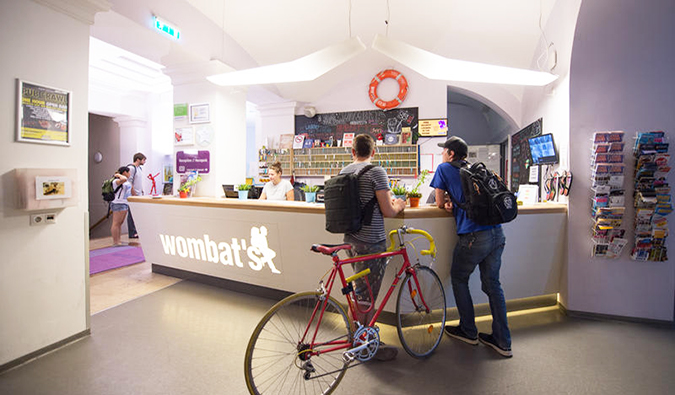 Wombats is like a backpacker hotel with hundreds of beds and a lot of modern ammenities. The rooms are spacious with new beds, reading lights and power outlets, and ensuite bathrooms that are kept very clean. The hostel organizes events, including pub crawls and walking tours, and offers breakfast. The only downside is that the Wi-Fi can be spotty. This is one of the bigger hostels in the city. If you're looking for a more modern hostel, stay here!
Wombats at a glance:
$$
Organizes lots of events and activities
Free breakfast
Spacious dorms and private rooms so you're not crowded
Beds from 3,485 HUF ($12 USD).
—-> Click here to book your stay at Wombats!

7. Maverick City Lodge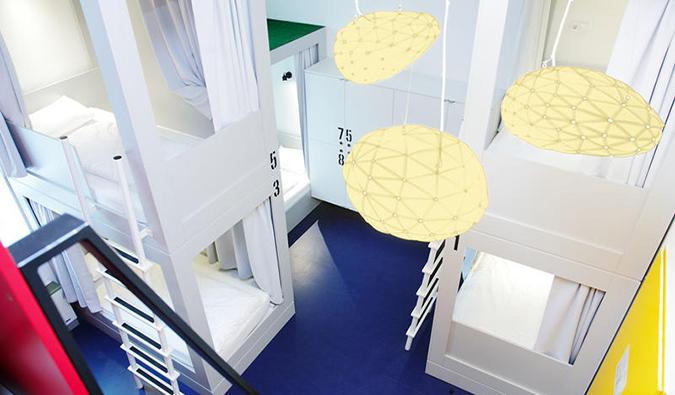 This is a cool option in the Jewish Quarter. There are amazing large curtains around the huge bunks (perfect for privacy) and the beds and sheets are super soft. The rooms are huge and colorful and well lit too! I really enjoyed the wine tasting they offered here. They also have other special events throughout the week to get people to socialize. It's cash only, and there's a key deposit you'll get back at check out. It's one of the best looking hostels in Budapest!
Maverick City Lodge at a glance:
$$
Great place to meet other travelers
Privacy curtains in the dorms so you can get a decent sleep
Organizes lots of activities
Beds from 3,600 HUF ($13 USD).
—-> Click here to book your stay at Maverick City Lodge!

8. Hostel One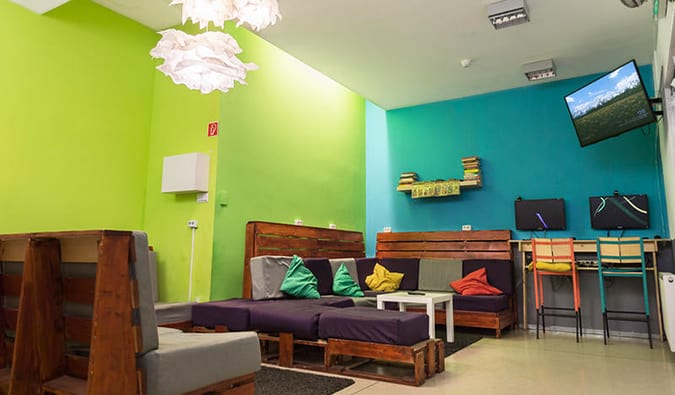 Hostel One is a cool hostel with beautifully decorated walls and nice common areas. Guests get free homemade dinners each night and can join in on organized activities throughout the day. They are very social (read party) hostels. Most people leave for the bars after the "pre-game warm up" (drinking games). They have a bunch of common rooms and Netflix if you're in need of more tame activities. They have two locations in the city as well.
Hostel One at a glance:
$$
Free homemade dinners every night
Organizes lots of activities
Lots of fun drinking games to help you meet people
Hostel One Budapest – Beds from 3,655 HUF ($13 USD).
Hostel One Basilica – Beds from 3,240 HUF ($11 USD).
—-> Click here to book your stay at Hostel One Budapest!
—-> Click here to book your stay at Hostel One Basilica!

9. Activity Hostel

I love this hostel. Rooms are filled with plants, flowers, and bright artwork on the walls. The lockers are bit small and there's not a lot of outlets but those are small issues. There's a well stocked kitchen and outdoor common area (great to sit in on a nice day). This hostel is located an old, quaint building and is small and homey! It's the best hostel in the city if you're not looking to party. Reception is open only from 10 a.m. to 4 p.m.
Activity Hostel at a glance:
$$
Outdoor common area for hanging out and mingling
Quiet atmosphere (not a party hostel)
Hostel is laid-back and has a homey feel to it
Beds from 3,940 HUF ($14 USD).
—-> Click here to book your stay at Activity Hostel!

10. Fifth Hostel

This is a small, clean hostel in a residential building and it's like you're staying in someone's home (because you kind of are). Peter and Cecilia are over-the-top friendly! They'll do all they can to help you. All the beds come with reading lights and most rooms have a table in them (try to get a room away from the window as the curtains aren't super thick). If you're looking for a small, quiet, homey hostel, stay here. Book in advance as it fills out quickly.
Fifth Hostel at a glance:
$$
Owners are super welcoming and can help you plan your visit
Small hostel makes it easy to meet and connect with people
Quiet atmosphere so you'll get a decent sleep
Beds from 4,200 HUF ($15 USD).
—-> Click here to book your stay at Fifth Hostel!

11. Pal's Hostel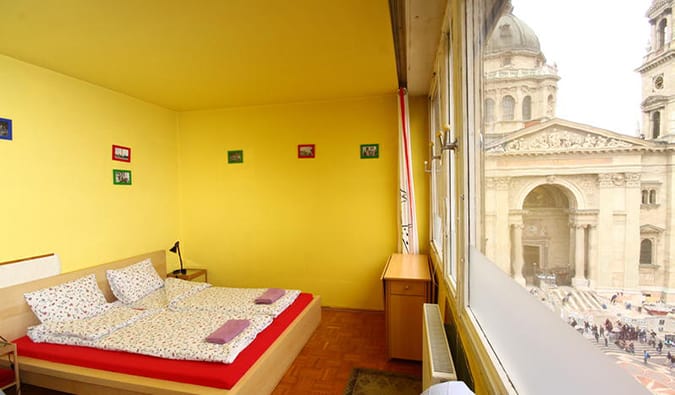 This is a pretty cool place near St. Stephen's Basilica, with easy access to all three of the city's metro lines. All the rooms are all a bit different – some have chandeliers, some have views of the Basilica, and others are bit plain and boring. There are activities each night of the week, including goulash tasting on Thursdays and movie night on Sundays. That said, this is not a party hostel so don't worry about being kept up late into the night!
Pal's Hostel at a glance:
$$
Organizes lots of activities
Social atmosphere (but not a party hostel)
Convenient location near St. Stephen's Basilica
Beds from 4,245 HUF ($15 USD).
—-> Click here to book your stay at Pal's Hostel!
***
Budapest is a budget traveler's paradise, and these hostels are the best hostels in Budapest! They will help improve your experience in one of the coolest, hippest, and beautiful cities in Europe. Whether you're looking for the wildest party hostel you've ever seen or a quiet, relaxing haven, you're sure to find what you want with one of these hostels on my list!
If you have any suggestions, leave them in the comments!

Get Your In-Depth Budget Guide to Europe!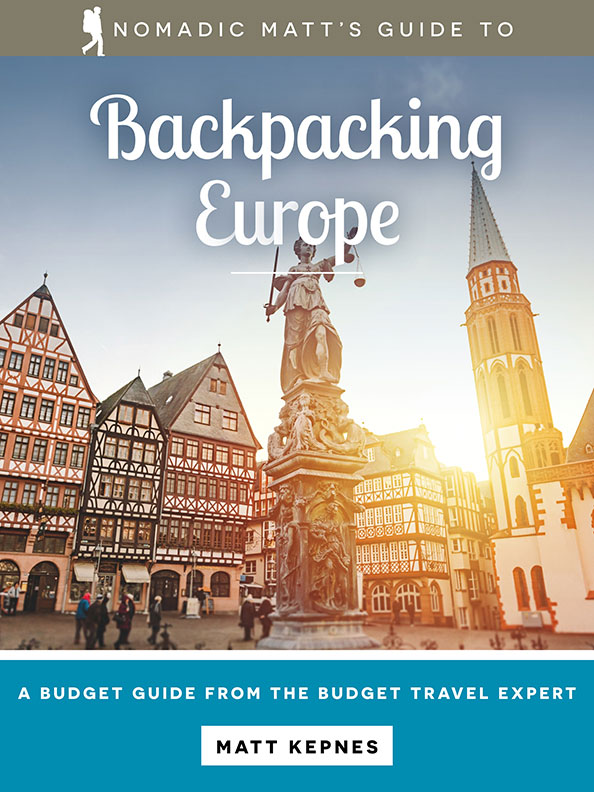 My detailed, 200+ page guidebook is made for budget travelers like you! It cuts out the fluff found in other guidebooks and gets straight to the practical information you need to travel and save money while backpacking around Europe. You'll find suggested itineraries, budgets, ways to save money, on and off the beaten path things to see and do, non-touristy restaurants, markets, and bars, and much more! Click here to learn more and get started!

Book Your Trip to Budapest: Logistical Tips and Tricks
Book Your Flight
Use Skyscanner or Momondo to find a cheap flight. They are my two favorite search engines because they search websites and airlines around the globe so you always know no stone is left unturned. Start with Skyscanner first though because they have the biggest reach!
Book Your Accommodation
You can book your hostel with Hostelworld as they have the biggest inventory and best deals. If you want to stay somewhere other than a hostel, use Booking.com as they consistently return the cheapest rates for guesthouses and cheap hotels. My favorite places to stay are:
Don't Forget Travel Insurance
Travel insurance will protect you against illness, injury, theft, and cancellations. It's comprehensive protection in case anything goes wrong. I never go on a trip without it as I've had to use it many times in the past. My favorite companies that offer the best service and value are:
World Nomads (for everyone below 70)
Insure My Trip (for those over 70)
Medjet (for additional repatriation coverage)
Looking for the Best Companies to Save Money With?
Check out my resource page for the best companies to use when you travel. I list all the ones I use to save money when I'm on the road. They will save you money when you travel too.
Want More Information on Budapest?
Be sure to visit our robust destination guide on Budapest for even more planning tips!
Photo credits: 2 – Vitae Hostel, 3 – Retox Party Hostel, 4 – Grandio Party Hostel, 5 – Carpe Noctum Original, 6 – Big Fish, 7 – Wombats , 8 – Maverick City Lodge, 9 – Hostel One, 10 – Activity Hostel, 11 – Fifth Hostel, 12 – Pal's Hostel