Last Updated: 10/12/20 | October 12th, 2020
There's no question that Iceland is an expensive destination to visit. But that doesn't mean a trip there has to break the bank.
There are plenty of ways to save money during your visit to Iceland, including during your stay in the cozy capital city of Reykjavik.
Home to just 130,000 people, Reykjavik is a small city that is bustling with life and activities all year round. It's the world's most northern capital city and is believed to be the first settlement in all of Iceland (dating back to 874 CE). Founded by Norsemen, the entire island was actually a Danish territory until 1944 when it won its full independence (the city benefitted heavily from the Allied occupation during World War II, which boosted its economy).
Today, Reykjavik is the beating heart of Iceland. The city is artsy, cute, fun, and just filled with an awesome energy!
Whether you're visiting Reykjavik on a weekend city break or planning to head out and explore the entire country, there are plenty of ways to save money in Reykjavik.
To help you do that, here are my favorite free (or cheap) things to do in and around Iceland's awesome capital:

Free Things to Do in Reykjavik

1. Take a Free Walking Tour
One of the best ways to start a trip to a new city is to take a walking tour. You'll get to see the main sights, learn some history, and acclimatize to the culture. Plus, you have a local expert who you can ask questions to, which is an invaluable resource in and of itself!
The two companies I recommend are The City Walk and Free Walking Tours Reykjavik. You can't go wrong with either. (Remember to tip your guide!)
2. Enjoy the Local Entertainment
Since the harsh climate forces many Icelanders to be indoors much of the year, they've developed a creative and artistic culture. There are lots of Icelandic painters, poets, writers, and musicians.  You can usually catch a free live show in Reykjavík at Café Rosenberg (sometimes there's a cover charge at the door), Hlemmur Square Hostel (usually on Wednesday nights), KEX Hostel, HI Loft Hostel, and the Drunk Rabbit Irish Pub, which usually has someone who sings solo with his guitar.
3. Find Free Hot Springs
While the Blue Lagoon may be the most popular hot spring in the area, there are tons of others around the country that are free (or at the very least, less money than the Blue Lagoon). Visit the website Hotpot Iceland to find the best hot springs near the city. One nearby hot spring worth visiting is in Reykjadalur. It's around a 40-minute drive from town and involves a bit of a hike to get there (about 30 minutes) but it's much more secluded – and much less expensive – than the Blue Lagoon!
4. Hang out with the Locals
Iceland has a very active Couchsurfing community. I've stayed with hosts in Reykjavík as well as in Akureyri (Iceland's main northern city). While many hosts are expats living in Iceland, it's still a great way to save some money and get helpful local insights! Additionally, if you don't want to stay with a stranger, there are usually weekly meet-ups you can attend! Make some friends!
5. Hit the Beach
Nauthólsvík is a man-made beach that not only has hot tubs but also a heated swimming area! It's popular with locals and gets quite busy in the summer so make sure to come early to get a good spot. There is also a non-heated swimming area so if you're feeling brave you can test the waters (spoiler: it's cold).
6. Hike Mount Esja
If you're looking to stretch your legs, head up Esja. The summit sits around 900m above sea level, offering you some amazing views of the city and surrounding area. Located just 10km from the city, the hike will take a couple of hours but the views are definitely worth it! Just make sure you check the weather as it's unwise to hike during rain or snow.
7. Visit the Harpa Music Hall & Conference Center
Opened in 2011, this cultural and social center is worth checking out just to see the architecture for yourself. You can also catch the Iceland Symphony Orchestra, Reykjavik Big Band, and the Icelandic Opera here. The venue also hosts tons of other shows and performances as well, so check their website for an up-to-date schedule (performances will have a fee).
Austurbakki 2, +354 528 5000, en.harpa.is. See the website for perforamnce dates and times.
8. See Reykjavík's Botanical Gardens
The city operates this beautifully-designed botanical garden that is home to over 5,000 plant species. You'll also see ponds, birdlife, and beautiful flora dotting the small garden. There's also a café nearby that's open in the summer that features dishes made with herbs and spices grown on-site in the garden.
Laugardalur, 104 Reykjavík, +354 411 8650, grasagardur.is. Open daily from 10am-3pm (10pm in the summer).
9. Visit the Grótta Lighthouse
This lighthouse sits at the edge of the city and is a wonderful place to bird watch and gaze out at the stretching Atlantic ocean. It 's a long walk along the coast from the city center but the scenic view and gorgeous coastal walk are definitely worth it. If you're visiting in the winter months, this is also a great place to see the northern lights!
10. Walk (or Bike) the Coast
Reykjavík is a small city and its coastline is walkable (or bikeable if you want to rent one). Some great stops along the way are the Nauthólsvík Geothermal Beach and the Seltjarnarnes Peninsula. If you're not interested in biking around by yourself, feel free to take a bike tour instead. Iceland Bike is the best bike tour company for this!
11. Visit Perlan
This is a dome-shaped building called "The Pearl" and it offers another great place to get a view of the city and surrounding area! On clear days you can see as far as Snæfellsjökull, the 700,000-year-old glacier-capped volcano that sits on the western coast of the island. Inside the dome, there is a cocktail bar and restaurant, so it makes for a nice place to go out and enjoy the view.
12. See the Sun Voyager
This iconic statue sits, known as Sólfar in Icelandic, was built in 1990 by Icelandic sculptor Jón Gunnar Árnason. It's his interpretation of discovery, using the design of a traditional Viking ship to represent the promise of discovering new territory and the freedom that comes with traveling to new worlds.
13. Experience the Northern Lights
If you're visiting Reykjavik between October and March you'll have a good chance of seeing the Aurora on a clear night. You'll want to get away from the city a bit to have the best view, as the light pollution will make it hard to see.
Cheap Things to Do in Reykjavik

14. Take in the View from Hallgrímskirkja
This church is one of the most memorable that I've seen. The stark concrete façade was designed to mimic the Icelandic landscape (which I think it does quite well). It was named after the 17th-century clergyman and Icelandic poet Hallgrímur Pétursson, who wrote the Hymns of the Passion. It's the tallest building in Reykjavík, and, for a small fee, you can go up to the top to get incredible shots of the city and its multicolored rooftops.
Hallgrímstorg 1, +354 510 1000, hallgrimskirkja.is. Open daily from 9am-9pm in the summer and 9am-5pm in the winter. Entrance into the church is free but entry to the tower is 1,000 ISK for adults and 100 ISK for kids. The tower is closed on Sundays during mass.
15. Visit the Reykjavík Punk Museum
This museum is housed in an old underground public bathroom (seriously) and is dedicated to the punk and new wave scene that started took root here in the late 70's. The museum highlights how many of Icelandic's famous musical performers (like Björk) can be traced back to their punk roots. It's definitely worth a visit.
Bankastræti 2, 101 Reykjavík, +354 568 2003, thepunkmuseum.is. Open Monday to Friday from 10am-10pm and weekends from 12pm-10p. Admission is 1,000 ISK for adults and free for kids 15 and under.
16. See the National Gallery of Iceland
If you're a fan of art, especially modern art, you won't want to pass up a trip here. The museum is focused on Icelandic artwork from the 19th and 20th century and highlights the diverse nature of the art scene in Iceland. While it is mostly local artists, some foreign works are showcased here as well.
Fríkirkjuvegur 7, 101 Reykjavík, +354 515 9600, listasafn.is. Open daily from 10am-5pm in the summer and from 11am-5pm in the winter (closed Mondays in the winter as well). Admission is 1,500 ISK for adults, 750 ISK for seniors and persons with disabilities, and free for kids age 18 and under. Buy one ticket for 1,500 ISK valid for three museums: The National Gallery of Iceland, the Sigurjón Ólafsson Museum, and the Ásgrímur JónssonCollection.
17. The Icelandic Phallological Museum
This is one of the weirdest museums you'll ever have a chance to go to – which s partly why you should go! Entirely not sexual, the museum has collected penises from varies species roaming the earth, land, and sea. The founder, an Icelandic historian named Sigurdur Hjartarson, started the penis museum as a joke but it's become something much more. The whole museum is pretty small so you won't need more than 30-60 minutes, but it's pretty interesting and informative; you'll actually learn a lot about how species procreate (in addition to seeing a lot of…well, exhibits).
Laugavegur 116, 105 Reykjavík, +354 561 6663, phallus.is. Open daily from 10am-6pm. Admission is 1,500 ISK for adults, 1,000 ISK for seniors and persons with disabilities, and free for kids 13 and under.
18. Head to Videy Island
This is a small island located just off of Reykjavík. It's a great little island for a picnic or a stroll if you're looking for something a bit off the usual tourist trail. The island is most famous for the Imagine Peace Tower, envisioned and built by Yoko Ono. On each 9th of October, Yoko Ono comes to light the tower on the birthday of John Lennon, and it is lit until December 8th, the day John was killed. The ferry is operated by daily in the summer and on the weekends in the winter.
Skarfabakki Pier and Ægisgardur Harbor, +354 519 5000, elding.is/videy-ferry-skarfabakki. Round-trip tickets are around 1,550 ISK for adults, 775 ISK for students aged 7-17, and free for kids under age 6. On October 9th, the ferry trip is free for everyone in honor of the Imagine Peace Tower ceremony.
19. Visit the Saga Museum
Iceland was first inhabited by Norwegian Vikings in the 9th century. The high-action wax sculpted scenes are an interesting way to learn about Viking times when life was hard and dependent on the harsh elements, and people were poor. It's a good family activity.
Grandagardur 2, 101 Reykjavík, +354-694-3096, sagamuseum.is. Open daily from 10am-6pm. Admission is 2,100 ISK for adults, 1,600 ISK for students and seniors, and 800 ISK for children.
20. Árbæjarlaug Swimming Pool
This huge plaza has both outdoor as well as indoor pools. It also has water slides, play areas for kids, hot tubs, a sauna, a thermal steam bath, and beach volleyball courts. Located just outside the city center, this is a fun (and budget-friendly) option for anyone who doesn't want to go to the more touristy Blue Lagoon.
Fylkisvegur 9, 110 Reykjavík, +354 411 5200, reykjavik.is/stadir/arbaejarlaug. Open in the summers Monday-Thursday from 6:30am-10pm, Friday from 6:30am-8pm, and from 9am-6pm on weekends. Admission is 900 ISK for adults but it's free with the Reykjavík City Card.
21. Grab a Famous Hot Dog
Bæjarins Beztu Pylsur has been located on the harbor since 1937 and was made famous when Bill Clinton stopped here on his trip in 2004. Between their multiple locations, they sell over 1,000 hot dogs per day! While this isn't my favorite hot dog place in the country, it does make for a fun and iconic stop (and the dogs are still pretty great!).
Tryggvatagata 1, 101 Reykjavík, +354 511 1566, bbp.is. See the website for other locations as well as up-to-date hours of operation.
22. Relax at a Cozy Cafe
One of my favorite things to do when I visit somewhere is to sit back, relax, and people watch. I love to just grab a book (ideally a book about the destination) and just watch the day go by. You can learn a lot about a place just by observing, and Reykjavik has some really great cafes. Some of my favorites are Café Babalu, Mál og Menning (a bookstore with a cafe), and Mokka Kaffi.
***
By taking advantage of these free and cheap activities (as well as some money-saving tips) you'll be able to visit Reykjavik without blowing the bank.
Sure, there are plenty of things to see and do in Reykjavik that are worth spending money on, but if you mix and match those activities with these budget-friendly ones you'll be able to visit the Land of Fire and Ice with your wallet still intact.

Get the In-Depth Budget Guide to Iceland!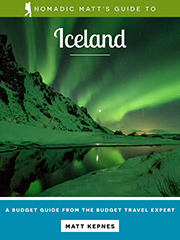 Want to plan the perfect trip to Iceland? Check out my comprehensive guide to Iceland written for budget travelers like yourself! It cuts out the fluff found in other guides and gets straight to the practical information you need to travel one of the most beautiful and exciting destinations in the world. You'll find suggested itineraries, tips, budgets, ways to save money, on and off the beaten path things to see and do, and my favorite non-touristy restaurants, markets, and bars, and much more!! Click here to learn more and get it today!

Book Your Trip to Iceland: Logistical Tips and Tricks
Book Your Flight
Use Skyscanner or Momondo to find a cheap flight. They are my two favorite search engines because they search websites and airlines around the globe so you always know no stone is left unturned. Start with Skyscanner first though because they have the biggest reach!
Book Your Accommodation
You can book your hostel with Hostelworld as they have the biggest inventory and best deals. If you want to stay somewhere other than a hostel, use Booking.com as they consistently return the cheapest rates for guesthouses and cheap hotels. My favorite places to stay are:
Hlemmur Square
Kex Hostel
Don't Forget Travel Insurance
Travel insurance will protect you against illness, injury, theft, and cancellations. It's comprehensive protection in case anything goes wrong. I never go on a trip without it as I've had to use it many times in the past. My favorite companies that offer the best service and value are:
World Nomads (for everyone below 70)
Insure My Trip (for those over 70)
Medjet (for additional repatriation coverage)
Looking for the Best Companies to Save Money With?
Check out my resource page for the best companies to use when you travel. I list all the ones I use to save money when I'm on the road. They will save you money when you travel too.
Want More Information on Iceland?
Be sure to visit our robust destination guide to Iceland for even more planning tips!