Published: 07/26/18 | July 26th, 2018
London. The Big Smoke. It's a sprawling city, covering 607 square miles and home to over eight million people.
In fact, London is really a collection of cities. The City of London (aka "The City") is just 1.1 square miles (and the site of old Roman Londinium). Everything we think of as London today is actually other cities (Westminster, Camden, etc.) that "The City" gobbled up over the years. (Fun fact: The West and East Ends of London are so named because they were outside the ancient wall that enclosed London.)
My like for London turned into love on my most recent visit last month. Maybe it was the beautiful weather that stood in stark contrast to my other visits, maybe it was the people who I suddenly felt bonded with, maybe it was all the good restaurants and bars I found. Maybe it just took a decade of visits for the city to just "click" with me. Maybe it was all of it. I don't know.
But now I'm head over heels for the city!
With so much to see and do, London can seem like an overwhelming place, so in today's post I want to share my suggested one-week itinerary for a visit to London that takes you along — and off — the beaten tourist path:
What to See and Do in London: Day 1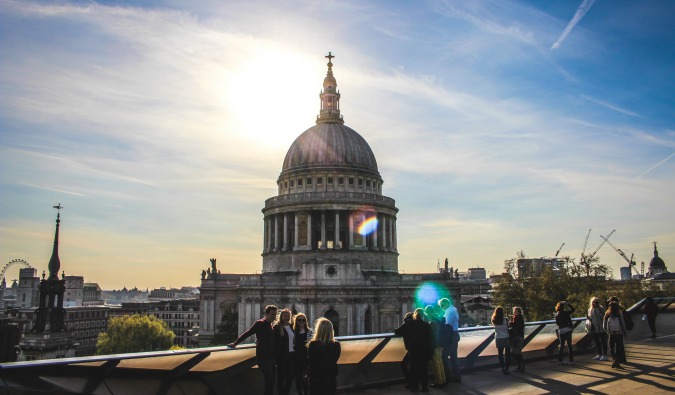 Take a free walking tour – Start your first day off with a free walking tour to orient yourself and learn about the history of London. London is pretty damn big and hard to see much of in just a few hours, so most walking tours simply focus on a small area of the city. Here are my favorite free walking tour companies:
Free Tours by Foot – I've taken this company's NYC tours, so when I found out they had a London version, I was thrilled. Some of the best are the Westminster, Harry Potter, Soho, ghost, and street art tours. Most walks last two to two and a half hours.
Free London Walking Tours – This tiny company offers free walks from a few older British chaps that have an air of a university professor. They tell silly jokes but are super knowledgeable about the most arcane facts of London history. Be sure to check out their "Fire, Pestilence, and Plague" and "Debauched London" tours. Each lasts two hours.
New Europe Walking Tours – This company has free walking tours all over Europe. They are sort of the "backpacker tours," as most hostels in town heavily promote them, so you see mostly young travelers on their walks. They are good for a broad historical overview of the city. Tours last about three hours.
Pick a neighborhood and wander – London is a great city to just walk around in. You can follow the ancient Roman wall (part of the wall still exists and so does an old Roman amphitheater, which was rediscovered in the 1980s) from the Tower of London through the center of the city. The city maintains a series of panels about the wall and the history of the city along the way.
There are a couple of app-based options too. Visit London has a free app that lets you create personalized maps and itineraries that you can use offline. StrollOn provides virtual walking tours.
Relax in a park – After all that walking on the first day (trust me, it's worth it), chill out in any one of the city's many parks:
St. James' Park (Westminster)
Green Park (Westminster/Central London)
Regent's Park (Camden Town)
Kensington Gardens (Kensington)
Hyde Park (Central London)
Holland Park (Holland Park)
Battersea Park (Battersea)
Hang in Soho – I love Soho. It has cute little parks, world-class restaurants, lots of popular bars, funky bookstores, beautiful buildings, and everything in between. I recommend you spend your evening (or many evenings) here eating and drinking and hanging out with the locals. Some recommended places:
Ceviche Soho – Great Peruvian food. 17 Frith Street
Flat Iron – Simple menu featuring steak and salad and a daily special. That's it! At £10, it's a steal. 9 Denmark Street and 17 Beak Street
La Bodega Negra – Amazing Mexican food. 16 Moor Street
Eat Tokyo – Delicious ramen. 16 Old Compton Street
The London Gin Club – The best gin London can offer! 22 Great Chapel Street
Three Greyhounds – A fun traditional pub. Fun story: I ended up drinking with Rami Malek from Mr. Robot! He was nice. 25 Greek Street
What to See and Do in London: Day 2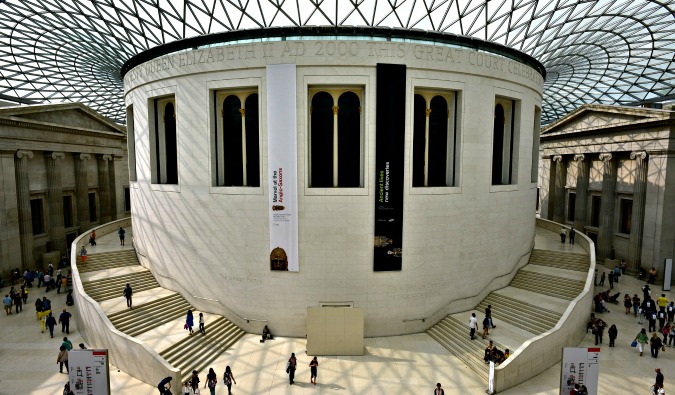 Soak in art and culture at a museum – Take advantage of London's hundreds of museums and overload on history, art, weird oddities, and everything in between. Some of them are so big you can barely see them in a week, let alone a day! Here are some of the bigger ones to start with:
British Museum – By far one of the best in all of Europe, this giant museum houses one of the most comprehensive art, cultural, and historical collections in the world. Be sure to budget at least three hours to get a good sense of the museum, though you could easily spend a whole day there. Great Russell St. +44 20 7323 8299. britishmuseum.org. Open daily 10am-5:30pm.
National Gallery – This art museum was founded in 1824 and houses a collection of over 2,300 paintings dating from the mid-13th century to around 1900. There are works by Johannes Vermeer, Sandro Botticelli, Rembrandt, and Michelangelo, among many more! It's a really extensive and wonderful art museum. Trafalgar Square. +44 20 7747 2885. nationalgallery.org.uk. Open daily 10am-6pm.
City of London Museum – I love this museum. It gives you a detailed overview of London's history and has an excellent exhibit on the Great Fire of 1666. 150 London Wall. +44 20 7001 9844. museumoflondon.org.uk/museum-london. Open daily 10am-6pm.
National Portrait Gallery – Here you'll find portraits of centuries of famous Brits, from kings and queens to celebrities and artists. St. Martin's Place. npg.org.uk. +44 20 7306 0055. Open daily 10am-6pm (until 9pm on Fridays).
Note: All these museums are free!
What to See and Do in London: Day 3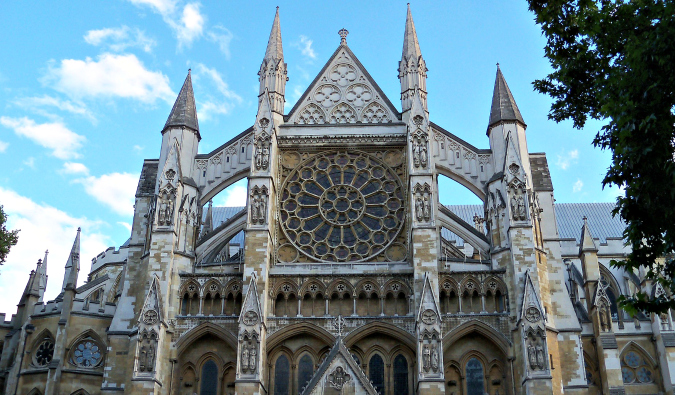 Wander around Westminster – Start off with a stroll through Hyde Park's lush and expansive grounds, with its picturesque walkways, ponds, and ducks, before heading to Buckingham Palace to watch the changing of the guard at 10:45am. It lasts for about 45 minutes (arrive early to get the best view).
If you're visiting during the summer, Buckingham Palace is open to the public (in 2018, the dates are July 21 to September 30.). Booking in advance online is recommended. Tickets are £24.
Next, meander over to the Churchill War Rooms. Located beneath the Treasury Building in the Whitehall area of Westminster, this includes the government's command center during WWII and a museum about the life of Winston Churchill. The centerpiece of the whole place is an interactive table that enables visitors to access digitized material from the Churchill archives. It is one of the best museums in London. Book online in advance to avoid the multi-hour wait! Open 9:30am-7pm in July and August; 9:30am-6pm from September to June. Admission is £18.90 per person.
Afterward, marvel at Westminster Abbey and Parliament. You can see the tombs of 17 monarchs dating back to Henry III (who died in 1272) in the Abbey. Other famous people buried here include Charles Darwin, Sir Issac Newton, Aphra Behn, and Charles Dickens. Westminster Abbey costs £20 but you can visit for free if you go during a service. Just be quiet. On Saturdays, you can tour Parliament. Tickets booked in advance are £25.50; same-day tickets cost £28. Tours start at 9am, with the last tour of the day being at 4:30pm.
Eat in Borough Market – After that, hop on the tube from Westminster to London Bridge (or walk along the South Bank) and head to the famous Borough Market to grab a meal from one of the many vendors. It's hugely popular with locals, especially around lunchtime.
Wander South London – After you've satiated your hunger, wander around South London. See the site of the original Globe Theater, visit the eerie Crossbones Cemetery that honors the working girls and lost souls of London, walk along the riverfront, marvel at Millennium Bridge, and pop into the Tate Modern for a few hours to take in some of the best modern art London has to offer (it's free). Then head back toward Borough Market for a drink at the George Inn, one of London's oldest pubs and where Charles Dickens used to drink (it's also likely that William Shakespeare and Christopher Marlowe also drank here). The new Globe Theater is also here if you want to take in a Shakespearean play!
What to See and Do in London: Day 4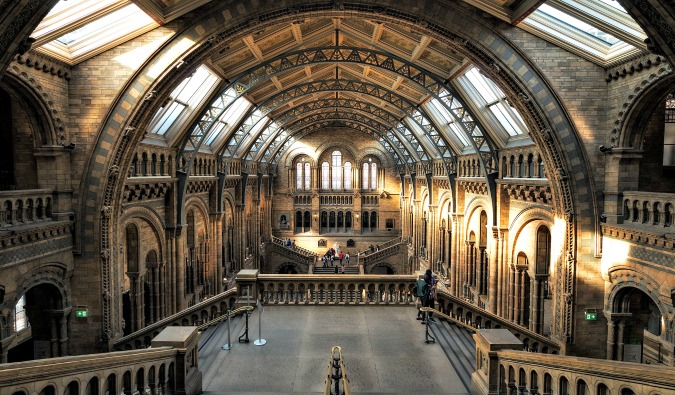 Hit up some more museums – London is museum city. It has some of the best in the world, so I suggest you visit a few more before you go:
Natural History Museum – There are over 80 million items in this comprehensive museum, including specimens collected by Charles Darwin. It also has a great collection of fossils, making it a fun and educational stop if you're traveling with kids. Cromwell Road, +44 20 7942 5000, nhm.ac.uk. Open daily from 10am to 5:30pm.
Science Museum – Founded in 1857, this is actually one of the most popular museums in London, attracting over three million visitors each year. There are some really neat interactive galleries on flight and space, and the temporary exhibitions are usually pretty amazing (though those often cost extra). Exhibition Road, South Kensington, +44 20 7942 4000, sciencemuseum.org.uk. Open daily from 10am to 6pm.
Victoria and Albert Museum – Named after Queen Victoria and Prince Albert, this museum is home to over 2,000 works of art covering over 3,000 years of human history. Cromwell Road, +44 20 7942 2000, vam.ac.uk. Open daily from 10am to 5:45pm (10pm on Fridays).
Eat on Brick Lane – Head east to the famous Brick Lane and eat your heart out — it has some amazing Jewish delis (Beigel Bake is the most famous — and delicious) and Indian cuisine. On the weekends, this street becomes a bustling flea market and a hub of activity when it fills with antique and flea market sellers, food vendors, and people eating and drinking their way down the street.
Take a Jack the Ripper tour – Every night, you'll find tons of people in the East End learning about Jack the Ripper on a ridiculous number of similar tours. My favorite is the original Jack the Ripper Tour. Get Mick as your guide; he's obsessed with Jack the Ripper (he even wrote a pretty decent book on the subject) and will fill you with arcane knowledge. Very animated too!
What to See and Do in London: Day 5
Visit these art galleries – Into art? Great! London is the perfect place to window-shop! Here are some galleries worth checking out:
Maureen Paley – 21 Herald Street, +44 20 7729 4112, maureenpaley.com
Jealous – Shoreditch and Crouch End, jealousgallery.com
Unit – 3 Hanover Square, +44 20 7494 2035, theunitldn.com
Marian Goodman Gallery – 5-8 Lower John Street, +44 20 7099 0088, mariangoodman.com
Explore the Tower of London and its crown jewels – Built in 1070 by William the Conqueror to defend his royal power, the tower was expanded many times over the years. Until the 1800s, weapons and armor were made here and all coins were made here until 1810. Now, it houses the famous crown jewels. The Tower of London's changing of the guard (the Ceremony of the Keys) and takes place daily at 9:30pm. Tickets are free but book in advance because it fills up quickly. Tickets to the Tower are £22.70 for adults and £10.75 for children. Open Tues-Sat (9am-5:30pm), and Sun-Mon (10am-5:30pm).
Be sure to also head to nearby Tower Bridge, which opened in 1894 (and lot of people confuse with London Bridge). You can access the bridge deck to take in the view or check out the Tower Bridge Exhibition, where you can see the old Victorian engine rooms and get a sense of just how epic an engineering feat the bridge's construction actually was. Open daily 10am-5:30pm and costs £8.70 for adults.
Take in a show – London is my second favorite theater spot after New York City. You can't leave without seeing a show. Check out TKTS for discounted tickets for shows in the West End.
What to See and Do in London: Days 6 or 7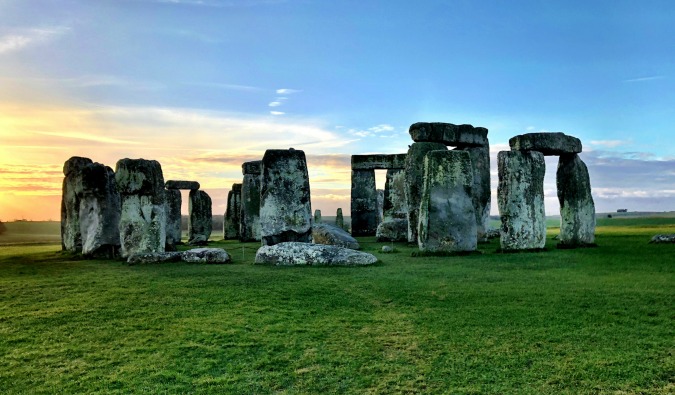 Take a day trip to Stonehenge – Stonehenge, located in Salisbury, is one of the oldest man-made structures in the world (it dates back to 2500 BCE). You can't approach the stones anymore as they are now cordoned off, but it's still quite a fascinating site to explore. The audio tour is a must so you can get some historical context.
Take a day trip to Bath – Bath is named after its famous mineral baths. It is home to an ancient Roman bath that is marvelously well preserved (the audio guide by Bill Bryson is a must). It's pretty much the main attraction in town, though the church and river are also nice.
Take a day trip to Oxford – Oxford is one of the oldest universities in the world and exploring all the beautiful colleges here makes for a fun day trip. Most cost a few pounds sterling for a tour. You can even see the one where they filmed Harry Potter. In addition, you can visit the famous Bodleian Library, wander the town's historic center, and enjoy some good food.
Take a day trip to Cambridge – Cambridge is similar to Oxford with some of the best universities, parks, museums, and theatrical productions in the country.
Visit the Dennis Severs House – Located in the East End in Shoreditch, this house is an immersive art experience ("still life drama") set up to represent how a family of silk weavers would have lived from 1724 to the early 20th century. Honestly, I didn't really get it: I mean, it was funky and arty, and there's whispering going on from speakers in the walls, but I didn't get why everyone loves it. Regardless, it's one of the more unique things to do. If you are into immersive, participatory art, you'll like this. 18 Folgate Street, +44 20 7247 4013, dennissevershouse.co.uk. Advance booking required. Prices start at £10 per person.
Take a paid walking tour – During my last visit to London I tried out over 25 different walking tours. There are amazing companies that have created some insightful, entertaining, and delicious walks for every type of interest. From Harry Potter walks to historic pub crawls, there will definitely be something for everyone. For some inspiration, here are some of my favorites!
***
London is one of the biggest cities in the world, with a ton of things to see and do (I didn't even get to mentioning Camden, Notting Holl, and all the other neighborhoods!). It's easy to get lost in every neighborhood. A week in London barely scratches the surface, but it is enough to get a good overview, dive into its smaller neighborhoods, and get a taste of local history and culture. Use this London itinerary as a guide for your next trip and get a feel for why I love this city so much now!
Get Your In-Depth Budget Guide to Europe!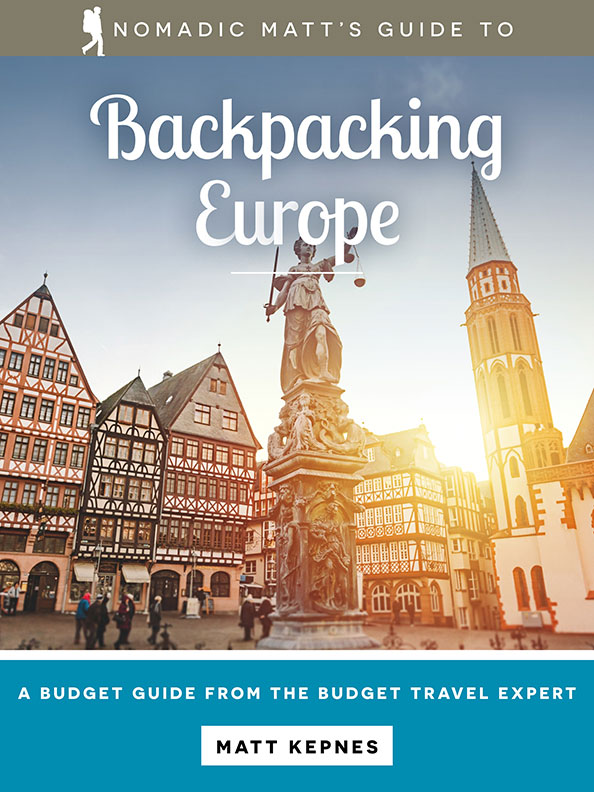 My detailed, 200+ page guidebook is made for budget travelers like you! It cuts out the fluff found in other guidebooks and gets straight to the practical information you need to travel and save money while backpacking around Europe. You'll find suggested itineraries, budgets, ways to save money, on and off the beaten path things to see and do, non-touristy restaurants, markets, and bars, and much more! Click here to learn more and get started!

Book Your Trip to London: Logistical Tips and Tricks
Book Your Flight
Use Skyscanner or Momondo to find a cheap flight. They are my two favorite search engines because they search websites and airlines around the globe so you always know no stone is left unturned. Start with Skyscanner first though because they have the biggest reach!
Book Your Accommodation
You can book your hostel with Hostelworld as they have the biggest inventory and best deals. If you want to stay somewhere other than a hostel, use Booking.com as they consistently return the cheapest rates for guesthouses and cheap hotels. My favorite places to stay are:
St. Christopher's Inn
Clink78
Astor Hyde Park Hostel
For more suggested places to stay, check out this longer list of hostels. And if you're wondering what part of town to stay in, here's my neighborhood breakdown of London!
Don't Forget Travel Insurance
Travel insurance will protect you against illness, injury, theft, and cancellations. It's comprehensive protection in case anything goes wrong. I never go on a trip without it as I've had to use it many times in the past. My favorite companies that offer the best service and value are:
World Nomads (for everyone below 70)
Insure My Trip (for those over 70)
Medjet (for additional repatriation coverage)
Looking for the Best Companies to Save Money With?
Check out my resource page for the best companies to use when you travel. I list all the ones I use to save money when I'm on the road. They will save you money when you travel too.
Want a Guide?
London has some really interesting tours. My favorite company is Take Walks. They have expert guides and can get you behind the scenes at the city's best attractions. They're my go-to walking tour company!
If you want a bike tour, use Fat Tire Tours. They have the best and most affordable bike tours in the city.
Want More Information on London?
Be sure to visit our robust destination guide on London for even more planning tips!