Last Updated: 01/23/20 | January 23rd, 2020
Berlin is a gigantic city. I knew it was big, but until I decided to explore it by foot, I never knew just how big. I came here for five days with the idea that I'd see all the major sights, some of the not-so-major sights, and get a feel for the city. I didn't get a chance to see much of Germany's capital the first time I was here, and I was hoping this visit would correct that.
But despite my intentions, I barely accomplished anything in five days. Berlin is just too big and spread out. My original purpose was to write a post on what to do in five days in Berlin. But after realizing how hard it was to get around and see the sights, that post was impossible to write. This city is just too overwhelming.
So instead, here are some ways you can avoid my sightseeing mistakes, maximize the time you have in Berlin, and make the most of your visit:
General Tips for Visting Berlin

Rent a bike – Walking around Berlin takes (and wastes) a lot of time. However, the city is a great place for a bike ride. There are separate lanes for cyclists, so it's easy to ride without the fear of getting hit by a car. Most residents bike around the city, and while I was a bit nervous when Uncornered Market first suggested it, by the end of the day I was really happy to be biking around Berlin. It provided a fast and easy way to get around, and bikes cost around nine euros per day to rent.
Take a bike tour – If you'd rather not cycle the city alone, try a bike tour. You'll get all the benefits of exploring on bike that I just mentioned, plus the added bonus of having an expert local guide lead the way and tell you all about Berlin's history, culture, and food. Some suggested companies are Fat Tire Tours, Berlin Bike Tours, and Berlin on Bike.
Do it in sections – I found out just how huge Berlin is when I tried walking between sights and subsequently spent the majority of my day just getting from Point A to Point B (which isn't bad, but it wasn't planned for). Break up the city into various areas, and then work from area to area. It will make conquering the city much easier.
Take a free walking tour – New Europe runs a long and informative walking tour that begins at the Brandenburg Gate and lasts 3.5 hours. It takes you through the center of the city, shows you all the highlights, gives you some history, and will help you orient yourself. Other great companies are The Original Free Berlin Tour and Free Tours by Foot.
Eat cheap – You can judge a city on how cheap it is by the food, and the food in Berlin is incredibly cheap. And not just street food (you can find currywurst everywhere!), kebabs, and quick pizzas, either — even the restaurants here are a bargain. You can find a lot of meals for less than five euros. I highly recommend eating at Mustafas. It's known for the best kebabs in Berlin. The exaggerations are true — the lemon, the mint, the fresh vegetables! Mouth watering.
For another cheap eat, check out Thai Park (Preußen Park). During the summer, Thai locals will come to the park and cook up some delicious and cheap Thai food. It started as just a small Thai community gathering but it's now a huge food market where you can get awesome eats for under €10.
My Must-See/Must-Do List for Visting Berlin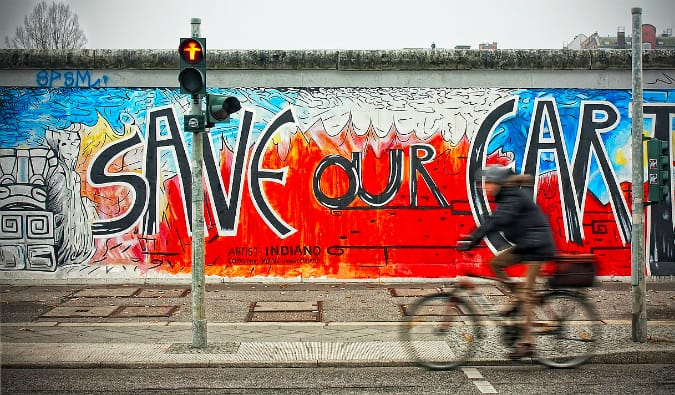 East Side Gallery
A giant section of the Berlin Wall was left standing, and artists were invited to paint a section of it that represented hope and violence. Now, the East Side Gallery is one of the best outdoor art exhibits in Berlin. I was really moved by some of the paintings.
Muehlenstreet 6, +49 172 3918726, eastsidegallery-berlin.de. Entry is free.
Jewish History Museum
Jews have faced a long and hard road in Germany. They represented an important part of the population even though they were highly discriminated against. This museum traces the arrival of Jews and their contributions throughout German history, as well as the hardships they faced. It doesn't go into much depth on the Holocaust, as there is a wonderful separate museum for that. But like all museums in Germany, this is huge and will require a few hours to properly explore.
Lindenstreet 9-14, +49 30 25993300, jmberlin.de. Open daily from 10am-8pm. Admission is 8 EUR. 
The Holocaust Memorial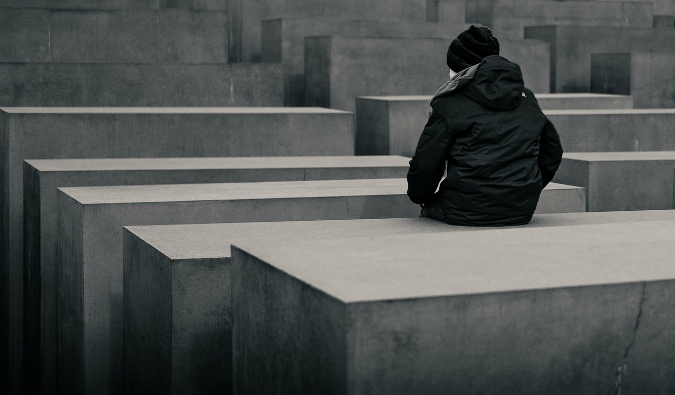 Located in Mitte near the Reichstag, the Holocaust Museum (officially called "The Memorial to the Murdered Jews of Europe") chronicles the Nazis' treatment and extermination of the Jews. The memorial is made up of concrete slabs designed to create a feeling of confusion and unease as you wander through them. Below is a museum that follows various families throughout the Holocaust. It creates a very personalized and moving way to learn about this awful blight on human history.
Located near the Brandenburg Gate, +49 30 2639430, holocaust-mahnmal.de. Entry to the memorial is free.
Treptower Park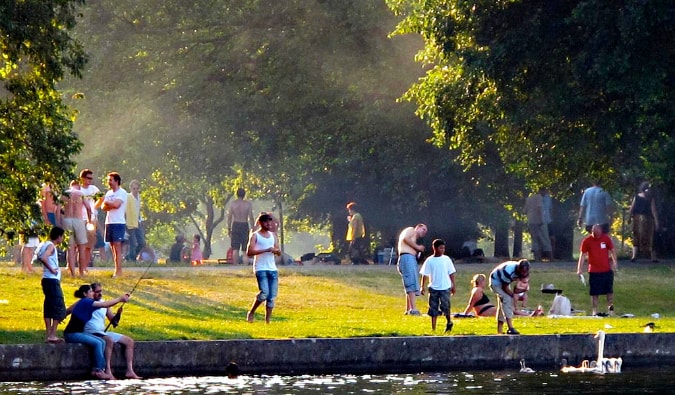 Located in the eastern part of Berlin, this park is near an old abandoned amusement park (which you can also visit). It's a popular place to bike around, and there are a number of beer gardens and a small island nearby where they have a weekend flea market. Moreover, you can rent boats and canoes and cruise the adjoining river.
Alt-Treptow, +49 30 25002333. Open 10am-1am.
Templehof Park
Located in the southern part of the city, this park is actually the site of the old airport used during the Berlin Airlift after World War II, when the Soviets tried to blockade Berlin. Now, it's a big park with a lot of plaques and information about the old airport. It's not the best park in Berlin, but it's cool to be able to walk around a piece of history.
Ehemaliger Flufhafen Tempelhof, +49 30 7009060, tempelhofer-park.de. Open 6am-10:30pm. Entrance is free. There are official tours in English every Saturday at 3pm and Sunday at 2pm for 12 EUR. 
German History Museum
Germany has a very long history, and this museum provides a detailed account of the country, starting from Roman times. It's organized by time periods and has lots of artifacts. It's giant, though, so if you visit, make sure you can plan to spend at least two hours here. Skip the audio guide, though; I didn't find it to be that good.
Under the Linden 2, +49 30 203040, dhm.de. Open daily from 10am-6pm. Admission is 8 EUR for adults and free for those under 18). 
DDR Museum
This museum focuses on life in East Berlin. It's separated into the various aspects of daily life: food, clothing, schooling, fun, music, etc. It provides a good window into how the citizens of East Berlin (the Communist side) lived. One thing I found interesting was that to escape the conformity of life under the Communists, it was normal for people to go to nude beaches.
Karl-Liebknecht-Street 1, +49 30 847123730, ddr-museum.de. Open daily from 10am-8pm (10pm on Saturdays). Admission is 9.80 EUR. 
Hang out in Tiergarten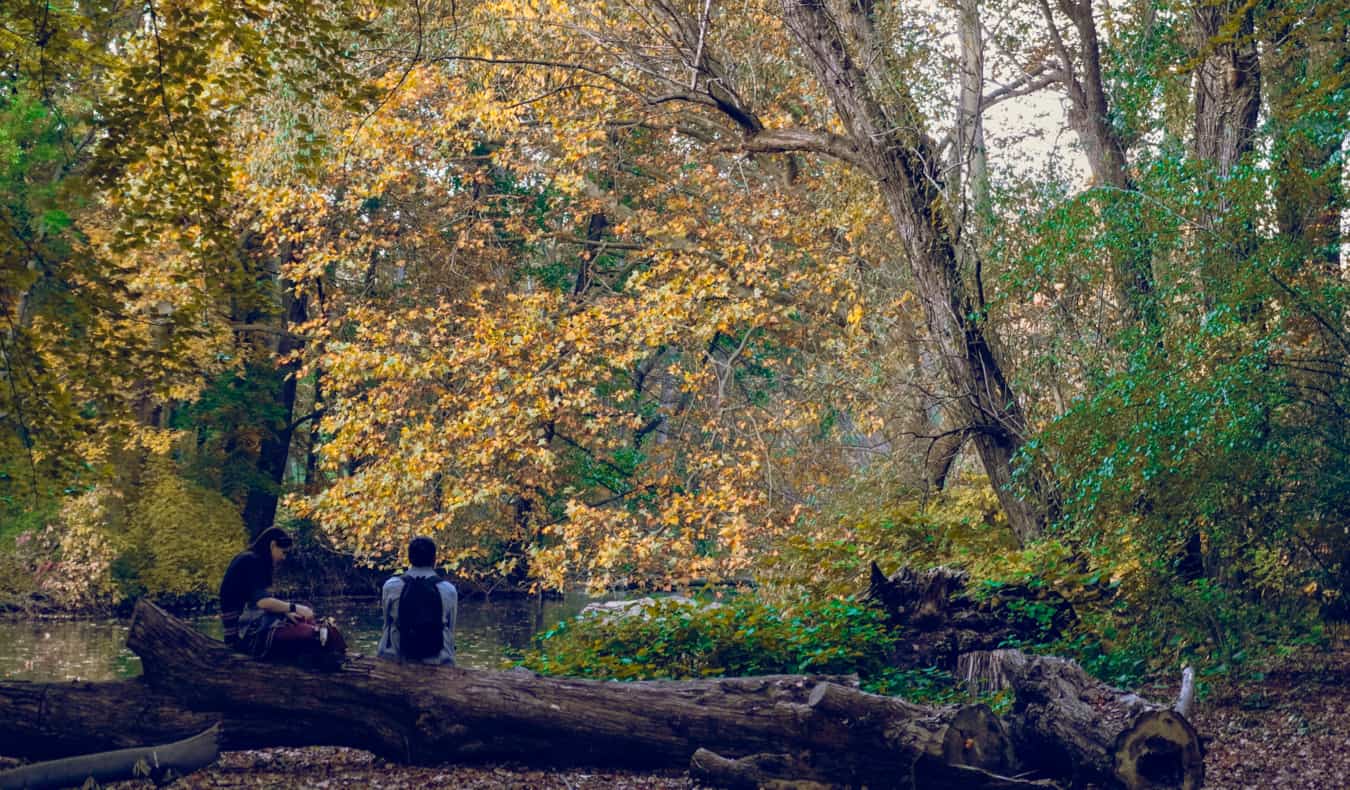 Berlin's central park is an excellent place to relax, walk, bike, and hang out. It's one of the most beautiful city parks in all of Europe, in my opinion. There's a war memorial for Russian soldiers, and you can also see the nearby Reichstag (Germany's parliament) and famous Brandenburg Gate.
Checkpoint Charlie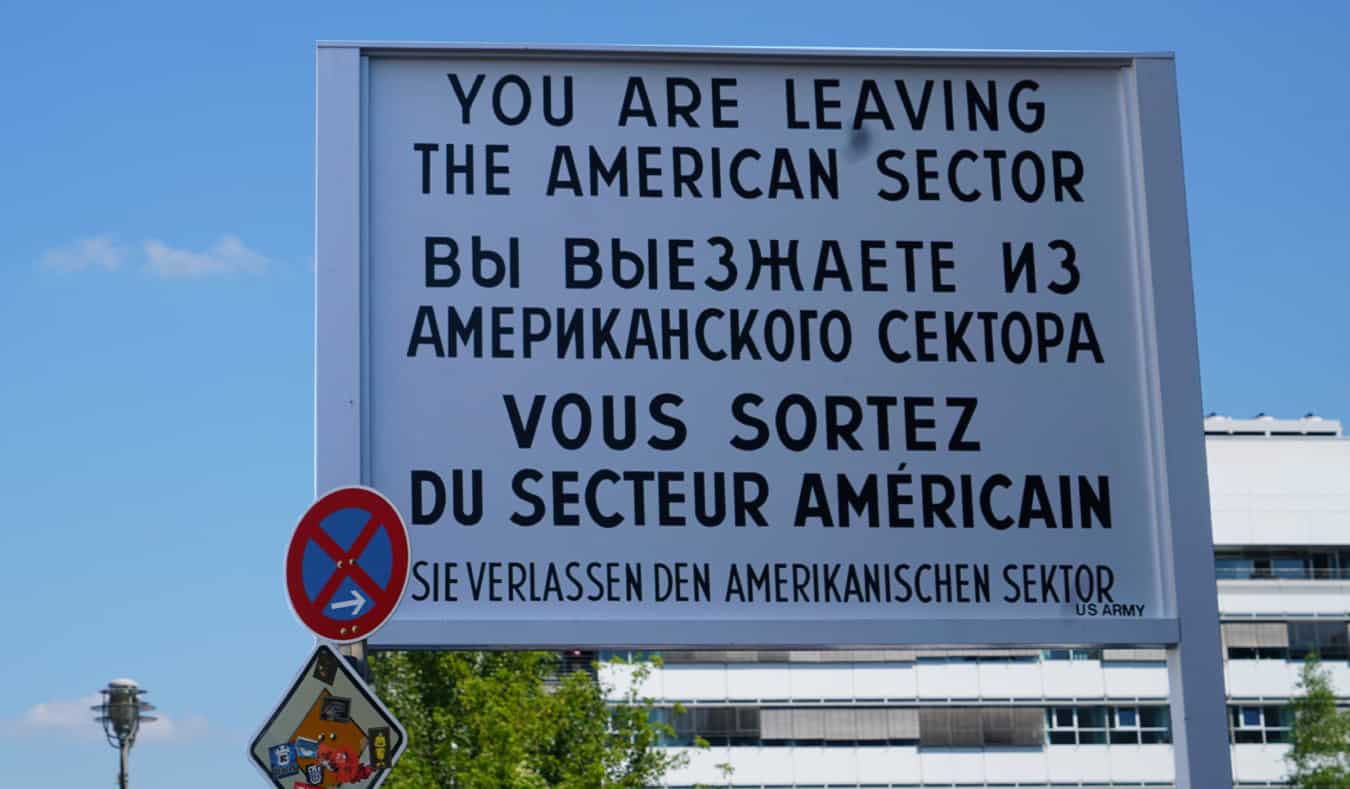 This is the infamous gateway between former East and West Berlin. There's a reconstruction of the checkpoint here, complete with fake soldiers (and lots of tourists taking pictures). The nearby museum was created in 1963 by Rainer Hildebrandt. It has a lot of pictures, information, and video about people's attempts to flee the East. A word of caution, though: the museum is really tiny, making it hard to maneuver around due to the big crowds. Avoid going mid-day and on the weekend.
Friedrichstraße 43-45, +49 30 2537250. The checkpoint itself is open every day and free to the public, while the museum is open daily from 9am-10pm. Admission to the museum is 14.50 EUR for adults, with discounts available for students and families.
Take a boat tour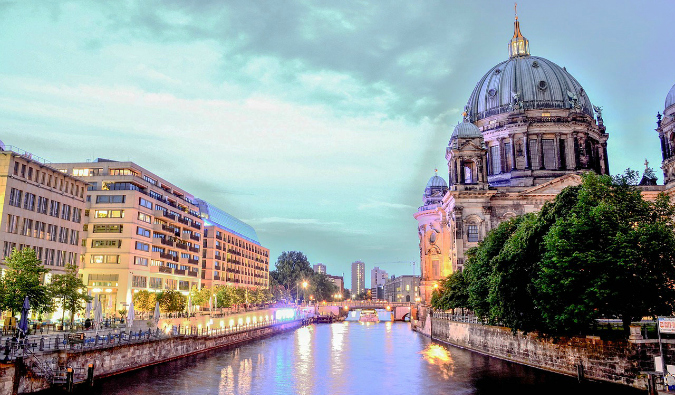 The Spree River flows through Berlin, and there are lots of canals and waterways on which you can take a boat tour. It's quite relaxing on a warm day.
New Yorkstraat 3, +49 30 22414700, berlincitycruises.com. Cruise prices range from 18-70 EUR. 
Hang out on "the beach"
A great summertime activity involves hanging out on "the beach." Various areas of the riverbank (especially across from the main train station) have "beach bars" where people lounge in beach chairs, drink beer, and soak up the sun.
The Dom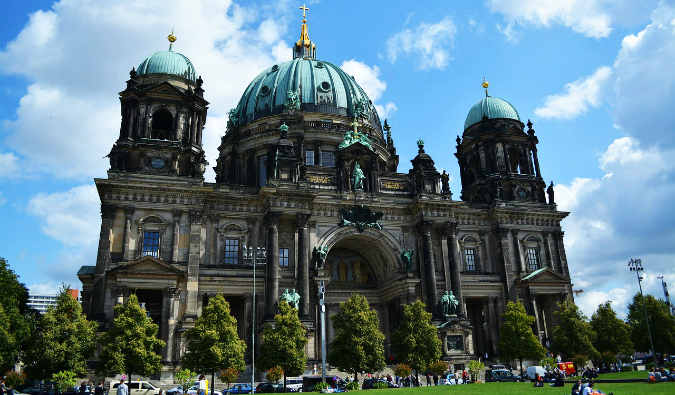 The biggest and most impressive cathedral in Berlin, The Dom was built at the turn of the 20th century as an expression of imperial power. It's located next to the museum island in Mitte and you can climb to the top of the dome for a beautiful view over Berlin's center.
Am Lustgarten, +49 30 20269136, berlinerdom.de. You can visit The Dom daily. Open from 9am-8pm on weekdays and 12pm-8pm on Sundays, though it is also closed during services and ceremonies. Admission is 7 EUR.
Topography of Terror
This open-air museum documents the terror and horror of the Nazi regime. The SS and the Reich Security Main Office were located on this spot. It also consists of excavated prison cells that were located under a remaining stretch of the Berlin Wall.
Niederkirchnerstraße 8, +49 30 2545090, topographie.de. Open daily from 10am-8pm. Admission is free.
***
In the end, I'm glad I came back to Berlin. I didn't see what the fuss was about the first time, but after this visit, I enjoy Berlin more. It's still ugly, but the art, the music, and the food make it an energetic and happening place to be. Though I may not ever live here, I'd happily go back and visit — over and over again.
Note: The city of Berlin gave me a tourism card that got me discounts at all these attractions as well as free transportation.
Get Your In-Depth Budget Guide to Europe!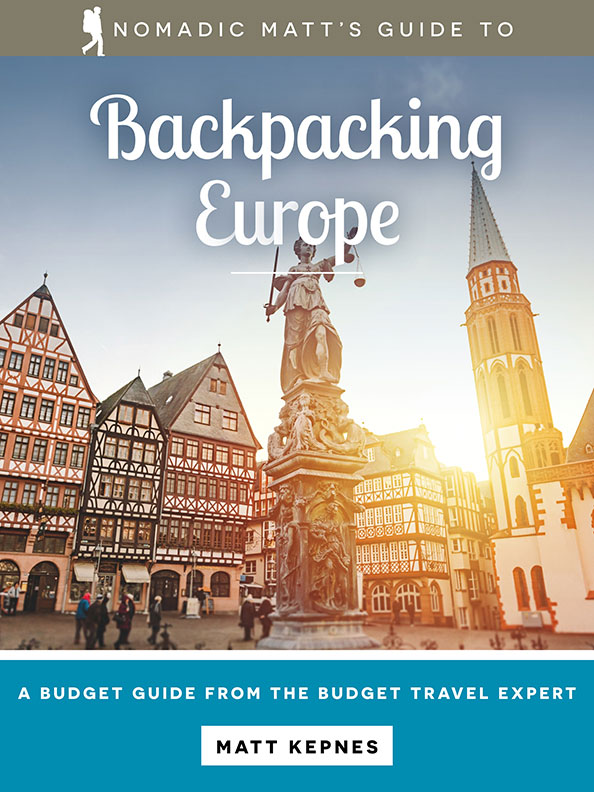 My detailed, 200+ page guidebook is made for budget travelers like you! It cuts out the fluff found in other guidebooks and gets straight to the practical information you need to travel and save money while backpacking around Europe. You'll find suggested itineraries, budgets, ways to save money, on and off the beaten path things to see and do, non-touristy restaurants, markets, and bars, and much more! Click here to learn more and get started!

Book Your Trip to Berlin: Logistical Tips and Tricks
Book Your Flight
Use Skyscanner or Momondo to find a cheap flight. They are my two favorite search engines because they search websites and airlines around the globe so you always know no stone is left unturned. Start with Skyscanner first though because they have the biggest reach!
Book Your Accommodation
You can book your hostel with Hostelworld as they have the biggest inventory and best deals. If you want to stay somewhere other than a hostel, use Booking.com as they consistently return the cheapest rates for guesthouses and cheap hotels. My favorite places to stay are:
Meininger Berlin Tiergarten.
Plus Berlin
Heart of Gold Hostel
If you're looking for more places to stay, here's a longer list of my favorite hostels in Berlin.
Don't Forget Travel Insurance
Travel insurance will protect you against illness, injury, theft, and cancellations. It's comprehensive protection in case anything goes wrong. I never go on a trip without it as I've had to use it many times in the past. My favorite companies that offer the best service and value are:
World Nomads (for everyone below 70)
Insure My Trip (for those over 70)
Medjet (for additional repatriation coverage)
Looking for the Best Companies to Save Money With?
Check out my resource page for the best companies to use when you travel. I list all the ones I use to save money when I'm on the road. They will save you money when you travel too.
Want a Guide?
Berlin has some interesting great tours. If you want to see all the main sights, book a bike tour with Fat Tire Tours. They use expert local guides so you'll learn a lot and have fun in the process!
Want More Information on Berlin?
Be sure to visit our robust destination guide on Berlin for even more planning tips!