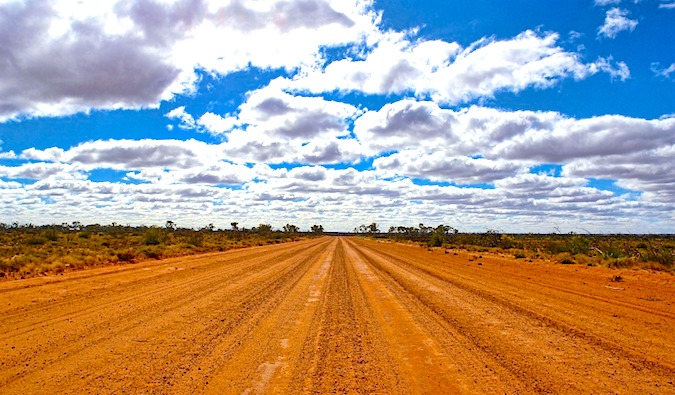 Updated: 1/7/21 | January 7th, 2021
With Australia being over seven million square kilometers, it takes a long time to get around the country. Considering the distances, it's no wonder few people end up traveling the whole country — there's just too much ground to cover on a short trip. Most people fly around the country or stick to a small area to explore. These large distances lead to high transportation costs that can make it hard to travel around Australia cheaply, especially if you have a limited amount of time.
It takes a good 14 Days to drive the 15,823km circumference of Australia on main Highway 1 (the road that rings the continent/country). That would be with minimal stops and breaks. However, if you want to see things along the way, you should plan at least a month (at the quickest). More realistically is 3 to 6 months. Many "grey nomads" (i.e. retirees in campervans) and backpackers do. To drive straight across the middle from Sydney to Perth, it takes about 3 to 4 days.
But what if you don't have months? What if you only have weeks? What do you do?
It's not impossible to get around Australia on a budget. In fact, it's very possible if you come prepared.
Here's how you can how to travel around Australia cheaply – no matter how long you are going for:

Getting Around Cheap By Flying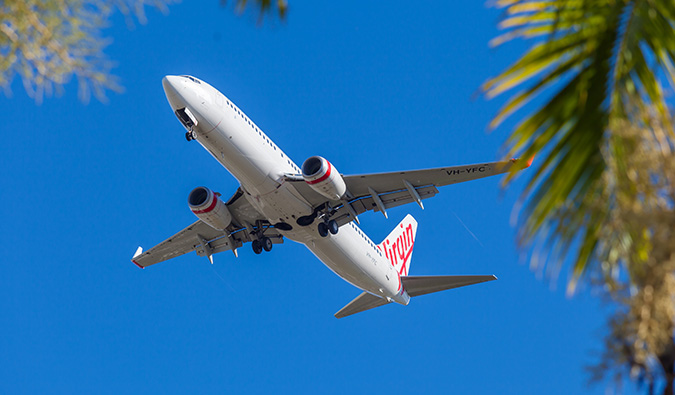 This is the most expensive but easiest way to get around Australia. Limited competition among airlines means that flights here stay very expensive. While there are some minor airlines that serve out-of-the-way destinations, Qantas (and its subsidiary Jetstar) and Virgin are the two big major airlines that service most of the country's destinations. The budget carrier, Tiger Airways, ceased operations in 2020, leaving the country with few budget-friendly flight options. Jetstar is now the biggest budget carrier here.
Naturally, with so few carriers, unless there is a big sale, tickets are expensive. Sydney to Perth, for example, will cost at least 400 AUD ($300 USD) round trip, however, 650 AUD ($475 USD) is more common. The 90-minute flight to Melbourne from Sydney costs around 235 AUD ($175 USD)!
Here are some sample fares on popular routes with two of Australia's biggest airlines (prices are in USD):
Routes
Qantas (One-Way)
Qantas (Return)
Jetstar (One-Way)
Jetstar (Return)
Sydney – Melbourne
$101
$249
$64
$99
Sydney – Perth
$167
$328
$156
$298
Sydney – Cairns
$174
$377
$115
$244
Melbourne – Perth
$167
$325
$139
$283
Melbourne – Cairns
$204
$330
$115
$247
Cairns – Perth
$194
$393
145
296
The prices in the chart above are the cheapest you'll find. If you don't book early, expect to pay much more for your flights.
In short, I would avoid flying in Australia. When Australians joke about it being cheaper to fly to Bali than around their own country, they really aren't joking — they are being completely serious. Because it's entirely true. Unless you find a deal or are in a rush, I'd avoid flying.

Getting Around Cheap By Backpacker Bus

Australia has a few backpack buses still in operation. These are great choices for younger backpackers looking to have fun, party, and hang out with other travelers. Everything is organized for you so you just need to show up and be ready to have fun!
Magic Bus is q backpacker/party bus and is perfect for travelers looking to get rowdy. Each month, the trip departs with 25 backpackers aged 18-35 for 3-4 weeks of exploring the country's national parks, camping, bonfires, and non-stop parties and shenanigans.
Trips go from Perth north to Broome or east to Melbourne so you have to time your trip accordingly to line up with the set departure. The itineraries are flexible, as they let riders vote on where to go and what to do, so every trip is unique. They try to keep a balance of 50% men and 50% women, as well as a balance of different nationalities, so there is always a diverse group.
Trips cost $250 AUD ($183 USD) per 1,000km so the price will depend on which route you take and how long your specific journey is.
For a similar (but more intimate) experience, check out Road2Adventure. It's essentially a party hostel on wheels, with space for 8 people to live and travel. It's like the Magic Bus but much smaller. They run cross-country trips on set schedules, making it a fun alternative if you don't want to spend a month with 20+ other backpackers. Tours range from 12-19 days and cost 1,595-2,395 AUD per person.
For a more independent option, check out Share Bus. It's not exactly a tour as you "share" the bus with 9 other travelers and run everything yourself. They show you how to use the equipment, arm with you maps and information, and send you on your way. It's essentially a self-guided camping experience with new friends. What you do is up to your and your fellow travelers.
Their rentals range from 7- to 21-days and cost between 333-835 AUD per person. From October to April their rentals are available in the southern half of the country (including Tasmania) and from April to October they focus on the north. It's a good choice for travelers who want more independence, enjoy meeting people, and love to camp.

Getting Around Cheap By Public Bus

This is one of my favorite transportation options in Australia. On the east coast, this will be your cheapest option. On the west coast, buses are surprisingly expensive. There are not many people moving up and down that coast and there's limited competition. It's often easier and cheaper to fly out in Western Australia.
However, on the east coast, you can find really cheap bus tickets, especially if you book in advance. Greyhound Australia is the biggest company and they sometimes offer $1 fares.
Here are some sample fares for popular bus routes in Australia (prices in USD):
Routes (One-Way)
Greyhound
Premier
Brisbane – Byron Bay
$28 Adult
$21 Adult
Brisbane – Gold Coast
$31 Adult
$15 Adult
Cairns – Airlie Beach
$78 Adult
$74 Adult
Gold Coast – Byron Bay
$28 Adult
$20 Adult
Sydney – Melbourne
$92 Adult
N/A
Sydney – Canberra
$33Adult
N/A
Melbourne – Canberra
$74 Adult
N/A
Darwin – Alice Springs
$165 Adult
N/A
Greyhound also offers several bus passes. Their Whimit Passes range from 15-365 days of unlimited travel and are perfect for traveling around on a whim (hence the name). They come in 15, 30, 60, 90, 120, and 365-day passes ranging from 249-1,699 AUD ($184-1,260 USD).
There are over 180 stops and you can go any direction on any route. It's the most flexible option for anyone without a vehicle — and it's the cheapest option there is.

Getting Around Cheap By Trains

Australia's train system is a wonderful way to see the country. Between city trams, commuter trains, and long-distance and trans-continental trains, Australia can be seen extensively by rail. However, their use isn't that widespread. Train lines exist mostly on the east coast with only two other major lines in the country: one goes north/south from Melbourne to Darwin and another east/west from Sydney to Perth.
Trains in Australia are very expensive. For example, a one-way ticket from Sydney to Perth (which takes 3 days) is $890 AUD ($650 USD). It's not really a cheap option so, unless you're looking to splash out on a scenic route like the Ghan with your significant other (or just love trains), I'd skip traveling Australia by train.
There are very few ways to get cheap train tickets these days so avoid this transportation option. If you do take a train, keep in mind tickets for the scenic trains book out months in advance so book early.

Getting Around Cheap By Car Share

If you really want to save money and travel cheap, find some other friends, rent a car or campervan, and drive around the country. This will allow you to share the costs with others (and if you rent a campervan, give you a place to sleep). It will be much, much cheaper than any other travel option.
You can look on hostel bulletin boards to see who's looking for people to join their road trip. You'll always find someone, and it's a great way to make new friends.
It's really easy to rideshare in Australia. Every hostel has a bulletin board where travelers post rides and websites like Gumtree and Couchsurfing have active ridesharing sections where people look for cars or riders. It's really robust. I HIGHLY recommend this way of traveling when in the country.
Some Rideshare Websites:
Alternatively, you can also purchase a car from backpackers leaving the country or locals selling used cars. Rental services like Jucy are fairly expensive and would only be good as a last resort. You can usually find a used car for $1,000-2,000 AUD ($750-1,500 USD). Though that sounds expensive, you can share those costs with other travelers making to the second most affordable way to travel!
Getting Around Cheap By Public Transportation
All of Australia's cities have reliable, affordable public bus systems. In the bigger, cities such as Sydney, Melbourne, Brisbane, Adelaide, and Perth, you'll even find subways and tram systems. This is the cheapest way to travel the cities. Fares cost between 3-4 AUD.
Skip the taxis. They are too expensive. If you do need a private ride, Uber is available in all of the larger cities and towns. Use it instead — it's much cheaper!

How Long Does it Take to Get Around Australia?
Here are distance and time charts so you know how long it takes to get places from the major cities when you travel around the country:
Traveling from Sydney
Route
Road (km/miles)
Air (hrs)
Coach (hrs)
Rail (hrs)
Sydney – Adelaide
1412 / 877
2
23
25
Sydney – Canberra
286 / 177
1
3.5
4
Sydney – Melbourne (inland)
872 / 542
1.5
11.5
14
Sydney – Perth
4054 / 2513
5
65
66
Sydney – Darwin
4210 / 2610
4.5
55
72
Sydney – Hobart
1589 / 985
2
27 (ferry)
–
Traveling from Canberra
Route
Road (km/miles)
Air (hrs)
Coach (hrs)
Rail (hrs)
Canberra – Melbourne
648 / 402
1
8
8.5
Traveling from Melbourne
Route
Road (km/miles)
Air (hrs)
Coach (hrs)
Rail (hrs)
Melbourne – Adelaide
731 / 454
1.25
10
10
Melbourne – Hobart
610 / 378
1.25
15 (ferry)
–
Melbourne – Devonport
307 / 190
1.25
10 (ferry)
–
Traveling from Adelaide
Route
Road (km/miles)
Air (hrs)
Coach (hrs)
Rail (hrs)
Adelaide – Alice Springs
1533 / 952
2
20
25
Adelaide – Perth
2706/ 1680
3.25
–
44
Adelaide – Darwin
3021 / 1873
3.75
43.5
49
Adelaide – Brisbane
2045 / 1270
2.5
32.5
40
Traveling from Perth
Route
Road (km/miles)
Air (hrs)
Coach (hrs)
Rail (hrs)
Perth – Broome
2225 / 1378
2.5
35
–
Traveling from Darwin
Route
Road (km/miles)
Air (hrs)
Coach (hrs)
Rail (hrs)
Darwin – Alice Springs
1489 / 924
2.25
22
24
Darwin – Kakadu
200 / 124
1
–
–
Traveling from Alice Springs
Route
Road (km/miles)
Air (hrs)
Coach (hrs)
Rail (hrs)
Alice Springs – Uluru
443 / 275
0.5
–
–
Traveling from Cairns
Route
Road (km/miles)
Air (hrs)
Coach (hrs)
Rail (hrs)
Cairns – Sydney
2695 / 1671
3
47
41
Cairns – Darwin
2857 / 1771
2.5
5 days
5 days
Cairns – Brisbane
1716 / 1065
2.25
29
25
Traveling from Brisbane
Route
Road (km/miles)
Air (hrs)
Coach (hrs)
Rail (hrs)
Brisbane – Sydney
965 / 600
1.5
16
14
Brisbane – Melbourne
1674 / 1039
2
28.5
27
***
When you plan to travel Australia, make sure you budget for transportation wisely.
Outside the busy eastern corridor between Melbourne and Brisbane, travel is expensive. You'll pay a lot more than you think. Plan your trip wisely.
Book Your Trip to Australia: Logistical Tips and Tricks
Book Your Flight
Use Skyscanner or Momondo to find a cheap flight. They are my two favorite search engines because they search websites and airlines around the globe so you always know no stone is left unturned. Start with Skyscanner first though because they have the biggest reach!
Book Your Accommodation
You can book your hostel with Hostelworld as they have the biggest inventory and best deals. If you want to stay somewhere other than a hostel, use Booking.com as they consistently return the cheapest rates for guesthouses and cheap hotels. My favorite places to stay are:
Base St. Kilda (Melbourne)
Wake Up! Sydney (Sydney)
Surf n Sun Hostel (Gold Coast)
If you're looking for more places to stay, here are my favorite hostels in Australia.
Don't Forget Travel Insurance
Travel insurance will protect you against illness, injury, theft, and cancellations. It's comprehensive protection in case anything goes wrong. I never go on a trip without it as I've had to use it many times in the past. My favorite companies that offer the best service and value are:
World Nomads (for everyone below 70)
Insure My Trip (for those over 70)
Medjet (for additional repatriation coverage)
Looking for the Best Companies to Save Money With?
Check out my resource page for the best companies to use when you travel. I list all the ones I use to save money when I'm on the road. They will save you money when you travel too.
Want More Information on Australia?
Be sure to visit our robust destination guide on Australia for even more planning tips!
Photo Credits: 3 – Bidgee, 4 – Graeme Churchard