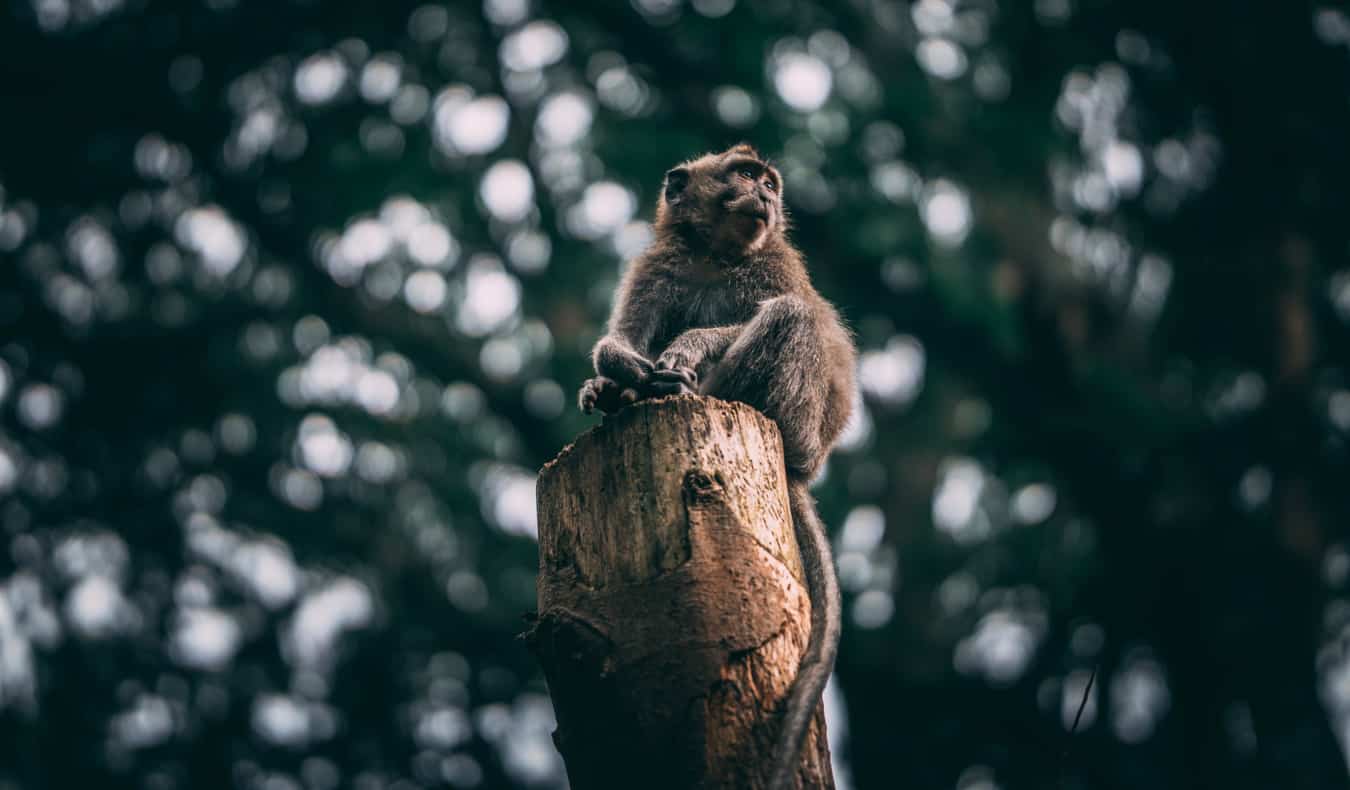 Updated: 02/04/2020 | February 4th, 2020
One of the most popular things to do in Bali is to visit the monkey forest in Ubud.
Once in Lopburi in Thailand, I got attacked by some food stealing monkeys (They snatched it right as I was putting it in my mouth…TWICE!). I also witnessed a few monkeys pulling the hair of a Japanese tourist. When monkeys get used to people they get aggressive.
That just sounds like a recipe for disaster if you ask me!
However, everyone raved about this place so I decided to visit it as part of a long walk around the area. Here's everything you need to know to have an amazing visit!
The History of Bali's Monkey Temple
Ubud's Monkey Monkey Forest (Mandala Suci Wenara Wana) is home to around 750 Balinese long-tailed macaques. These monkeys see some 120,000 visitors each month, which means they are well adjusted to people (though that also means they know exactly how to get their way with people too!).
The forest spans almost 13 hectares and includes 3 temples: Prajapati Temple, Dalem Agung Padangtegal Temple, and Holy Spring Temple. The temples are actually Hindu temples, built around the 14th century. Each temple has a specific purpose.
Dalem Agung Padangtegal (The Great Temple of Death) is the main temple, dedicated to the personification of Shiva.
The Holy Spring Temple (Pura Beji) is for spiritual and physical cleansing as well as for purification before important religious ceremonies and events.
Pura Prajapati is used to worship the personification of the god Prajapati. There is also a cemetery beside the temple that receives the bodies of the deceased for temporary burial. Every 5 years, a mass cremation is held. The bodies of the deceased will be temporarily buried beside the temple between cremation ceremonies.
As you can see, these temples play an important role in the community, both spiritually as well as economically.
My Experience at Monkey Forest in Bali
The scenery in the area is beautiful, allowing you to meander through lush jungles and old temples. But I have to say, the monkeys do get quite aggressive.
To give you a sense of what I mean, here is a video of my visit from back in 2010:
I'll admit, it was pretty neat to see the temples overrun with monkeys. While I think the area could be better managed to prevent tourists from getting harmed (or harming the monkeys) I can see the appeal for visitors.
Just keep in mind that people do get bit or scratched on a daily basis so you'll want to make sure your shots are up to date and that you have travel insurance before you visit. Better to be safe than sorry!
Tips for Visiting the Monkey Forest
To help you make the most of your visit, here are some helpful tips you'll want to consider:
Watch out for the monkeys! – Lots of people feed the monkeys so they are used to interacting with humans. This can lead to trouble as some monkeys might get too close to people. If you choose to feed them, put the food on the ground beforehand. Don't get too close to them. I saw a monkey get "in attack position" at this woman and another attack the leg of another tourist.
Don't make sudden movements – Don't run, panic, of suddenly reach out or withdraw your hands. This can frighten the monkeys and cause them to bite or scratch you.
Keep your valuables hidden – If you have a phone or jewelry or other smaller items, keep them locked in your bag (including sunglasses). The monkeys will snatch anything they can!
Don't feed them junk – Don't feed the monkeys things like peanuts, bread, or snack foods. Stick to bananas.
Consider if you want to feed them – Bringing food in will get you swarmed by monkeys. This is when you're more likely to get bit or have the monkeys steal something, so think twice about whether or not you want to actually feed them yourself.
Don't touch the monkeys – Don't try to pet or grab the monkeys. You'll get bit — or worse!
Have insurance – Make sure you have travel insurance before you visit. While there is a first aid clinic in the forest, it's always better to be safe than sorry!
Avoid eye contact – This will set the monkeys off and potentially lead them to attack or act aggressively. Don't look the monkeys in the eye.
Dress appropriatelly – You're visiting a sacred forest that is important to the local community. Dress respectfully.
How to Visit Bali's Monkey Forest
Monkey Forest is located in Padangtegal, near Ubud. It's about a 15-minute drive by car from Ubud. If you're coming from Kuta, expect to spend 1.5-2 hours each way.
The park is open daily from 8:30am-6pm, with the last ticket sales available at 5:30pm. Tickets are 80,000 IDR for adults and 60,000 IDR for children.
For more information you can visit their website monkeyforestubud.com.
Book Your Trip to Bali: Logistical Tips and Tricks
Book Your Flight
Use Skyscanner or Momondo to find a cheap flight. They are my two favorite search engines because they search websites and airlines around the globe so you always know no stone is left unturned. Start with Skyscanner first though because they have the biggest reach!
Book Your Accommodation
You can book your hostel with Hostelworld as they have the biggest inventory and best deals. If you want to stay somewhere other than a hostel, use Booking.com as they consistently return the cheapest rates for guesthouses and cheap hotels. My favorite places to stay are:
PADI Backpackers House
Wayan's Family Hostel
Indraprastha Home Stay
Don't Forget Travel Insurance
Travel insurance will protect you against illness, injury, theft, and cancellations. It's comprehensive protection in case anything goes wrong. I never go on a trip without it as I've had to use it many times in the past. My favorite companies that offer the best service and value are:
World Nomads (for everyone below 70)
Insure My Trip (for those over 70)
Medjet (for additional repatriation coverage)
Looking for the Best Companies to Save Money With?
Check out my resource page for the best companies to use when you travel. I list all the ones I use to save money when I'm on the road. They will save you money when you travel too.
Want More Information on Bali?
Be sure to visit our robust destination guide on Bali for even more planning tips!
Photo credit: 2 – Tsu