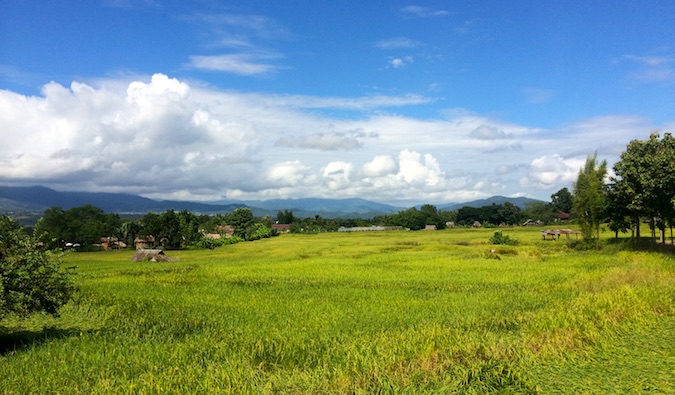 Last Updated: 7/10/20 | July 10th, 2020
Itinerary planning is a complex beast. There's no single best route out there. Everyone has different travel desires, goals, and needs (let alone budget). It's why I've always shied away from discussing itinerary planning for long-term travel beyond the most simple advice: don't double back.
Showing someone how to plan a trip is one thing, but planning a trip for someone else is tricky because I don't know what they want or like.
Because, at the end of the day, there is no magic formula for creating an itinerary. You have to see and go where you want to go and, while suggested routes can help inspire you, at the end of the day, only you can plan the best route for you.
Just don't double back (it raises your costs a lot).
BUT, to help you get familiar with how to plan an itinerary, I want to share how I decide my routes. Or at least the general routes (because, often when you land in a place, you throw out your plans and let the wind take you).
To illustrate my points, I'll use a semi-recent two-month jaunt around Southeast Asia.

Tip #1: Dreams vs Reality
The first thing to know about itinerary planning is that it is always going to disappoint you.
Why?
Because you'll stare at a map and say "I want to go here, here, here, and definitely here," then suddenly realize you won't have enough time (or money) to see it all. Something will have to get cut, and that's going to make you sad.
So, the first thing you need to do is accept that you likely won't be able to see and do everything — unless you've got unlimited time and a solid travel budget. You'll still be able to see and do a ton of amazing things, so don't get discouraged. Merely set some realistic expectations at the start.

Tip #2: Always Slow Down
I can't stress this enough. All too often I see travelers plotting their dream trip and bouncing from one destination to another every 1-2 days.
That's a terrible idea.
If you try to move between destinations every few days you're just going to end up spending all your days in transit. Your trip will be a blur and, while you might have some nice photos for Instagram, you won't remember a thing.
I traveled way to fast on my first trip to Europe. Most people do. The importance of slow travel is something we travelers usually learn the hard way.
Slow down. Take your time to soak in each destination. Travel is about quality, not quantity! Trust me. Less is more.

Tip #3: Be Flexible
As you can see, plans change. You meet people or learn about something new and all of a sudden your planning goes out the window. That's why I always encourage travelers to have a suggested itinerary but build in enough room for flexibility. That way, if you need to make a last-minute change you can do so without stressing out.
When I plan my travel routes now, I leave much more room in case plans change — because they always do. And I don't pre-book anything either (unless it's a super busy time of the year). You never know if you'll want to stay longer or leave sooner, so just book along the way. Sometimes I love a city and decide to say longer. Sometimes I dislike a place and leave sooner than expected.
Give yourself that wiggle room. That way, no matter what comes your way you'll be able to adapt.

Real World Example: My Southeast Asia Itinerary
My Original Plan

Originally, I was planning to travel from Bangkok into Isaan, Thailand's rural northeast province, for a couple of weeks.
Then, I'd go to Pakse and the 4,000 Islands in Laos before heading up to Vientiane (with stops along the way). Then, I'd go the back through Isaan to Bangkok.
After that, it was off to the Philippines. This would give me about six weeks in Southeast Asia and two weeks in the Philippines.
That itinerary packs in a ton of amazing things to see and do. But it also leaves no downtime, no time to sit back and enjoy serendipitous experiences. It's an exhausting itinerary and one that requires a go-go-go mentality for weeks on end.
Yes, this travel route flows in a nice circle, there's no doubling back, and it hits lots of major on- and off–the-beaten-path spots I've always wanted to see. But it's not a reasonable pace. 
Now, since I've been to many of these places before I don't need as much time, which is why an itinerary like this can work. However, when visiting places for the first time, an itinerary this packed is going o be more exhausting than it is fun.
And it doesn't leave room for flexibility — which is something that every traveler needs to embrace.
Why?
Well, just before I flew to Hong Kong, my friend Jodi called and said she was staying in Thailand longer than she'd planned — but she was in Chiang Mai. In order to see her, I had to revise my entire route on a whim.

My Plan: Version 2.0

In this revised version of my trip, I see less of Isaan. However, the route lets me visit a host of new places. I picked Pai because I've never been and it's a hit with backpackers. I planned to spend a few days there before heading into Chiang Rai on my way into Laos.
Chiang Rai is a good stopping point (it's near the border) before heading into Luang Prabang, a city renowned for its Buddhist temples.
Then it's off to the Plain of Jars and Vang Vieng, a city that was once ruined by backpackers who turned it into a drunken booze fest of stupidity.
Luckily, the government put an end to that, and I want to see how the city's changed now that people don't get drunk and jump off something called "the death slide."
After that, it's off to Vientiane before traveling to Isaan and into Pakse.
What I ACTUALLY Did
Even after creating multiple itineraries, what I did was still pretty different from my revised itinerary:

Bangkok – Chiang Mai – Pai – Chiang Mai – Luang Prabang – Vang Vieng – Vientiane – Bangkok – Korat – Nong Kong – Surin – Ubon Ratchathani – Pakse – Nong Khai – Khon Kaen – Bangkok
This final itinerary was super different from my original plan. I still explored Isaan but, because I went to Chiang Mai, ended up seeing a lot of Laos too. This itinerary ended up being a lot better than my original.
***
The point of all this is that your plans will change. Sometimes by a lot. Don't be married to your plans and don't say no to opportunities just because your "route" says no. Travel is best when you go with the flow.
Build extra space into your itineraries. Be flexible. Go slow.
That's how you plan an amazing itinerary – not only to Southeast Asia but to anywhere in the world.
Book Your Trip to Southeast Asia: Logistical Tips and Tricks
Book Your Flight
Use Skyscanner or Momondo to find a cheap flight. They are my two favorite search engines because they search websites and airlines around the globe so you always know no stone is left unturned. Start with Skyscanner first though because they have the biggest reach!
Book Your Accommodation
You can book your hostel with Hostelworld as they have the biggest inventory and best deals. If you want to stay somewhere other than a hostel, use Booking.com as they consistently return the cheapest rates for guesthouses and cheap hotels.
Don't Forget Travel Insurance
Travel insurance will protect you against illness, injury, theft, and cancellations. It's comprehensive protection in case anything goes wrong. I never go on a trip without it as I've had to use it many times in the past. My favorite companies that offer the best service and value are:
World Nomads (for everyone below 70)
Insure My Trip (for those over 70)
Medjet (for additional repatriation coverage)
Looking for the Best Companies to Save Money With?
Check out my resource page for the best companies to use when you travel. I list all the ones I use to save money when I'm on the road. They will save you money when you travel too.
Want More Information on Southeast Asia?
Be sure to visit our robust destination guide on Southeast Asia for even more planning tips!