Updated: 02/08/20 | February 8th, 2020
I have a confession to make: I put off traveling to Japan until 2011 because I always thought it was too expensive.
Everyone always told me Japan was one of the most expensive countries in the world. That was the collective wisdom.
But, when I got there, I realized two things: First, I love Japan! It's one of the most amazing, beautiful, and friendliest countries in the world. It lives up to all the hype.
Second, while Japan is expensive, it's not out of reach for budget travelers.
There are many cheap ways to enjoy Japan on a budget.
From finding delicious food to affordable hotels to fun activities, you don't have to pinch every penny have fun.
However, the one thing that is truly expensive in Japan? Quick transportation.
While it's not a huge country, the island nation's transportation infrastructure is geared to expensive, high-speed travel or inexpensive, (really) low-speed travel. There's not much in between. It's a three-hour train ride or a 12-hour bus ride!
So what are the best ways to travel around Japan without spending all your money on transportation?
In this post, I'll break that down (because it does require some work).
Table of Contents
Getting Around Japan By Train
Getting Around Japan By Bus
Getting Around Japan By Plane
Getting Around Japan By Ferry
Getting Around Japan By Car
Getting Around Japan By Hitchhiking
How Long Does it Take to Get Around Japan?
The Best Way to Get Around Japan
Getting Around Japan By Train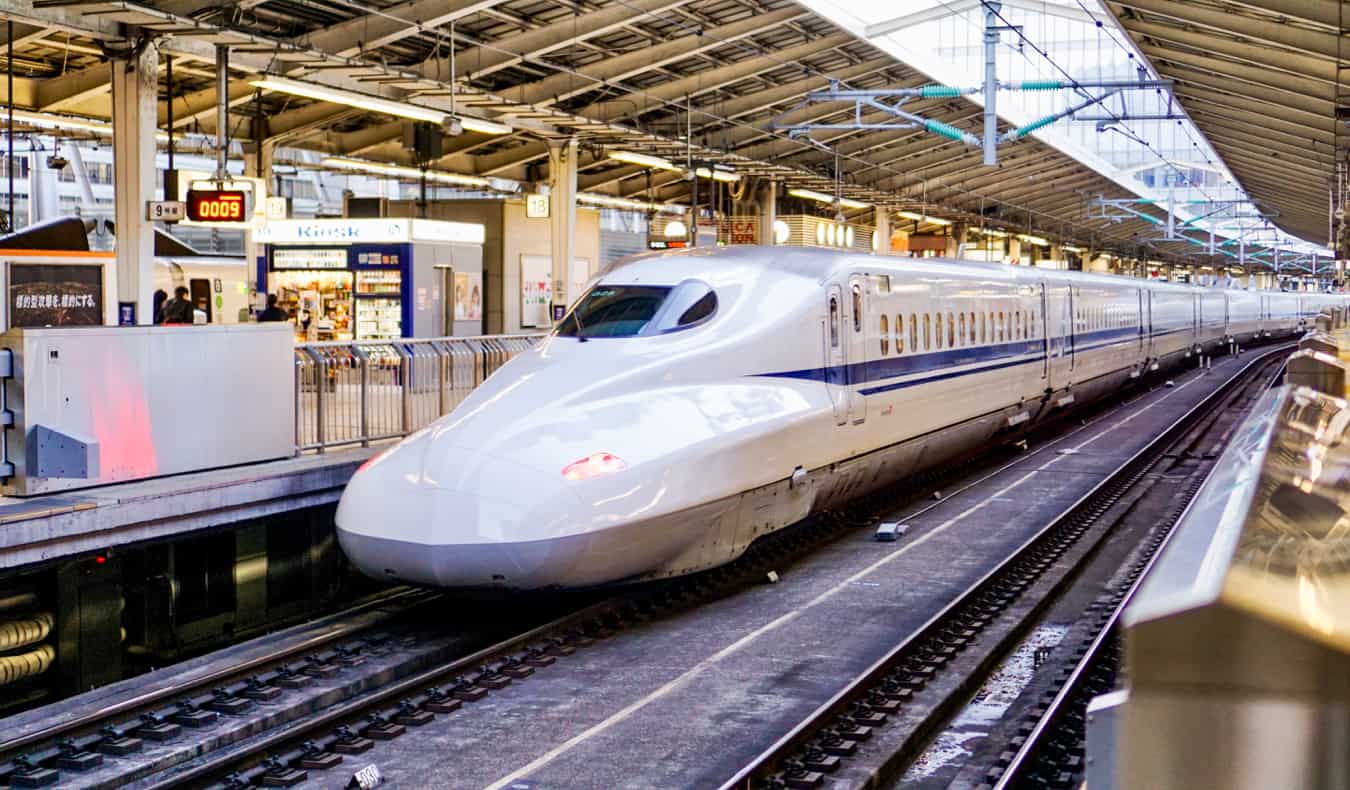 Japan's infamous bullet trains (called shinkansen) are beautiful, comfortable, convenient, and fast. They are a wonder of transportation, racing around at speeds up to 320 km (200 miles) per hour. These trains run on special tracks, separate from the other trains.
They are a beautiful feat of engineering and a smooth ride. It's the best in train travel.
However, they are also very, very expensive.
Individual tickets can cost hundreds of dollars — even more than airfare. To travel on a bullet train, you pay a basic train fare, then there's an additional "super express fee" of 800 to 8,000 JPY ($7.50 to $75). For example, a one-way ticket from Kyoto to Hiroshima can cost 11,300 JPY ($105 USD), from Tokyo to Kyoto is 13,710 JPY ($126 USD), from Osaka to Tokyo is around 15,000 JPY ($140 USD), and from Tokyo to Nagasaki is 25,850 ($240 USD).
To make matters worse, there are very rarely promotions or discounts. And, unless you know Japanese, they are nearly impossible to find.
Fortunately, there are other options. Japan also has regular limited express and regional trains. Naturally, they are much slower than the shinkansen, but they are also cheaper.
For example, a trip on a local train from Kyoto to Tokyo will cost around 8,000 JPY ($73 USD) instead of 13,710 JPY ($126 USD) for the bullet train. However, the journey will take 9 hours instead of 3 hours and will also require several transfers, making it a less than an ideal choice for most travelers.
Whether you opt for the bullet train or regional trains, I think train travel is the best way to see the country. It's just not a good idea to buy individual tickets. In order to reduce your train costs, you need to get a Japan Rail Pass.
The passes are good for JR trains — both regular trains as well as the shinkansen bullet trains! — which go to nearly every destination and region in the country. What I really like is that these JR trains also serve metropolitan areas, so they can be used within cities. On my last visit, I used my pass to get around Kyoto and Tokyo instead of buying metro tickets.
The JR pass is indispensable for travel in Japan, as you get unlimited rides with it. The pass has several options (each valid for consecutive days, not just travel days):
29,110 JPY ($267 USD) for 7 days
46,390 JPY ($426 USD) for 14 days
59,350 JPY ($545 USD) for 21 days
Even if you get just the seven-day JR pass, it will still cost less than a round-trip train ticket from Osaka to Tokyo. And you can still do a lot in seven days (it's a small country, after all!)
The JR Pass is good on several types of JR trains. After the shinkansen, the next fastest is the tokkyu (limited express). The kyuko express train comes next, followed by the kaisoku and futs? (local trains that make every stop).
Each of these passes also has a first-class option. First-class cars in Japan are called "green cars." The Green Car JR Pass will be around 10,000 JPY ($92 USD) more for each pass. Since the trains in Japan are already amazing, you likely don't need to buy the Green Car pass unless you really want some luxury.
There are regional options as well if you are not traveling the entire country. These options will save you even more money since they are cheaper than the regular JR passes. You can buy JR passes for six different regions of the country:
JR East
JR West
JR Central
JR Hokkaido (the northern island)
JR Kyushu (the southwestern island)
JR Shikoku (the southeastern island)
Each region will have several pass options, usually ranging between 1-7 days. If you're just going to be focusing on one region of the country, consider buying a JR regional pass. If you want to explore everywhere, get the regular JR Pass. (If you're a first-time visitor to Japan, you'll likely want the regular JR Pass, as it covers all the major destinations.)
One thing to keep in mind is that you have to buy your JR Pass before you come to Japan. So make sure you have your "exchange order" (the receipt for your pass) before you leave home! Once you get to Japan, you will exchange your "exchange order" for a JR Pass at a JR office. Make sure you have your passport when you go to collect it!
However, they are currently allowing travelers to buy their passes on arrival in some locations, but this is just a test that is set to end in March 2019. Until then, here is where you can buy your pass in Japan: Sapporo, Sendai, Niigata, Tokyo, Shinjuku, Yokohama, Nagoya, Osaka, Hiroshima, Takamatsu, Hakata, New Chitose Airport, Narita Airport, Haneda Airport, and Kansai Airport. The pass is available mainly to non-Japanese travelers who are visiting for a limited time. When you apply for the pass, you will provide your nationality and travel details. You will need your passport to collect your pass.
If you don't buy a JR Pass and just want to buy single tickets between destinations, here are the approximate prices you'll pay for one-way train tickets with non-reserved seats in the "ordinary" (non-green car) class:
Hiroshima-Tokyo: 18,040 JPY ($167 USD)
Tokyo-Kyoto: 13,080 JPY ($120 USD)
Kyoto-Hiroshima: 10,570 JPY ($98 USD)
Tokyo-Nagoya: 10,360 JPY ($96 USD)
Nagoya-Kyoto: 5,070 JPY ($47 USD)
Kyoto-Osaka: 560 JPY ($5.25 USD)
Hiroshima-Fukuoka: 28,262 JPY ($256 USD)
Nagano-Kanazawa: 11,924 JPY ($108 USD)
Tokyo-Yokohama: 4,085 PJY ($37 USD)
Hakodate-Tokyo: 27,934 JPY($253 USD)
Nara-Kyoto: 900 JPY ($8 USD)
Tokyo-Odawara: 7,175 JPY ($65 USD)
If you don't have a JR Pass, you'll pay more for a reserved seat, about 300 to 700 JPY ($2.75 to $6.50 USD). You do not typically need to get a reserved seat unless you are traveling in peak season when all seats may be taken.
Getting Around Japan By Public Bus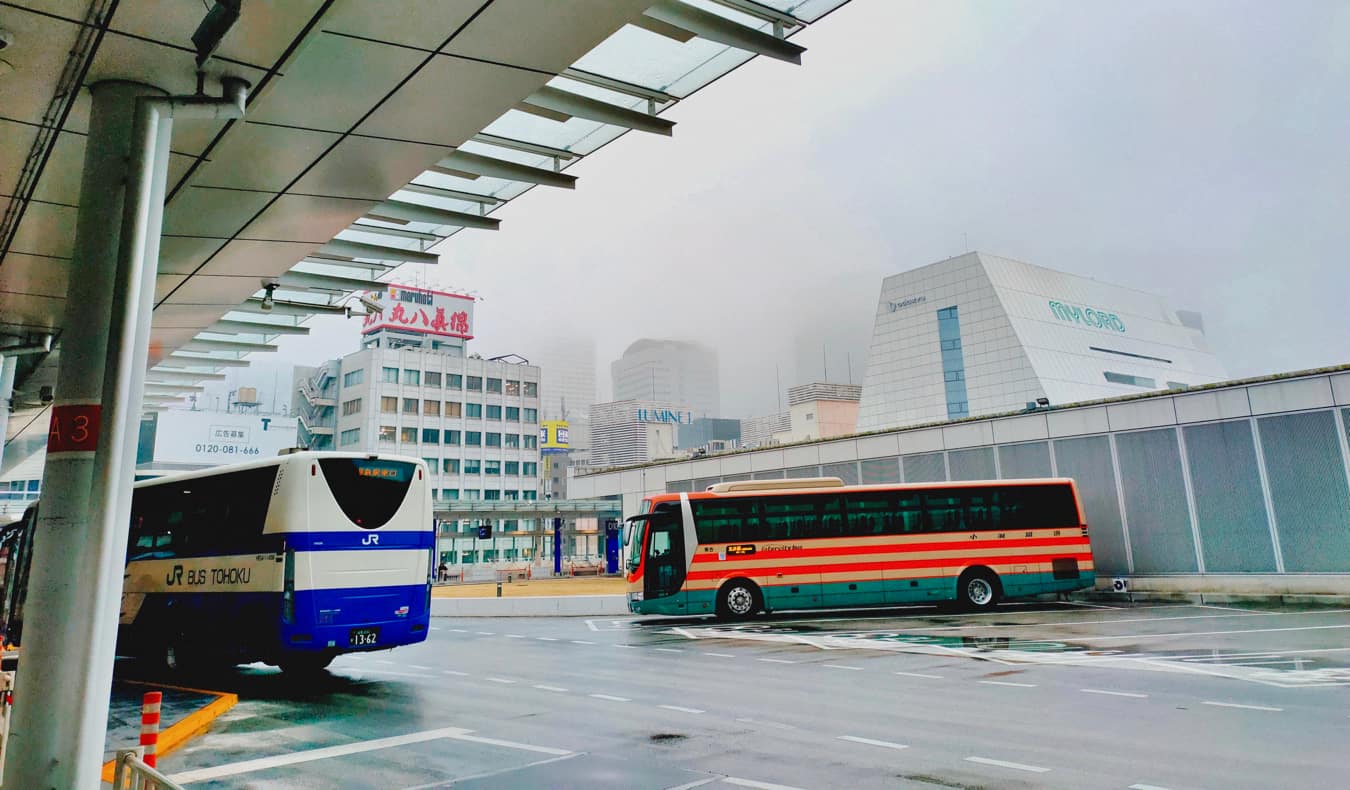 Buses are a less expensive alternative but they take more time. For example, the two-hour bullet train ride from Tokyo to Osaka is 10 hours on the bus.
The price for that seat is 4,500 JPY ($42 USD), but at some point, you need to think about how much your time is worth. On my last trip, saving 10,500 JPY ($97) was not worth the extra eight hours of travel, since I had limited time.
If I'd had more time, the bus would have been worth it, especially because there are so many cool stops along the way to break up the journey.
Willer Express and Japan Bus Lines have bus passes that offer unlimited travel and begin at 10,000 JPY ($93 USD) for three non-consecutive days of travel. You can see the options at willerexpress.com.
Here are some sample bus fares between popular destinations:
Tokyo-Kyoto: 1,599 JYP ($15 USD) – 7.5 hrs.
Tokyo-Nagoya: 2,998 JYP ($28 USD) – 6.5 hrs.
Nagoya-Kyoto: 2,550 JYP ($24 USD) – 2 hrs. 50 mins.
Kyoto-Hiroshima: 4,590 JYP ($42 USD) – 7 hrs. 20 mins.
Hiroshima-Tokyo: 6,000 JYP ($55 USD) – 12 hrs.
Kyoto-Osaka: 900 JYP ($8 USD) – 1.5 hrs.
Hiroshima-Fukuoka: 4,150 JPY ($38 USD) – 4.5 hrs.
Nagano-Niigata: 3,290 JPY ($30 USD) – 3 hrs.
Tokyo-Yokohama: 1,261 ($11 USD) – 1 hr. 20 mins.
Aomori-Tokyo: 8,500 JPY ($77 USD) – 9 hrs. 35 mins.
Nara-Kyoto: 2,800 JPY ($25 USD) – 2 hrs.
Kyoto-Odawara: 5,500 JPY ($50 USD) – 9 hrs.
As you can see, it's a lot cheaper to go by bus — but it takes a lot longer!
Bottom line: If you have the time, take the bus. The coaches are comfortable, and there are overnight buses, which is a decent alternative if you're taking a long trip. Don't be afraid to chat people up when traveling, either: those I met in Japan were really friendly. If they're Japanese, they'll be more than happy to tell you all about their country (and ask about yours).
Getting Around Japan By Plane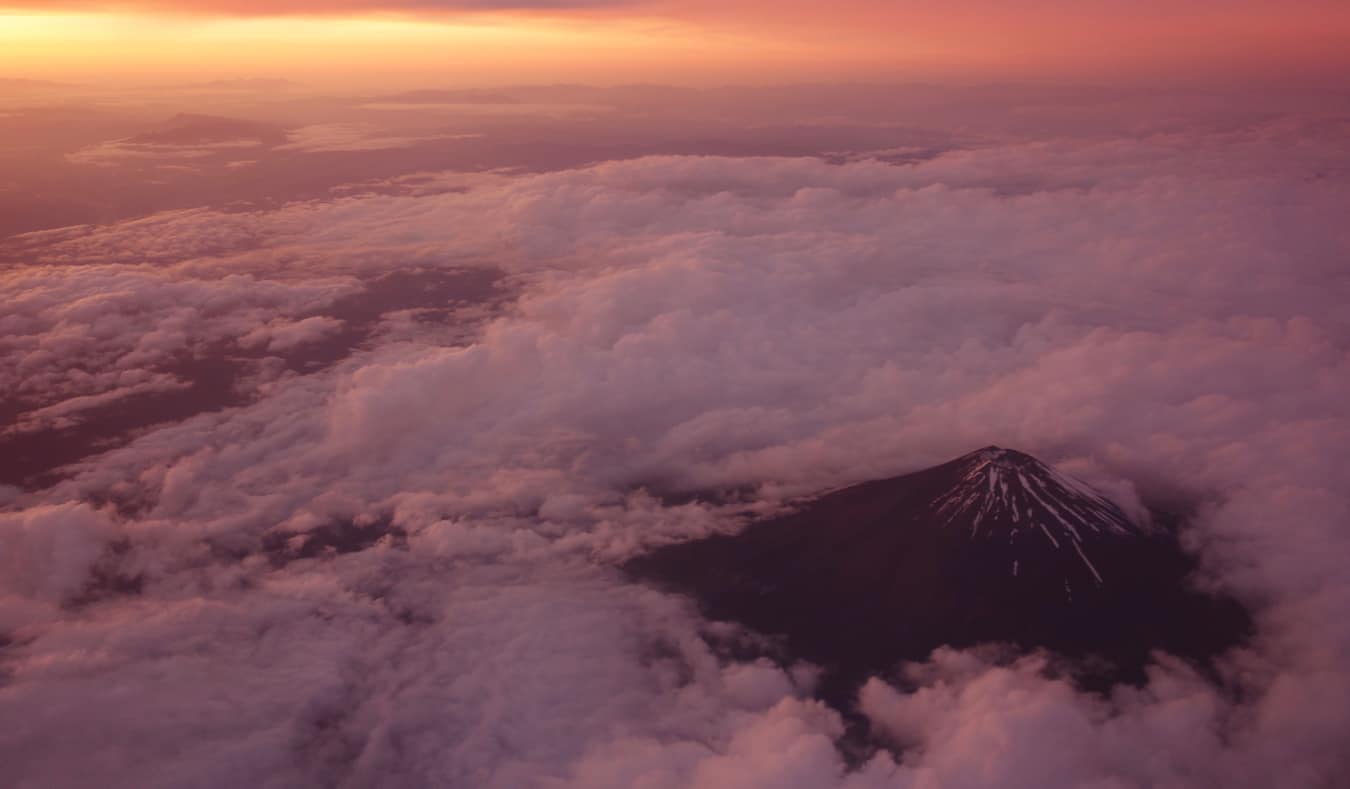 Flying has become a better option as more budget carriers now serve Japan. In general, airfares are on par with bullet train tickets. JAL and ANA are the big players. The main "budget" carriers are Peach and Jetstar Japan.
Japan is not a huge country, and I much prefer the train or bus, but if you are short on time and don't feel like hopping from island to island on a ferry or taking the bullet train, you can fly (though it's a lot more of a hassle!).
Here are some typical prices between a few popular destinations in Japan:
Tokyo-Kyoto:
JAL: 8,767 JPY ($81 USD) (one-way), 17,759 JPY ($164 USD) (return)
ANA: 11,239 JPY ($104 USD) (one-way), 20,323 JPY ($189 USD) (return)
Tokyo-Nagoya:
JAL: 7,081 JPY ($65 USD) (one-way), 14,611 JPY ($135 USD) (return)
ANA: 9,329 JPY ($86 USD) (one-way), 16,972 JPY ($157 USD) (return)
Osaka-Hiroshima*:
JAL: 11,352 JPY ($105 USD) (one-way), 42,036 JPY ($388 USD) (return)
ANA: 18,881 JPY ($175 USD) (one-way), 37,649 JPY ($348 USD) (return)
Hiroshima-Tokyo:
JAL: 11,576 JPY ($107 USD) (one-way), 21,018 JPY ($194 USD) (return)
ANA: 16,409 JPY ($152 USD) (one-way), 25,738 JPY ($238 USD) (return)
Tokyo-Naha (Okinawa):
JAL: 8,063 JPY ($73 USD) (one way), 23,301 JPY ($211) (return)
ANA: 11,156 JPY ($101 USD) (one way), 21,720 JPY ($196 USD) (return)
Sapporo-Osaka:
JAL: 13,254 JPY ($120 USD) (one way), 27,283 JPY ($247 USD) (return)
ANA: 7,200 JPY ($65 USD) (one way), 15,500 ($140 USD) (return)
Fukuoka-Tokyo:
JAL: 11,597 JPY ($105 USD) (one way), 23,195 JPY ($210 USD) (return)
ANA: 11,597 JPY ($105 USD) (one way), 23,195 JPY ($210 USD) (return)
Osaka-Nagano*:
JAL: 20,542 JPY ($186 USD) (one way), 41,091 JPY ($372 USD) (return)
ANA: 20,542 JPY ($186 USD) (one way), 41,091 JPY ($372 USD) (return)
*No direct flights
Moreover, ANA offers special last-minute fares for 10,800 JPY ($99 USD) or less at ana.co.jp/en/us/promotions/share/experience_jp/. These fares are available only to foreigners and can sometimes be cheaper than the flights you find on other sites, especially for longer routes.
When deciding whether to fly or travel via train, keep in mind that you'll need to get to the airport somehow. Not all airports are close: for instance, Kyoto's nearest airport is in Osaka. If you find flights to be really expensive (as in those to and from Hiroshima), check nearby airports and, most of all, be flexible with your itinerary.
Getting Around Japan By Ferry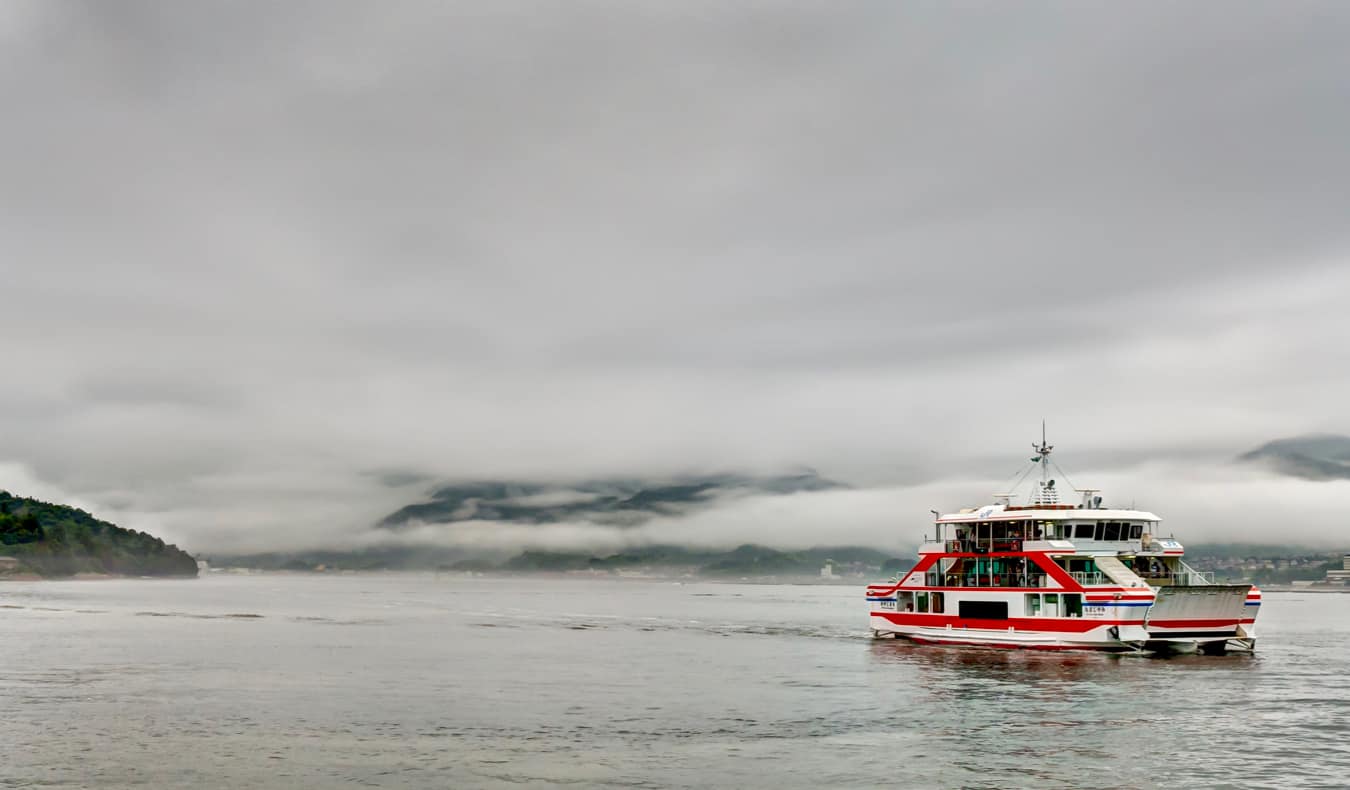 Another option in Japan is an interisland ferry, and there is an extensive selection of routes. Ferries typically carry passengers, vehicles, and cargo. Passengers have a choice of three classes: second (with or without a bed), first, and special. You will not have your own private room on a ferry, though the first-class option has just two beds in each room.
Japan's four main islands are connected by bridges and tunnels, but a lot of the smaller islands can be reached only by water. If you plan on exploring these, the Japan Ferry Pass 21 is a good option. It gives you six trips on certain longer-distance ferry routes for 21 days. The pass is 21,000 JPY ($189 USD) and is available only to foreign travelers. The pass is good for second-class travel and can't be used during peak season; ferries must be reserved in advance. For more information, visit jlc-ferry.jp.
If you decide to go this route, keep in mind that the trips can be very long! Here are some example routes, durations, and costs:
Route
Duration (hrs)
Second Class (no bed)
First Class (with bed)
6,680 JPY($61 USD;
shared room with bed)
Getting Around Japan By Car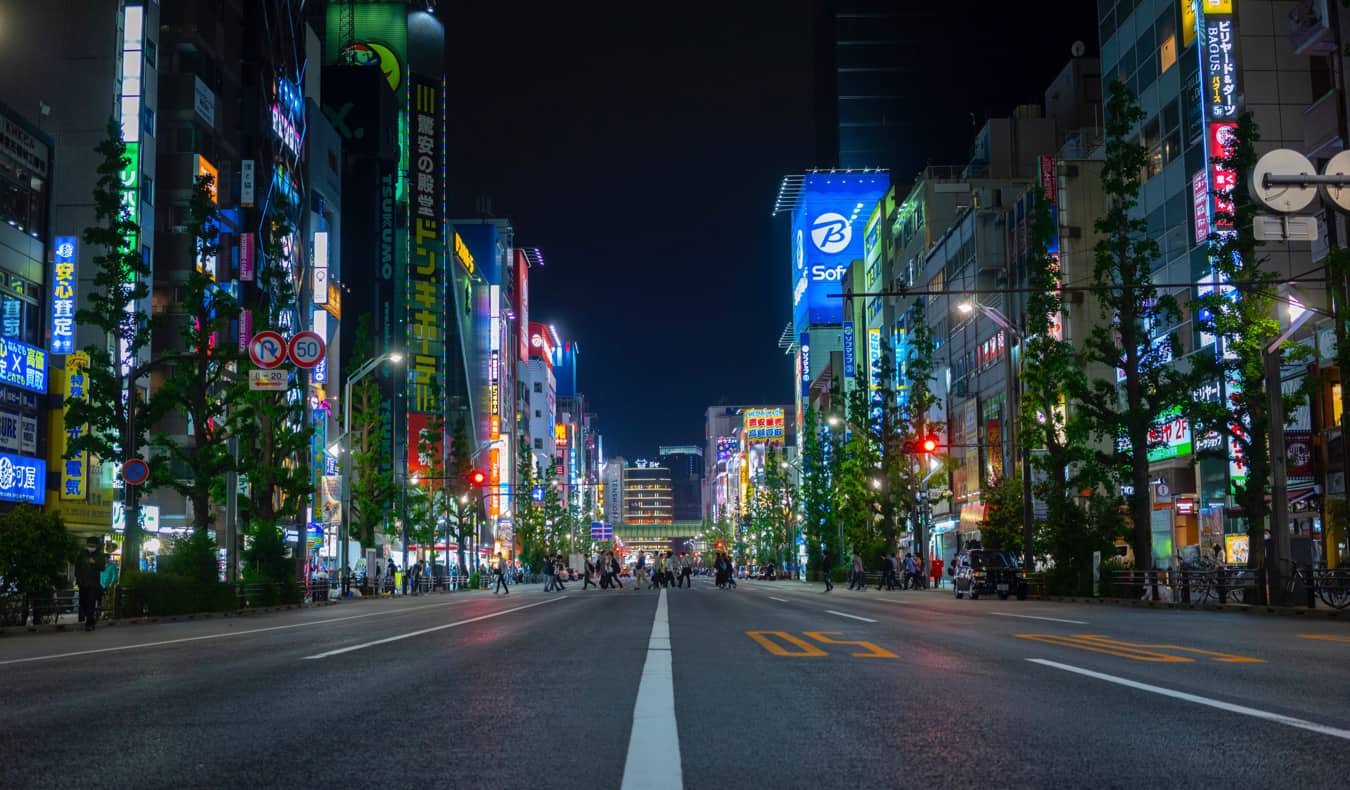 I don't recommend renting a car and driving around Japan on your own. For one, rental cars are much more expensive than public transit options. In most places, traffic is frustrating, parking is a big hassle, and unless you speak Japanese, getting around is going to be very difficult.
Getting Around Japan By Hitchhiking
If you are feeling adventurous, you can hitchhike. Japan's a really safe country, and it's a chance for a free ride! While almost no Japanese hitchhike, many are more than happy to pick up foreigners. It's an opportunity for them to practice their English and engage a new culture, so don't be afraid to stick out a thumb!
Even out in the countryside, you won't have a hard time finding a ride. Even people who don't speak English will pick you up, as the people really are incredibly kind and giving. Don't be surprised if you get asked to meet their family or friends or share a meal with them!
Our Community Manager, Chris, spent a month backpacking and hitchhiking in Japan. He never waited too long for a ride, and people were incredibly friendly. They bought him snacks and meals, drove way out of their way to help him, and even took them to their homes to meet their family. If you're comfortable doing this, it can be a very culturally rewarding experience!
If you decide to go this route, make a sign letting people know which direction you're headed. Add a smiley face and other cute drawings to up your chances of finding a ride. A good resource for finding the best places to find a ride is Hitchwiki.
How Long Does it Take to Get Around Japan?
Here are some distances and travel times. I think this will convince you that the train really is the way to go.
Route
Road (km/miles)
Air (hrs.)
Train (hrs.)
Bus (hrs.)
***
The Best Way to Get Around Japan
Bottom line: The best transportation option really depends on the length of your trip. If you only have a week or so in Japan and want to get around really quick, get a rail pass and take the train everywhere you need to go. It's not going to be cheap, but it will be the most efficient. If you have more time and have a lot of places to visit in a similar geographic region, take the bus. If you're not comfortable hitchhiking, try an app like CarpoolWorld, which helps you find all sorts of carpool, vanpool, and rideshare listings by destination.
Whichever method you choose, you'll be in good hands. Japan has some of the safest, cleanest, most efficient travel options in the world, so enjoy!
Book Your Trip to Japan: Logistical Tips and Tricks
Book Your Flight
Use Skyscanner or Momondo to find a cheap flight. They are my two favorite search engines because they search websites and airlines around the globe so you always know no stone is left unturned. Start with Skyscanner first though because they have the biggest reach!
Book Your Accommodation
You can book your hostel with Hostelworld as they have the biggest inventory and best deals. If you want to stay somewhere other than a hostel, use Booking.com as they consistently return the cheapest rates for guesthouses and cheap hotels. My favorite places to stay are:
Khaosan Tokyo Kabuki (Tokyo)
Jiyujin (Kyoto)
K's House (Hiroshima)
Don't Forget Travel Insurance
Travel insurance will protect you against illness, injury, theft, and cancellations. It's comprehensive protection in case anything goes wrong. I never go on a trip without it as I've had to use it many times in the past. My favorite companies that offer the best service and value are:
World Nomads (for everyone below 70)
Insure My Trip (for those over 70)
Medjet (for additional repatriation coverage)
Looking for the Best Companies to Save Money With?
Check out my resource page for the best companies to use when you travel. I list all the ones I use to save money when I'm on the road. They will save you money when you travel too.
Be sure to check out the Japan Rail Pass if you'll be traveling around the country. It comes in 7-, 14-, and 21-day passes and can save you a ton of money!
Want More Information on Japan
Be sure to visit our robust destination guide on Japan for even more planning tips!