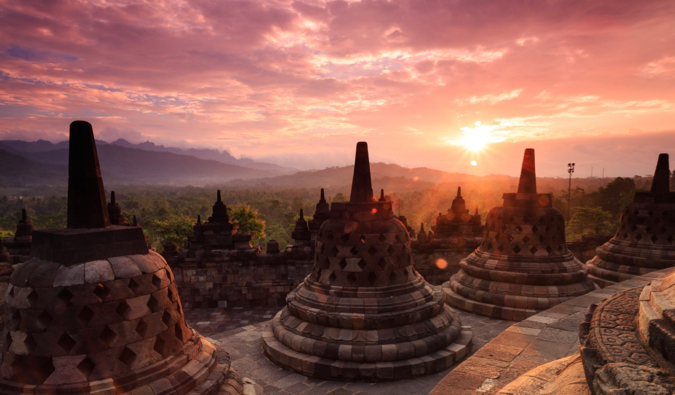 Last Updated: 02/04/20 | February 4th, 2020
Borobudur is an 9th-century Buddhist monument in Indonesia. It's actually the largest Buddhist temple in the world! The ancient complex comprises six square platforms topped by three circular platforms decorated with 2,672 relief panels and 504 Buddha statues.
It's massive!
I've always been fascinated by this place ever since I heard about it on National Geographic. I've read books about Borobudur and watched TV programs on it. I knew I had to see this place before I died.
And fortunately, I did!
If you're going to be backpacking Indonesia, be sure to add a visit to Borobudur to your itinerary. It's a one-of-a-kind monument worth a visit.
To help you make the most out of your visit, here's my comprehensive guide to visiting Borobudur!
Table of Contents
The History of Borobudur
Tips for Visiting Borobudur
Visiting Borobudur: Logistics
Frequently Asked Questions
The History of Borobudur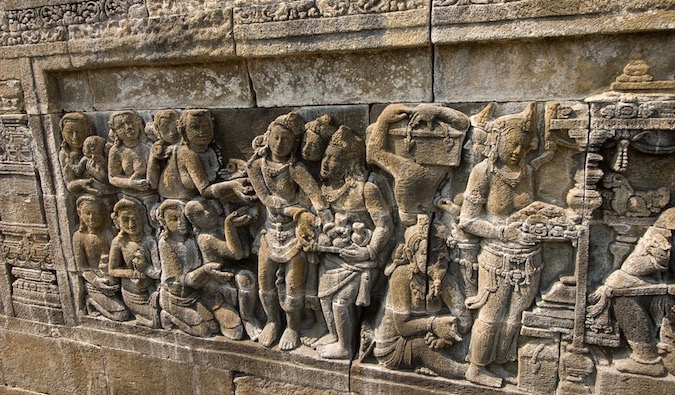 This entire 9th-century Mahayana Buddhist complex is actually a giant allegory for enlightenment. It was constructed under the rule of the Sailendra Dynasty, eventually being abandoned in the 14th century as the region slowly started to convert to Islam.
There is no record of the complex being built, though it was likely founded around the year 800 CE.
The temple was neglected and eventually buried under jungle and volcanic ash. In the 19th century, when the British ruled the region, it was rediscovered. In 1814, with 200 men, Lieutenant Governor-General Thomas Stamford Raffles cut down the surrounding trees to reveal the temple complex. Since then, it's been a growing tourist draw for the region.
Visiting the temple, you'll see that the journey begins at the base of the temple and follows a path through the three levels of Buddhist cosmology, namely Kamadhatu (the world of desire), Rupadhatu (the world of forms), and Arupadhatu (the world of formlessness).
The Buddhist pilgrim starts at the bottom and moves up when they have deciphered each relief. Each relief explains a teaching of the Buddha, and when you figure it out, you move on to the next. They progressively get harder, and by the time you finish the last one, you are on the top and — in theory — enlightened.
Tips for Visiting Borobudur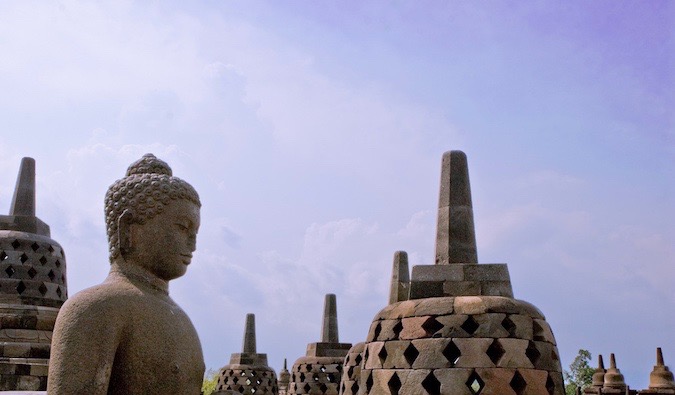 To help you make the most of your visit, here are some travel tips for visiting Borobudur:
Arrive early – This place will get crowded fast. Arrive early to beat the crowd (either by doing a sunrise tour or by arriving before 6am to wait for the gates to open).
Avoid the weekend – The crowds here are biggest on the weekends. Try to visit during the week to beat the tourist rush.
Dress comfortably – Dress appropriately but also comfortably as you're going to be on your feet for a while as your explore.
Bring water – This temple is large, and when you factor in a bus ride you're going to get thirsty. Bring water and snacks.
Stay nearby – It's a 90-minute drive from Yogyakarta. If you want to get here early and beat the crowds, stay closer. It won't be as cheap but you'll be able to have a much more enjoyable visit.
Visiting Borobudur: Logistics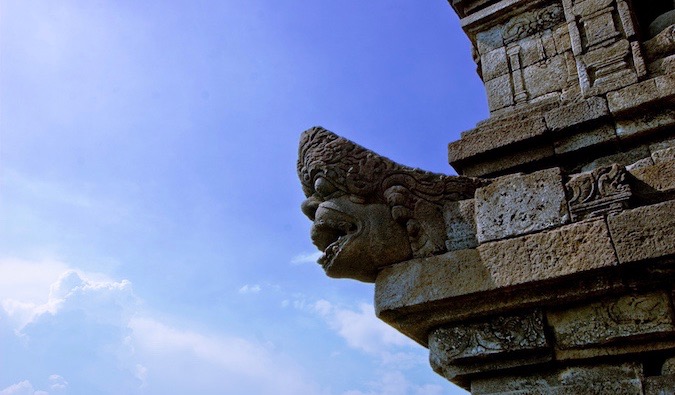 The site is open to the public from 6am to 5pm daily. Ticket are $25 USD per person for adults and $15 USD for children aged 3-10 (kids under 3 enter free).
A combined ticket for Borobudur as well as the Prambanan temples will cost $45 USD per person ($27 for kids).
There is also a daily Borobudur Sunrise Tour for $35 USD. This is the tour where you can snap those Insta-worthy shots of the temple at dawn (see the top photo on this post for an exmaple!).
You'll get a flashlight and a lift up to the temple gate at 4:30am, just in time to see the sunrise and explore the site before the tourist crowd arrives. To get the most out of your visit, consider hiring a guide who can explain the reliefs so you can understand the temple a bit better.
Not surprisingly, This site is the most popular tourist attraction in Indonesia. The most common way to get here is via public bus to Borobudur from Yogyakarta, however, this is aimed mostly at Indonesian visitors and only a few tourists venture aboard.
If you are feeling adventurous though, the Trans-Jogya service runs from central Yogyakarta to the Jombor bus terminal in northern Yogyakarta where you can change to another bus to get to Borobudur. The bus will cost less than $1 USD.
For a package deal, travel agents in Yogyakarta also sell door-to-door minibus tour packages for around $6 USD, which is a good deal and the easiest way to get to and from the monument.
Visiting Borobudur: FAQ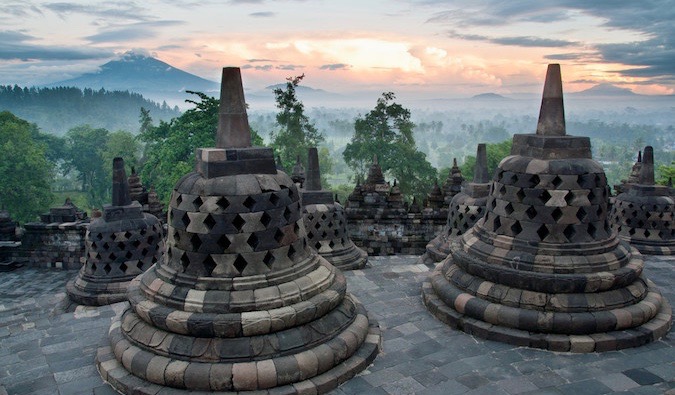 What should I wear to the Borobudur temple?
You'll want to dress respectfully and conservatively, as this is a religious complex. Wear loose-fitting clothing that covers your shoulders and knees. I'd suggest you wear pants as the steps leading to the top of the temple are high and not suited to shorts or skirts. Also, wear comfortable footwear since you'll be on your feet for a while. Watching the sunrise at the top of the temple can be cool, especially in winter, so bring a light jacket or sweater.
What is the Borobudur temple made of?
The temple is made of stone and consists of nine stacked platforms, six squares, and three circular platforms that are topped by a dome.
How do I get to Borobudur?
You can take the public bus from Yogyakarta for less than $1 USD or take a minibus for around $6 USD. The journey will take between 60-90 minutes.
How much is the entrance fee to Borobudur?
Admission is $25 USD for adults.
Is Borobudur the largest Buddhist temple in the world?
Yep! It's a massive temple complex and actually took 75 years to build!
***
Borobudur is one of the most amazing historical sites in the world, and also one of the most unique. I'm fascinated by it. A lot of travelers visit Indonesia and simply stay on Bali, but if you make your way off Bali and into Java, be sure to visit this site. You won't be disappointed.
Book Your Trip to Indonesia: Logistical Tips and Tricks
Book Your Flight
Find a cheap flight by using Skyscanner or Momondo. They are my two favorite search engines because they search websites and airlines around the globe so you always know no stone is left unturned.
Book Your Accommodation
You can book your hostel with Hostelworld. If you want to stay somewhere other than a hostel, use Booking.com as they consistently return the cheapest rates for guesthouses and cheap hotels.
Don't Forget Travel Insurance
Travel insurance will protect you against illness, injury, theft, and cancellations. It's comprehensive protection in case anything goes wrong. I never go on a trip without it as I've had to use it many times in the past. I've been using World Nomads for ten years. My favorite companies that offer the best service and value are:
World Nomads (for everyone below 70)
Insure My Trip (for those over 70)
Looking for the best companies to save money with?
Check out my resource page for the best companies to use when you travel! I list all the ones I use to save money when I travel – and I think will help you too!
Want More Information on Indonesia?
Be sure to visit our robust destination guide on Indonesia for even more planning tips!