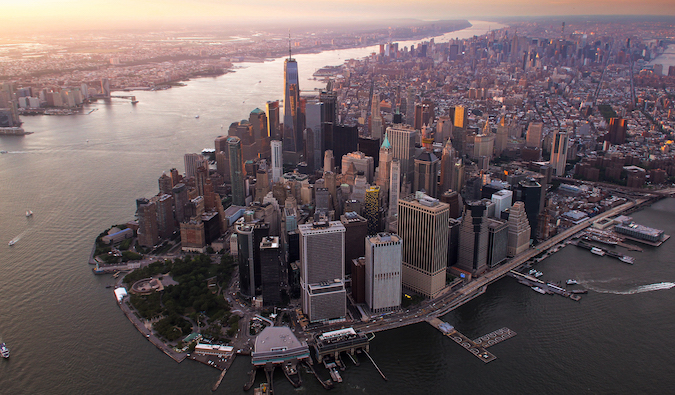 Last Updated: 1/17/2020 | January 17th, 2020
New York City has a reputation for being one of the most expensive dining destinations in the world. It's easy to wander into high-end restaurants without realizing it and walk away with the idea that dining out in NYC is wallet-busting.
And while it is true that New York is home to a lot of $500 set-menu restaurants and restaurants where a "nice" "simple" dinner with wine can top $100, the city is also home to starving artists, working-class folks, and un(der)paid interns trying to make it in the big city — and they can't afford any of those fancy meals.
Heck, not many people can.
I mean who can drop $100 on dinner all the time? Not me! Not you! Not the majority of these people!
Because of that, New York City also has a variety of cheap eats, happy hours, and food deals that make it easy to eat in NYC on a budget. However, as a visitor, it's often hard to know where to find those holes-in-the-wall and markets. This is definitely a place where you need to be in the know for a lot of this deals. There are thousands of restaurants in the city. How do you navigate them all?
You need someone on the inside. (That person is me!)
So, today, I am going to share my tips on how you can eat out in NYC on a budget and give you some of the knowledge I've accumulated by always eating out in the city:

Eating in NYC Tip #1: Hit the Oyster Happy Hours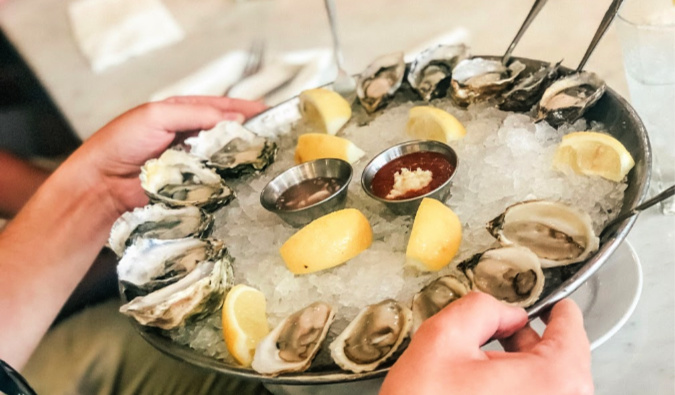 During the week, you can find countless oyster happy hours, which are one of the most popular things to do (especially in the summer when you can sit outside). They start around 4pm and go until 6 or 7pm, and the oysters range from $1 to $1.50. Arrive early, as most restaurants fill up quickly and build up impossible wait times. My favorite (and the best) oyster happy hours in NYC are:
Jeffrey's Grocery (172 Waverly Place, West Village, +1 646-398-7630)
The Dead Rabbit (30 Water St, +1 646-422-7906)
Good Night Sonny (134 First Ave, +1 646-692-3254)
Upstate Craft Beer & Oyster Bar (95 First Ave, +1 646-791-5400)
Grand Central Oyster Bar (lower level, Grand Central Terminal, 89 East 42nd St, +1 212-490-6650)
Cull & Pistol Oyster Bar (Chelsea Market, 75 Ninth Ave, +1 646-568-1223)
The Ten Bells (247 Broome St, +1 212-228-4450)
Sagaponack Bar & Grill (4 West 22nd St, +1 212-229-2226)
Greenpoint Fish &- Lobster Co. (114 Nassau Ave, Brooklyn, +1 718-349-0400)
Brazen Fox (106 Third Ave, +1 212-353-1063)
Littleneck (288 Third Ave, +1 718-522-1921)
The Jeffrey (311 East 60th St, +1 212-355-2337)
Atrium DUMBO (15 Main St, +1 718-858-1095)
Catfish (1433 Bedford Ave, Brooklyn, +1 347-305-3233)
Eating in NYC Tip #2: Bottomless Brunch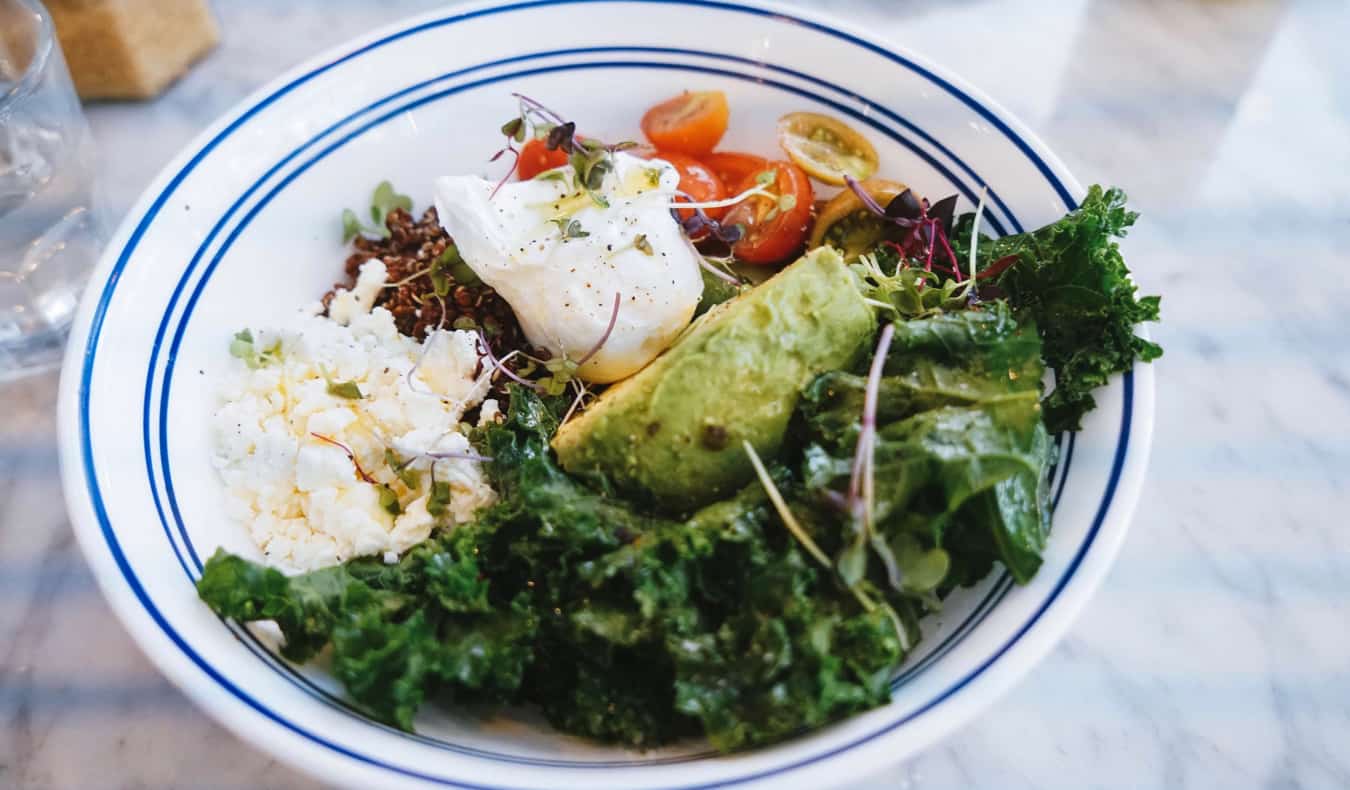 New York City runs on the bottomless brunch, where for around $35 you get unlimited drinks with your food. This is a weekend-only thing and a staple of the city's social scene. There are countless bottomless brunches, so it would be impossible to include them all here, but below are some of the most affordable and best value bunches in the city:
The Flying Cock (497 Third Ave, +1 212-689-6900) – Pay $19 for bottomless Bloody Marys, mimosas, or Bellinis for 90 minutes.
Poco NYC (33 Avenue B at Third St, +1 212-228-4461) – Pay $35 for an entrée and 1.5 hours of bottomless mimosas, sangria, or Bloody Marys. Cash only.
Pardon My French (103 Avenue B, +1 212-358-9683) – For $29.95, you get a meal and bottomless Bloody Marys or mimosas for 90 minutes.
Cuba (222 Thompson St, +1 212-420-7878) – For $18, you'll get bottomless cocktails (including mojitos) for 90 minutes.
Harry's Italian Pizza Bar (2 Gold St, +1 212-747-0797) – For $28.95, get a meal and unlimited Bloody Marys and mimosas for two whole hours.
Tio Pepe (168 West 4th St, +1 212-242-6480) – From from 12pm to 4pm, get 90 minutes of bottomless mimosas (including flavored ones), Bloody Marys, and margaritas for $14 (when you get a meal).
The Malt House (206 Thompson St, +1 212-228-7713) – Spend $20 for two hours of unlimited cocktails.
La Flaca (384 Grand St, +1 646-692-9259) – For $29, you get any menu item along with bottomless margaritas, sangrias, Bloody Marys, and more, for 90 minutes.
Eating in NYC Tip #3: Grab a Pizza Slice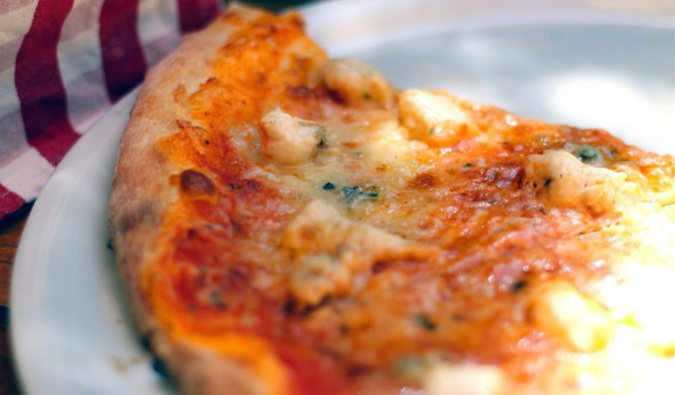 NYC and pizza go together like white on rice. You can't separate the two, and in my opinion, the New York slice is probably one of the best pizzas in the country (sorry, Chicago)! If you're looking to eat on a budget, grabbing a slice is one of the best ways to save money in New York. Slices range from $1 to $4, though $2 is the max I'll pay (unless it's really good). Below is a list of my favorite dollar-slice joints (and a couple non-dollar slices just because they are that good):
Percy's Pizza (190 Bleecker St)
Joe's Pizza (150 East 14th St and other locations)
Ivana's Pizzeria (2373 Arthur Ave, Bronx, +1 718-365-4322)
99 Cents Fresh Pizza (151 East 43rd St; 473 Lexington Ave; 201 East 34th St B)
9th Ave the Best Pizza (748 Ninth Ave)
NY Fresh Pizza (787 Ninth Ave)
Joey Pepperoni's Pizza (381 Broadway; 493 Second Ave; 114 East Fordham Rd, Bronx)
Vinny Vincenz Pizza (231 1st Ave, 212-674-0707)
Eating in NYC Tip #4: Munch on Dumplings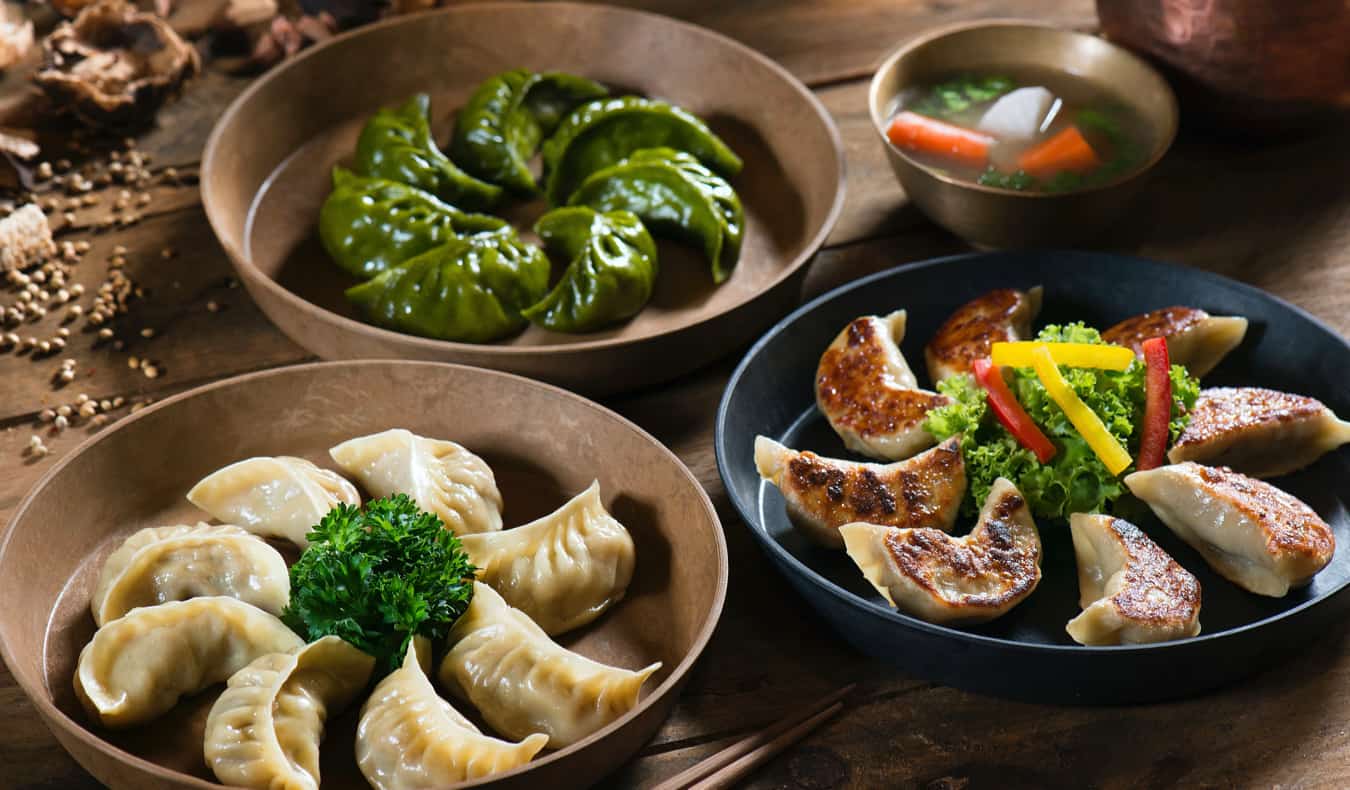 Chinese dumplings are also one of the best value meals in the city because you can get huge plates of dumplings for literally just a few dollars (and if you get them frozen for later, they are even cheaper). They'll fill you up for lunch and you'll still have leftovers for dinner. And, thanks to the city's large Chinese immigrant population, the dumplings are incredibly authentic. This is the real deal here. Here's a list of the best spots to get dumplings in NYC:
Lan Zhou Handmade Noodle (40 Bowery St, +1 646-683-0939) – 9-11 dumplings for $3.
Noodle Q (2 East Broadway, +1 212-219-8223) – A big plate for $6.
Tasty Dumpling (42 Mulberry St, +1 212-349-007, visit the website for other locations) – Five for $1.25.
Tim Ho Wan (85 Fourth Ave, +1 212-228-2800) – $5 dishes.
Shu Jiao Fu Zhou (118 Eldridge St, +1 212-625-2532) – 6 for $2.50.
Jin Mei Dumpling (25B Henry St, +1 212-608-8962) – $2 for a big plate.
Fried Dumpling (106 Mosco St, +1 212-693-1060) – Five for $1.25.
New Sheng Wang Inc. (27 Eldridge St, +1 212-925-0805) – Large plate for $3.
Spicy Village (68B Forsyth St) – 12 for about $6.
Kai Feng Fu Dumpling House (4801 Eighth Ave, +1 718-437-3542) – 5 dumplings for $1.50.
North Dumpling (27A Essex St, +1 646-421-8823) – 12 for $3.
YOZ Shanghai (4128 Main St, +1 718-321-2663) – 12 for $4.50.
Eating in NYC Tip #5: Grab a Dog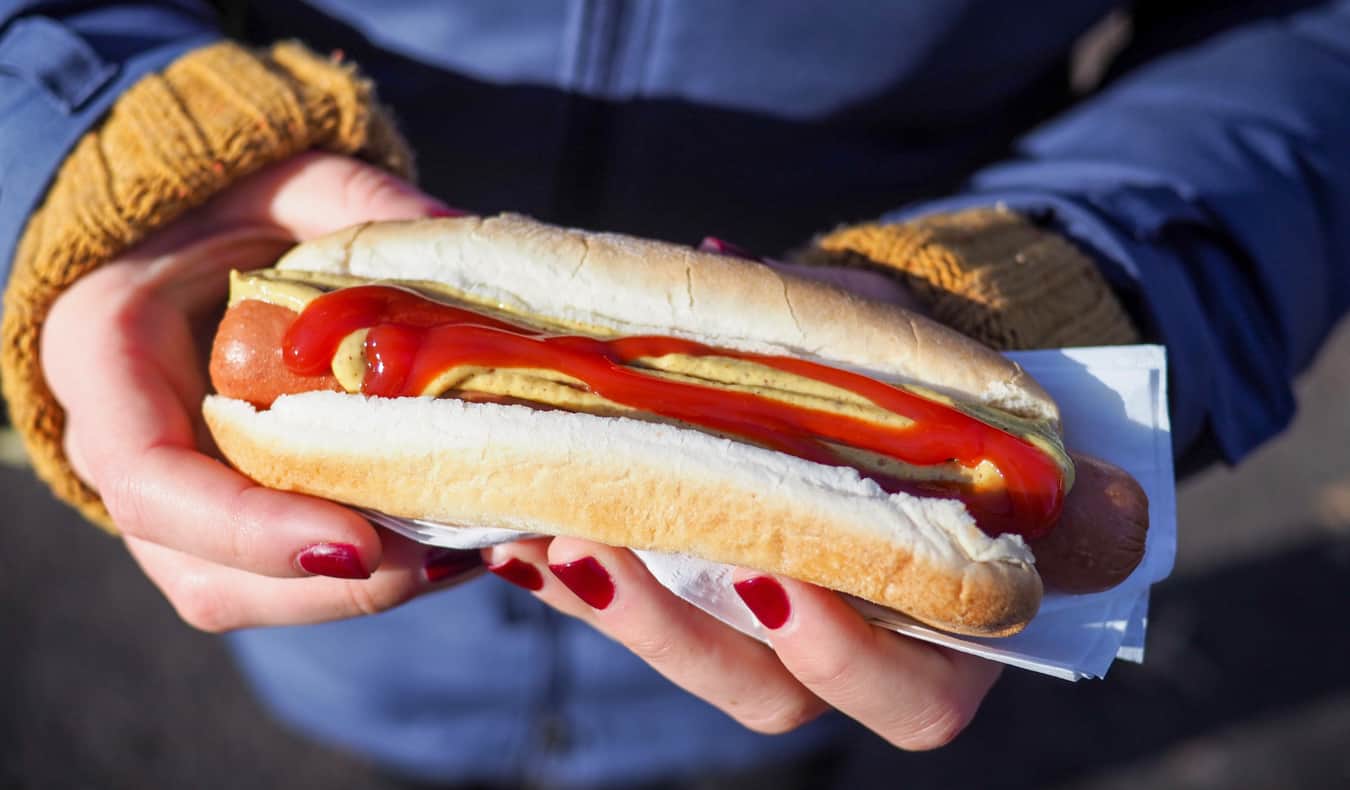 Hot dog shops litter the street corners of New York. They might not be the healthiest meal but they are super cheap and make for a quick lunch. Though the hot dog has been around for centuries, the modern dog was popularized by Nathan Handwerker, a Jewish immigrant from Poland, living in NYC. In 1915, he worked at a hot dog stand at Coney Island. He started his own stand (Nathan's Famous) and undercut his former boss to sell his own dogs and the rest is hot dog history. You can get a big, juicy dog with lots of fixings for between $2 and $5. Here are the best hot dog shops in New York City:
Gray's Papaya (2090 Broadway, visit the website for more locations)
Crif Dogs (113 St Mark's Pl, +1 212-614-2728)
Rudy's (627 9th Ave, +1 646-707-0890) – This dive bar gives you a free hot dog when you order a drink.
Nathan's Famous (visit the website for locations)
Dickson's Farmstand Meats (Chelsea Market, +1 212-242-2630)
Papaya King (179 East 86th St, +1 212-369-0648)
Tony Dragon's Grill (Madison Ave & East 62nd St, +1 917-299-1550)
Paul's Da Burger Joint (131 2nd Ave, +1 212-529-3033)
Dominick's Hot Dog Truck (Woodhaven Blvd & 67th Ave)
Deli & Dogz food truck (visit the website for locations)
Harlem Shake (100 West 124th St)
Shake Shack (visit the website for locations)
Eating in NYC Tip #6: Food Trucks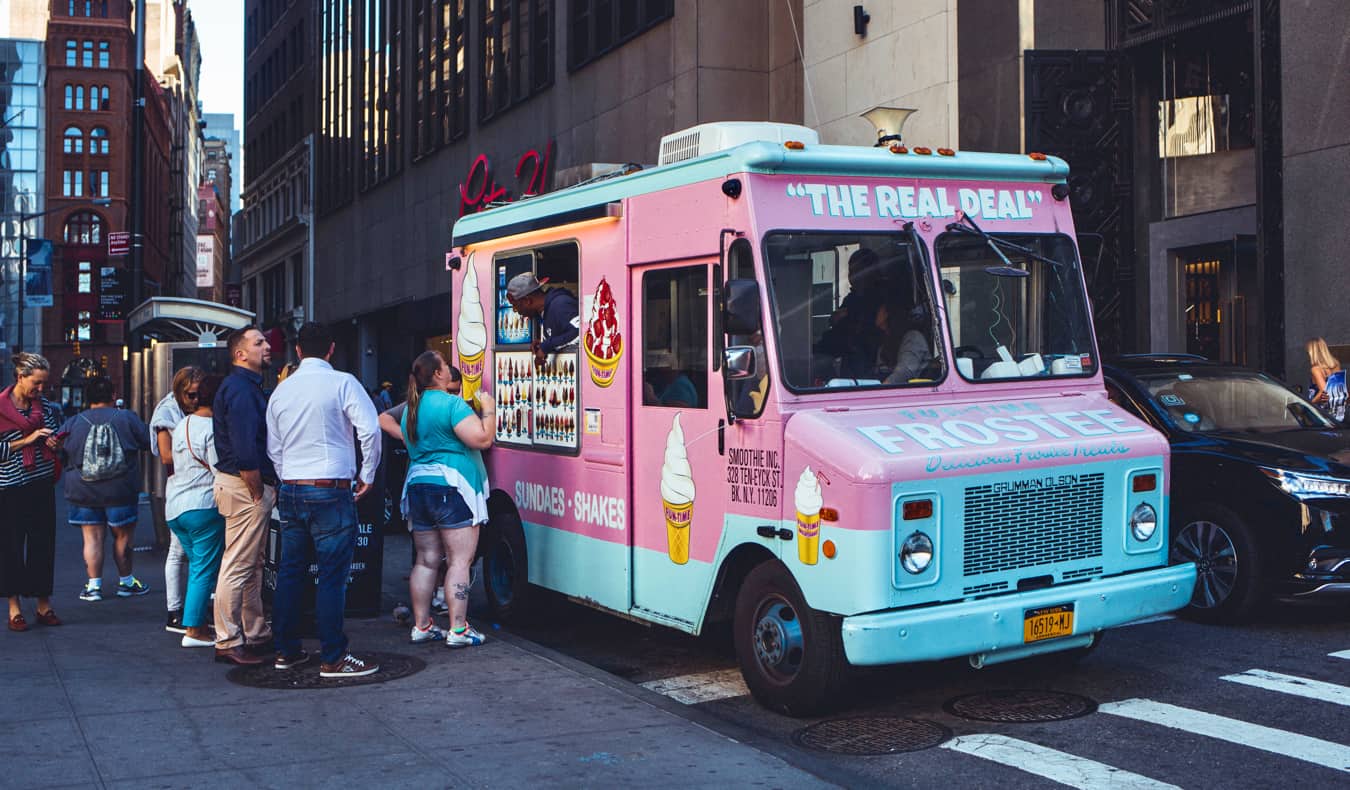 If you're looking for cheap eats, check out the food trucks around town that are a staple for the office workers. You'll find shawarma, hot dogs, gyros, halal items, and lots more grab-and-go food. They tend to be located near big parks like Central Park or Union Square, Midtown, or the big squares in the financial district. Their cheap, quick eats are what we have for breakfast and lunch (though many are around during the evening too). Most meals costs $5-7 USD.

Eating in NYC Tip #7: Make Your Own Food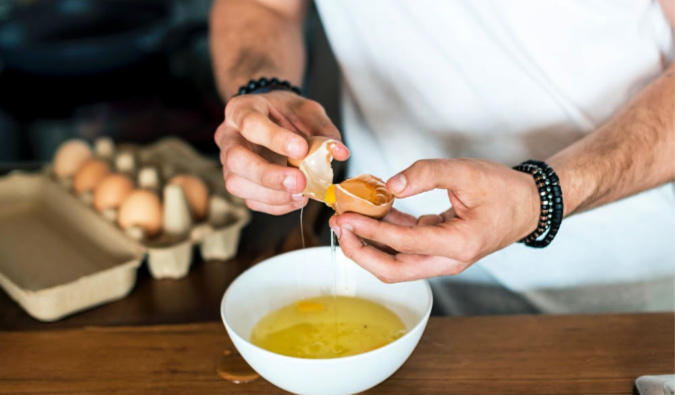 Sure, New York City has tons of delicious and expensive restaurants, but go to the supermarket, grab either a premade meal or ingredients to make your own, and head to one of the parks and eat outside. Or back to your Airbnb to make your meal. Most supermarkets also have areas where you can eat inside too. My favorite grocery stores in the city are:
Whole Foods – Whole Foods has affordable natural and organic foods primarily from local vendors.
Trader Joe's – A grocery store chain with super low prices all the time.
Food Emporium – Another supermarket chain that also has lots of imported food options.
Eating in NYC Tip #8: Try Meal Pal (for the extended traveler)

If you're looking to be in town for a while (two weeks or more), consider signing up for the service MealPal. It's $85 USD for 25 credits (about $5.69 a meal or 12 meals), which works out to be a super cheap way to eat. Monday through Friday at lunch you get to choose a preset meal from thousands of restaurants. Think of it like a lunch menu at your fingertips.
MealPal also has a dinner option and packages as small as 8 meals per month, so even if you're planning a 2 week trip, you could make this work (any package you choose will make your lunches or dinners only $6-8 each). It's a good way to try new restaurants as well as eat cheap.

Eating in NYC Tip #9: Eat Outside Manhattan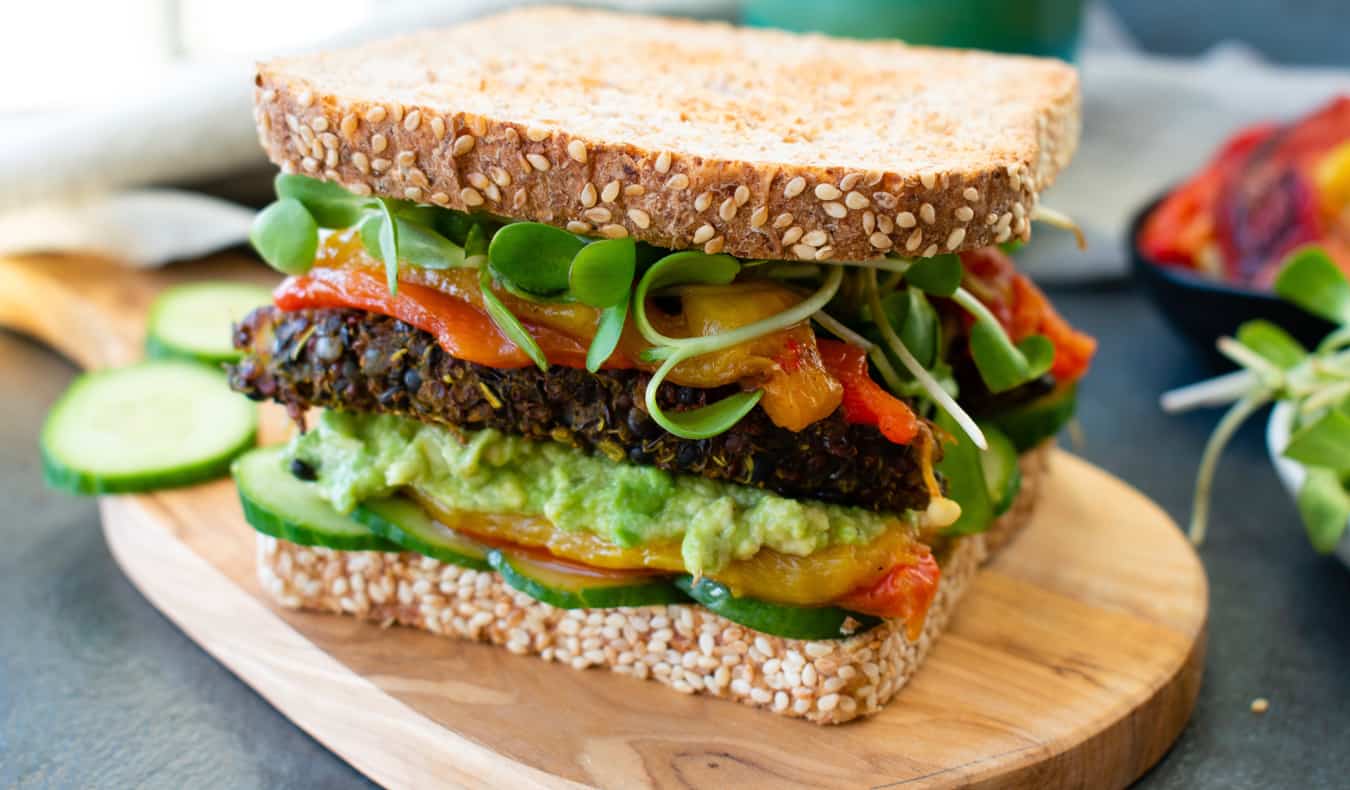 I love Manhattan. It's my favorite borough in the city, but whenever I leave it, I'm always reminded of how expensive it is. The other boroughs are like half the price of Manhattan. In Queens, for example, you'll find a ton of great and cheap ethnic food.

Eating in NYC Tip #10: Use the Apps

Looking for cheap eats? Crowdsource. Use apps to search for people's favorite restaurants or what is affordable near you. My suggested apps are:
Yelp – Yelp lets you find places to eat and drink in your area, and there are usually tons of reviews left by patrons.
Foursquare – Find out where the locals are eating and unlock special deals when you check into a place.
OpenTable – Check local restaurant reviews, and then reserve your table.
Roaming Hunger – Find out which food trucks are in your area!
Eating in NYC Tip #11: Eat Bagels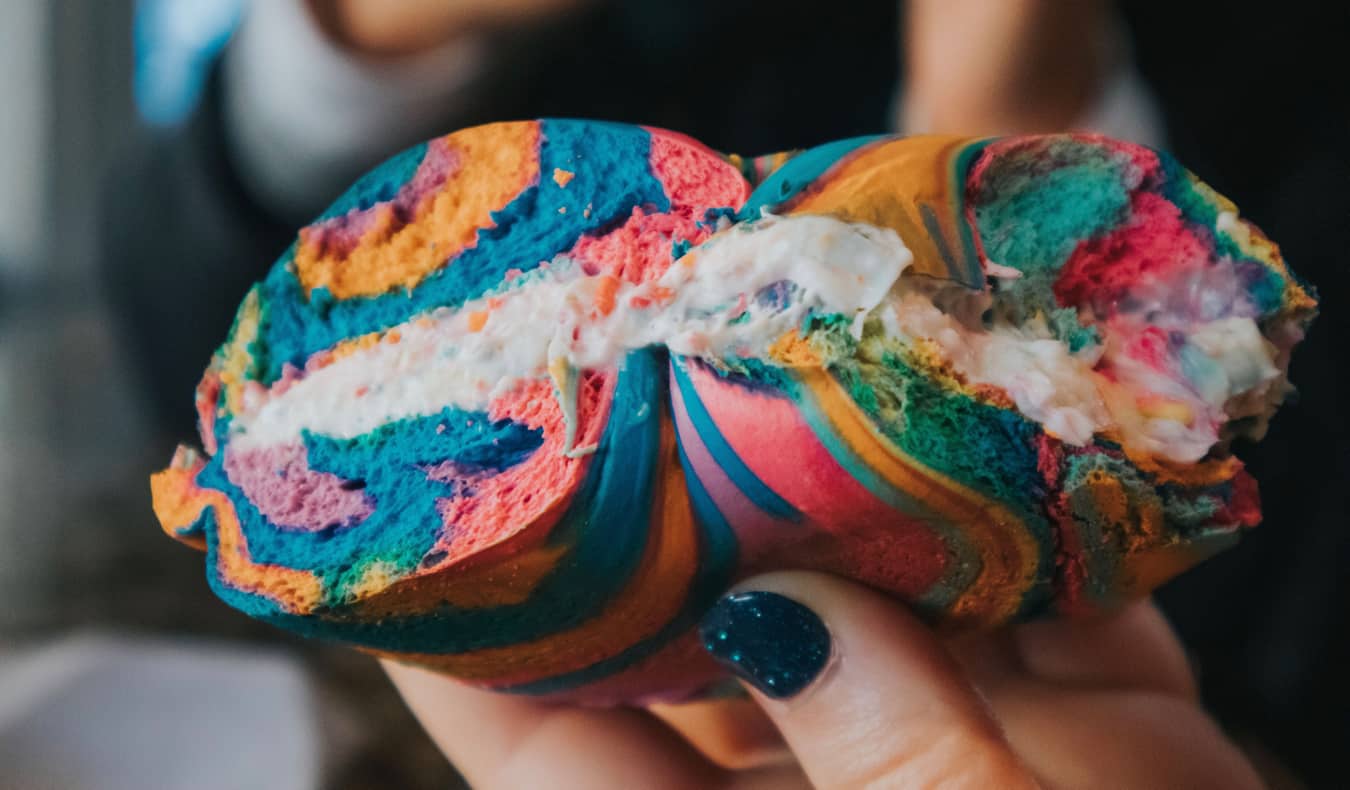 The NYC bagel is as famous as the NYC slice. We take our bagels seriously here (Just ask all the ex-NYers living in LA if they can find a good bagel there! They'll say no and lament that's one thing they miss the most). Most bagels will cost $3-4 with cream cheese, more if you want lox (which you should). A bagel sandwich will cost around $5-6. Here's a list of my favorite bagel spots:
Ess-a-Bagel (831 Third Ave, +1 212-980-1010)
Murray's Bagels (500 Avenue of the Americas, +1 212-462-2830)
Lenny's Bagels (2601 Broadway, +1 212-222-0410)
Bagelsmith (189 Bedford Ave, Brooklyn, +1 718-218-7414, visit the website for more locations)
Russ & Daughters (127 Orchard St, Lower East Side, +1 212 475 4880)
Baz Bagel (181 Grand St, +1 212-335-0609)
Absolute Bagel (2788 Broadway, +1 212-932-2105)
Best Bagel & Coffee (225 West 35th St A, +1 212-564-4409)
Kossar's (367 Grand St, +1 212-473-4810)
Brooklyn Bagel & Coffee Company (286 Eighth Ave, +1 718-204-0141)
Black Seed (170 Elizabeth St, +1 212-730-1950, visit the website for more locations)
Tompkins Square Bagels (165 Avenue A, +1 646-351-6520)
David's Bagels (273 First Ave, +1 212-780-2308)
Zucker's Bagels (370 Lexington Ave, +1 212-608-5844)
Bagel Supreme (9401 Fifth Ave, +1 718-745-1108)
Bo's Bagels (235 West 116th St, 917-902-8345)
Daniel's Bagels (569 Third Ave)
Eating in NYC Tip #12: Do Restaurant Week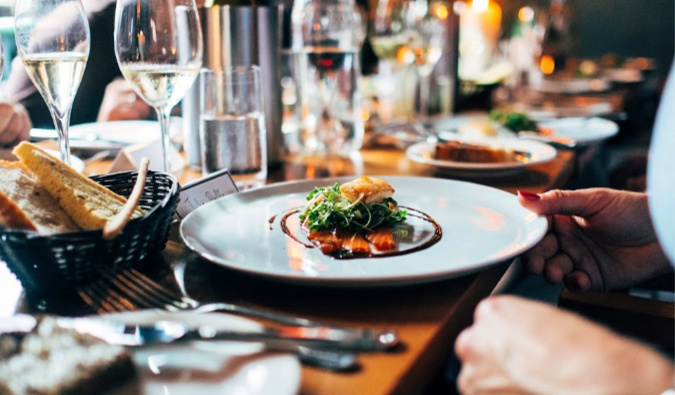 If you're here during July or October (the exact dates change each year), New York City's Restaurant Week has some amazing deals, as over 380 of New York's best restaurants offer $26 lunch menus and $42 three-course dinners. This gives you a chance to sample the best restaurants in town at a fraction of the regular price. Visit the official page for all the details and to book your table. You'll also be able to browse restaurants by neighborhood, cuisine, lunch or dinner options, and more: nycgo.com/restaurant-week.

BONUS: 13 Affordable Restaurants in NYC

Want some specific restaurants? Here are some of my favorite cheap restaurants to eat at when you visit:
The Bao (13 St Mark's Pl, East Village, +1 212 388 9238) – With its sleek, modern decor, this restaurant is a wonderful spot for Chinese food. Its dumplings, fried rice, and pork buns are delicious. There's always a wait on the weekends, so try to get there on the early side.
Bennie's Thai Café (88 Fulton St, Financial District, +1 212 587 8930) – As someone who has lived in Thailand, I'm quite picky about my Thai, but this restaurant is legit. It's a popular lunch spot with the working crowd and serves incredible curry. It's one of the few locations where I can get authentic Thai iced tea too! Service is a little too fast and abrupt, but who cares? The food is incredible.
Corner Bistro (331 West 4th St, West Village, +1 212 242 9502) – This place has world-famous thick and greasy hamburgers, some of the best in NYC. It's sort of an institution, and if you love burgers as much as I do, I would highly recommend coming here. Cash only.
Masala Times (194 Bleecker St, Greenwich Village, +1 212 995 5100) – Serving Bombay-style street food, this spot has some of the best Indian cuisine I've found. I can't get enough of it. The plates are shareable, and you get rice and bread too. Try the fish tikka — it's delicious!
Panna II Garden (93 First Ave, 2nd floor, East Village, +1 212 598 4610) – Christmas lights cover the ceiling and walls of this festive Indian restaurant (and the neighboring restaurants too, so if Panna II is packed, walk next door). It's cramped, but a unique experience. The food is delicious! Cash only.
S'MAC (197 First Ave, East Village, +1 212 358 7917) – A mac-and-cheese shop that takes this traditional dish and makes it even better. It's heavenly, cheesy goodness. The four-cheese mac and cheeseburger mac are my favorites.
Sao Mai (203 First Ave, East Village, +1 212 358 8880) – This traditional Vietnamese spot is located near my old apartment. The pho rocks! The portions are huge, and prices are not. It offers $10 lunch specials.
SriPraPhai Thai Restaurant (64–13 39th Ave, Flushing, Queens, +1 718 899 9599) – This is my favorite Thai restaurant in New York. I have very high standards for Thai food, and this exceeds them all. If you only eat at one Thai restaurant, make it this one.
Xi'an Famous Foods (313 Sixth Ave) – New Yorkers love this small chain of Chinese restaurants, with 12 locations around town. Grab some hand-ripped noodles with beef to go, and it'll only cost you about $8.
Mamoun's Falafel (119 MacDougal St) – You will find inexpensive falafel and gyro stands all over Manhattan, but the best one is Mamoun's. You can pick up a classic falafel with tahini and salad for less than $5, but all the options here are tasty and affordable.
Little Saigon Pearl (9 Bay 35th St, Brooklyn, +1 718-996-8808) – Little Saigon is another great Vietnamese eatery to pick up lunch, as most of its menu items are under $8. Try the chicken lemongrass.
Kopitiam (151 East Broadway, +1 646-609-3785) – If you want affordable Malaysian food, you have to go to Kopitiam, especially for breakfast. Most menu items are around $8, including nasi lemak (the national dish of Malaysia).
Mama's Empanadas (3241 Steinway St) – Mama's Empanadas is one of the best spots for a bite of Colombian food in Queens. You can get some really cheap empanadas here, including a spinach and cheese for just $2.
***
New York City may be one of the most of the expensive cities in the world, but it doesn't have to break your bank. Remember, this is a city of eight million people, and if you break away from the tourists and into the fabric of the city, you're going to unearth a plethora of restaurants and bars to eat and drink at on a budget.
Get the In-Depth Budget Guide to New York City!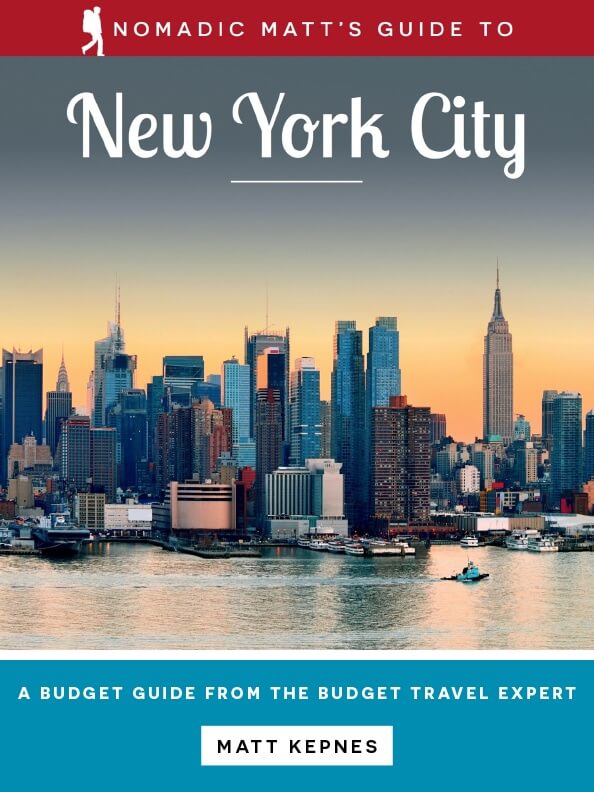 For more in-depth information and tips on NYC, check out my 100+ page guidebook written for budget travelers like yourself! It cuts out the fluff found in other guides and gets straight to the practical information you need to travel and save money the city that never sleeps. You'll find suggested itineraries, budgets, ways to save money, on and off the beaten path things to see and do, non-touristy restaurants, markets, and bars, and much more!! Click here to learn more and get started.
Book Your Trip to NYC: Logistical Tips and Tricks
Book Your Flight
Use Skyscanner or Momondo to find a cheap flight. They are my two favorite search engines because they search websites and airlines around the globe so you always know no stone is left unturned. Start with Skyscanner first though because they have the biggest reach!
Book Your Accommodation
You can book your hostel with Hostelworld as they have the biggest inventory and best deals. If you want to stay somewhere other than a hostel, use Booking.com as they consistently return the cheapest rates for guesthouses and cheap hotels. My favorite places to stay are:
HI NYC Hostel
Jazz on Columbus Circle
Pod Times Square
If you're looking for more places to stay, here my complete list of favorite hostels the city. Additionally, if you're wondering what part of town to stay in, here's my neighborhood guide to NYC!
Don't Forget Travel Insurance
Travel insurance will protect you against illness, injury, theft, and cancellations. It's comprehensive protection in case anything goes wrong. I never go on a trip without it as I've had to use it many times in the past. My favorite companies that offer the best service and value are:
World Nomads (for everyone below 70)
Insure My Trip (for those over 70)
Medjet (for additional repatriation coverage)
Looking for the Best Companies to Save Money With?
Check out my resource page for the best companies to use when you travel. I list all the ones I use to save money when I'm on the road. They will save you money when you travel too.
Need a Guide?
New York has some really interesting tours. My favorite company is Take Walks. They have expert guides and can get you behind the scenes at the city's best attractions. They're my go-to walking tour company!
Want More Information on NYC?
Be sure to visit our robust destination guide on New York City for even more planning tips!